Hope this doesn't sound flip or cavalier. We – the Ravens – have to be better.
If we don't improve, then we'll continue to lose more than we win. We won't be delivering you that joy that comes from your team winning, giving you a chance to celebrate and brag.
We're an "almost" team right now. We almost beat the undefeated Broncos. We almost topped the Raiders in Oakland. (Hey, can I be fined for saying Will Hill III didn't commit a foul when he made what could have been the game-winning interception with 40 seconds left in that game?) We took the lead twice in the fourth quarter in the loss against the unbeaten Bengals. Hell, we had the lead in the fourth quarter last Sunday against the Browns before we lost in overtime.
"I almost made the putt."
"We almost won the game."
Almost means you didn't –
(By the way, the NFL is a pretty amazing league, giving all of us the best reality TV available. There were 14 games played last weekend. In half of those contests – seven of those games – teams with fourth-quarter leads lost in the end. Hey, at least we're keeping you on the edge of your seats. Or, if you were one of the 70,000 at M&T Bank Stadium last Sunday, on your feet as you encouraged and begged us to find a way to win that game.)
The Ravens are getting some sympathy for being 1-4 and an "almost."
ESPN'S Jamison Hensley wrote on Tuesday: "But, let's be honest, injuries have put a painful end to a season of high expectations. Joe Flacco says you can't use injuries as an excuse. It's just inexcusable not to recognize this isn't the Ravens team that General Manager Ozzie Newsome and coach John Harbaugh envisioned putting on the field. To say injuries have decimated this team is an understatement. The number of wounded Ravens rivals an episode of 'The Walking Dead.'"
We still have high expectations.
We have 11 games left. There are three teams undefeated in the conference, and we've lost to two of them (Denver and Cincy). The rest of the AFC appears pretty balanced.
Honest, we expect to fight back and get into the mix.
We know what winning looks like. We have a vivid picture.
Winning is not a distant memory for us.
We have a place we're going. We just haven't been good enough – yet.
We plan to get back in the race for the playoffs. I say that knowing that it doesn't look good now. Hey, I was among the doubters during the game last Sunday, even when we had 14-3 and 21-9 leads at the end of the first quarter and halftime, respectively.
A phone with a direct connection to a lot of places in the stadium sits on a counter in front of me in the press box during home games. When it rings, I look immediately to a phone at the back of our bench. That's the one Chad Steele, our vice president of public relations, uses to call with injury updates. It got so bad last Sunday with injuries that I stopped looking for Chad and answering the phone. Alas, another staff member would say: "It's Chad for you."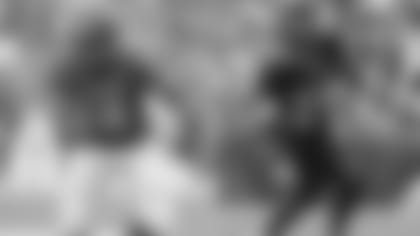 And, when we grabbed the 27-22 lead with six minutes left in regulation, this is what I did during the TV timeouts: I made a list of the Ravens not playing. It was bad enough going into the game without Terrell Suggs, Steve Smith Sr., Crockett Gillmore, Chris Canty, Michael Campanaro and Breshad Perriman (We will see him this season. Honest, at least, I think we'll have him play.) Plus, Steele's calls indicated all of these guys leaving the game: three cornerbacks (Lardarius Webb, Kyle Arrington and Will Davis, a player who had quickly earned praise from teammates and coaches – he was the guy covering Antonio Brown the week before in Pittsburgh); Justin Forsett and Elvis Dumervil.
Oh man, I thought, who's going to cover, who's going to make the sack to win the game? "Chad, please tell me that Elvis will go back in!"
It didn't happen. We didn't make the plays to win the game. We had another "almost."
The post-game locker room was somber. After a prayer, Coach Harbs brought everyone into a tight huddle around him. He told players and coaches that we have to be better. He said coaches have to find schemes that get players in the right position to make plays, and players have to be where they are supposed to be.
He accepted blame and placed blame. Then he did something that I thought was important for this team as we try to weather this storm. He called for all of our assistant coaches to follow him for a meeting "right now." I don't believe he did this to show players that he and his coaches were accepting blame. But, that was clearly the message to the players. That type of accountability helps keeps teams from pointing fingers at each other. And pointing fingers happens when you don't win.
Harbs was taking the first step to achieve our only goal right now: to go 1-0 this week. As John told the entire team on Tuesday morning: "We have to find a way to win this game. We have to find a way to go to San Francisco and win."
I've met very few people who have the common sense of Joe Flacco. He's most observant, and he's blunt with his assessments. Thought you'd be interested in some of the things Joe said this week:
"It's tough right now, but I think we have a lot of confidence in what we're doing. You can't keep your head down. We still have to come to work. I think we have a great mindset as a team, as an organization. I think it starts with John [Harbaugh] and the way he's leading us. We just haven't been good enough. You don't win games when you're not good enough.
"I don't think you talk about losing the close games – 'But we only lost to them by a close score. We had a chance.' – You're going down a slippery slope when you start doing those things. It's almost like you're looking for an excuse or pointing a finger. We just have to keep righting the ship. Go out there and make the most of what's ahead. I don't know what that is, but we have to make the most of it. We have to keep the confidence and have faith that if we continue to put ourselves in these close games, we'll eventually break through and make the plays to win. I do think we're close to doing that."
Let's break through in San Francisco. Let's beat the 49ers.