Ray Lewis: Is He The Best Defensive Player Ever?
Privileged. All of us in Baltimore were that when we watched the 17-year career of Ray Lewis.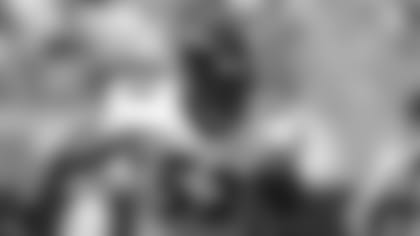 In the history of the game, maybe there is a player who brought as much physicality to every play he played. Maybe there is another player who prepared with video study like Ray did. Maybe there is even a player sometime in history who played with as much intelligence as Ray did. There could be a player who lifted as many weights in the offseason, but I don't believe there is a person who brought such passion to every aspect of being an NFL player.
We might come up with a player who showed as much respect for his coaches and the other Ravens employees at our facility. But I doubt there is a player who took copious notes at every meeting, from his first season to his last ride that culminated with the Super Bowl XLVII victory. Best teammate? C'mon!
Just maybe you could find the greatest at all of these. But, we all watched the player who was driven to be the best at every aspect of the game. And, he lived that as a Raven every day for those 17 seasons.
Ray Lewis loves to compete – at everything. You lift 15 weights; Ray will lift 16. You watch 15 extra hours of football video each week; Ray will watch 16. You do 20 gassers; Lewis would do 25.
If you say, "you can't," Ray says, "I will."
Driven and relentless – from Day One as a Raven.
A 20-year-old Ray Lewis walked into the Ravens' original complex on Owings Mills Blvd. in April of 1996. His plane had been late, and Scott Garceau of WMAR-TV waited to "interview the other No. 1 pick." (Hall of Famer Jonathan Ogden had been the first Ravens choice.)
As he walked down the front hallway, Lewis was welcomed and then asked by a front office executive: "Any goals for you?" Lewis quickly responded: "Yes, sir."
"And what would those goals be?" Ray didn't hesitate. "I want to the best."
"Best draft choice? Best inside linebacker? Best Raven?"
"Sir, I want to be the best player in the history of the NFL."
He was the AFC Defensive Player of the Week in his first game, which was the Ravens' inaugural contest, a 19-14 victory at Memorial Stadium over the Raiders.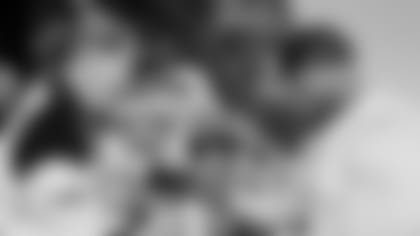 In September of 1997, Cardinals running back Eric Metcalf, noted for his Olympic speed, sprinted down the right sideline on his way to a sure touchdown. Wait. What's that flash coming from the middle of the field? It was the 250-pound No. 52, who tackled Metcalf inside the 5 and saved the score.
Flash to Super Bowl XXXV in Tampa in January of 2001. Giants quarterback Kerry Collins dropped five steps and launched a deep pass down the middle on New York's first offensive play. Are you kidding me? That's Ray Lewis flying skyward to break up the pass.
Jump to a rainy and cold Chicago day in late October of 2005. Lewis was scheduled to sit out the game with a partially-torn hamstring muscle. Two hours before kickoff, Lewis was found on an exercise bike in the bowels of Soldier Field. He was soaked with sweat. "Doc says I can play if I can go out and show him that I could do all the movements I'd have to make during a game."
There was Ray 30 minutes later, sprinting, exploding in change-of-direction drills and jumping to catch passes in front of our doctors and trainers. He got the OK to play. Late in the third quarter, with temperatures dropping, Lewis dove to knock a Bears' runner out of bounds. His effort was so extreme that he tore the injured muscle from the bone.
He always pushed himself until his body said, "no more."
Favorite Ray Leadership Story
(Told this one before.) In April of 2008, Ray Lewis introduced himself in the cafeteria to the team's second-round draft choice. "Ray Rice, I'm Ray Lewis, and I loved watching you play at Rutgers." The energized Rice stuck out his hand and said, "Nice to meet you, Mr. Lewis."
The two, who became the best of friends, talked for a few minutes, and when Rice walked away, Lewis noticed the basketball shorts Rice was wearing – they were hanging low. "Big Ray" tapped "Little Ray" on the shoulder: "We don't wear our pants like that around here." And Rice hasn't since.* *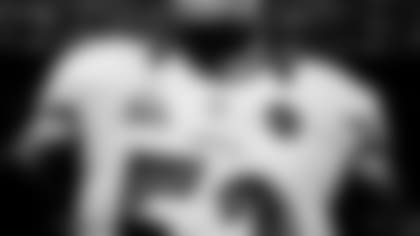 Mike Nolan was the Ravens' defensive coordinator from 2002 through 2004. Nolan, like his father, became the head coach of the 49ers and is now the defensive coordinator of the Falcons. Football has been Nolan's entire life. Maybe no person has witnessed more NFL football in a lifetime.
"Is Ray Lewis the best defensive player ever?" Nolan was quick with the answer: "Yes, I believe he is." **
Nolan then started naming the other defensive players who could be in the conversation: Reggie White, Lawrence Taylor, "Mean" Joe Greene, Dick Butkus. "First, no offense to the great middle linebackers of the early days, but none could run like Ray. Maybe Jack Lambert, but he was 215 pounds and couldn't hold up against the run like Ray," Nolan said when he was with the Ravens. "You could run away from White, Taylor and Greene. You can't run away from Ray. Sideline to sideline, no one is better. And teams don't even try screen passes against us. Yep, the more I think about it, Ray's the best. Plus, think about the way he prepares, how smart he plays, and then there's his leadership. How are you not going to hustle with him as your teammate?"
(Nolan, by the way, coached Taylor when Mike was the linebackers coach for the Giants.)
Yes, we Baltimore Ravens fans have been privileged to watch the great Ray Lewis. On Sunday, we'll put this magnificent player into our Ring of Honor. Congratulations Ray, thanks for taking us on a ride for the ages.
Let's beat the Texans. Talk with you next week.