Winning Makes A Better Thanksgiving Week
We don't know about you, but winning at New Orleans sure made our Thanksgiving week better. It would not have been an end to our playoff hopes, but losing to the Saints would have brought the critics out – and most prognosticators had picked New Orleans to win.
For most folks, Thanksgiving is a couple-days' holiday with festive gatherings of family, great friends and lots of food. For the Ravens and other NFL teams, Thanksgiving is a couple of hours on a Thursday. The Ravens started meetings yesterday morning at 7:15. Many players were here earlier for treatment from the trainers. Others were in the weight room near the crack of dawn. We were able to get the players out of here by 1:30 p.m. after a two-hour practice session on the field.
"We all got to go someplace, eat some good food and watch others play football," Torrey Smith said.
Playing Monday night changes the "normal" schedule. Once we landed in Baltimore at 3:30 Tuesday morning, all the coaches, trainers, equipment people and other staff members headed to our Under Armour Performance Center for work – and, for some, a quick nap. Sunday's game against the Chargers allowed little time for celebration or rest. Game plans needed to be completed, players received treatment, the weekly media release, game program and TV shows had to be produced.
To paraphrase the great wordsmith Bill Belichick, "We are on to San Diego." But, there are still good memories from the trip to New Orleans:
The Sunday night production meeting with the ESPN crew of Mike Tirico, Jon Gruden, Lisa Salters and Suzy Kolber was fun. You won't be surprised to know that Steve Smith Sr. captivated the group and had some excellent quotes. Gruden asked him about playing for John Harbaugh. "I love him. You know what he told me before I signed and since – 'Just be yourself. Everyone else is taken.' How good is that?" Later, Gruden complimented Steve for being a "tough guy and a good fit for the Ravens." Smith smiled at that one and replied: "At the other place, I was in the minority. Here, I'm in the majority."
It became clear in the meeting that Gruden, the former head coach of the Bucs (where he won a Super Bowl) and the Raiders, was enamored with Kelechi Osemele. Talking with Justin Forsett, the ESPN analyst asked: "I see you run behind that Osemele, and he's just mauling people. If you got jumped on the street or in an alley, which of your teammates would you want with you?" Think Gruden was hoping for an "Osemele" answer, but Justin answered quickly with a smile, "Suggs."
Receiver Kamar Aiken leaped high to grab the Saints' onsides kick at the end of the game. The play happened right in front of me. It was startling how high Aiken jumped to catch the ball at its peak. "Man, you were up there on that kick," I said to Aiken on the charter. He smiled, "That's a 40-inch vertical." (They are great athletes!)
We wanted to leave New Orleans in a hurry after the game. Coach Harbaugh looked to pass out some game balls in the locker room – Forsett, Suggs for his 100th sack, Lardarius Webb for chasing down the Saints' receiver at the 1 on the opening drive – BUT, the balls had already been packed. Didn't stop Harbs … He pretended like he had balls to hand out, including throwing a make-believe ball to Suggs in the back of the room. "Sizzle" made a nice make-believe catch.
We must move on to the Chargers, and that's what we've done.
I've asked Marisol Renner, our publications and public relations specialist, to finish today's blog after she spent time with Torrey Smith on Wednesday. Here's Marisol:
In the spirit of Thanksgiving, I spoke to one of our most active players in the community about his seemingly never-ending efforts to give back. As you've probably noticed, Torrey spends a great deal of his "off time" in our community. The new father [to 7-month-old T.J.] chooses to spend a lot of his down time with local youth, including most recently this past Tuesday night at the POWER House Community Center of Living Classrooms, where he spent time with 70 children and their families.
"We made some crafts with the kids, ate dinner and just had some fun," recalled Smith. "They lit up. They had a great time. It was awesome."
Many have heard how Torrey grew up – raised by his single-mother and grandmother in a small town [Falmouth, Va.] about 45 miles south of Washington, D.C. … As the oldest of seven, he was a father-figure to his siblings, helping cook dinner and keep things running at home while his mom worked two jobs. He knows first-hand how difficult it can be for young children who may not have everything they need in life.
He speaks [and writes via social media and his blog – more on this later] about how much he enjoys just being with children who are going through tough times.
He does so much that the staff members of our community relations department have sometimes decided to give him a break and not ask him to take part in certain events, just because they know how busy he is with his efforts. He even at times has gotten mad at them for NOT asking him to join in on an event. … But, much to their delight, there have been times when Torrey has shown up unexpected, just because he was "in the neighborhood."
I also spoke to Torrey's wife, Chanel, on Wednesday. The former University of Maryland track star grew up in a similar single-mom household in Conshohocken, Pa. and is always right by Torrey's side at events like the one at the POWER House.
"We've both been in those shoes before, and some kids just need a little support," explained Chanel. "There were people like our coaches and different people that reached out to us that lent a helping hand that got us to be where were are today. Hey, I was a [fourth-grade] teacher, so I saw it first-hand. And some of the kids just needed some attention and didn't have everything they wanted."
Now raising a son of their own, it's important to the couple to share their love with others whenever they can.
On the night before Thanksgiving, when many of us were at home, out of the snow and cold, prepping for the next day's festivities, Torrey, Chanel and T.J. were at the Night of Peace Family Shelter in Baltimore County.
The three of them, along with some of their extended family members, gathered with the 30 residents [many of whom are children], the shelter's staff and were also joined by Steve Smith Sr. and his family to share a holiday meal. Many of the dinner mates met that night, but they all came together like a family. It's yet another example of Torrey opening his heart for others in need.
Torrey explained it this way: "It's so easy to consume our minds with the negatives in life, and we sometimes forget to reflect on the positives. So my wife and I have decided to take the month of November [in honor or Thanksgiving] to set aside all complaints and focus on the things that we are thankful for."
I could keep going about Torrey – by the way, he doesn't do any of these things for publicity. It's all about giving back to others the way others helped him get to where he is today. He flat out just enjoys being able to inspire others and help uplift them. He is truly a special member of our team and our society – but there is just one more thing I have to share …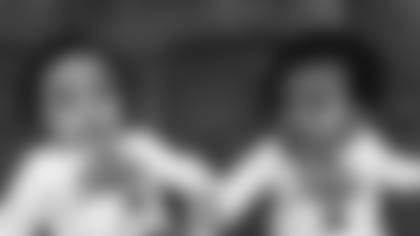 I'm thankful for the opportunity to get to know players like Torrey and Steve, and I thank Kevin for the opportunity to contribute to his blog.
Now, let's beat the Chargers!
Kevin will talk to you next week.