Linebacker Dannell Ellerbe hasn't had any "passing of the torch" conversations with Ray Lewis.
But with the mighty Lewis stepping down after this season, the natural question becomes who will step into his shoes.
And the natural answer seems to be Ellerbe, who is having his finest season as a Raven.
"I think he's the perfect guy for the job," outside linebacker Paul Kruger said.
"He plays his tail off every game. He definitely brings a similar energy that Ray brought with the big hits and exciting plays. You've seen the same games I have. That guy's a beast."
Problem is, Ellerbe could be gone after this season too. He's an unrestricted free agent.
Asked whether he feels like he could be the heir apparent to the throne along with inside linebacker Jameel McClain, who signed a three-year contract this past offseason, Ellerbe said he didn't know.
"That's something the front office has to handle," Ellerbe said. "I have no say in that. I pray it's me, but that's out of my hands."
Ellerbe signed with the Ravens in 2009 as an undrafted rookie free agent out of Georgia. He eventually became a starter over McClain by the end of the season, and had a breakout in Oakland where he notched an interception and fumble recovery in a win that propelled the Ravens into the playoffs.
Ellerbe struggled to stay healthy over the next two seasons, and fell out of playing a major role. Primarily hamstring issues kept him out of five games in 2010 and seven in 2011. He logged 31 and 18 tackles in each year, respectively.
Ellerbe has battled injuries again this season, including playing with two broken thumbs and through a toe injury. An ankle ailment knocked him out of three straight games – all three Ravens losses.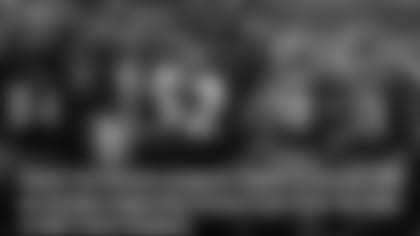 ](http://www.baltimoreravens.com/videos/videos/)He's still second on the team in tackles with a career-high 92 tackles. He's shown a knack for getting to the quarterback and has logged a career-high 4.5 sacks.
"When he's out there, he's always done well," fullback Vonta Leach said. "He's physical, fast, and he can cover a lot of receivers and tight ends. I hope we can hold onto him, but you know how this business is."
Ellerbe said he would like to stay in Baltimore this offseason.
"I know the defense, I love the city, I know people here, I have a good relationship with coaches, I know the playbook. Everything that I could possibly want is here," Ellerbe said.
"But it's a business. It's not up to me. If it was up to me, I'd be here."