Cover Story: Tavon Young's Battle With the Injury Bug
Considering he missed three of his five NFL seasons with injuries, Young entered this year as a question mark. He's not only played in every game, but he's been one of the secondary's steadiest performers.
---
---
When Tavon Young tore his ACL last year in Houston, General Manager Eric DeCosta followed him to the locker room.
It was Young's second ACL tear, and his third season-ending injury in five years in the league. It was also just a couple years after Young signed a contract extension making him the highest-paid nickel cornerback in the NFL.
"Just give me one more chance," Young pleaded to DeCosta. "Don't give up on me. Give me one more chance."
"We've got you. We'll take care of you," DeCosta replied.
It wasn't the first time that Young found himself asking for more time. A year earlier, a neck injury put his career in jeopardy. Just two games into his comeback, it was short-circuited again by another ACL tear.
Considering he missed three of his five NFL seasons with injuries, Young entered this year as a question mark. He's not only played in every game, but he's been one of the secondary's steadiest performers.
As the Ravens look to improve its 31st-ranked pass defense during the chase to the playoffs, they will lean on the player that not long ago seemed unreliable.
Young suffered a foot injury in Miami, which unquestionably brought more thoughts of "here we go again." But Young was back on the field the following week in Chicago. Has his luck finally changed?
The Pit Bull Is Released
Young was a third-round pick out of Temple, a program known more for its grit than flash. Young was the definition of that, the player given the No. 1 jersey that denotes their toughness.
The Ravens picked Young in the fourth round in 2016, the first of five Ravens picks in that round, joining wide receiver Chris Moore, offensive lineman Alex Lewis, defensive tackle Willie Henry and running back Kenneth Dixon.
"If we have a crystal ball, and we look back on this draft five years from now, we're going to say this draft was either made or broken by the fourth-round picks," DeCosta said before the draft.
It didn't take five years to know that Young was going to be a hit. As soon as the rookie took the field, veteran cornerback Lardarius Webb knew.
"Us older guys, we're always going to judge the draft picks – see if we hit or missed on this one. Nobody knows until you get them out there on the practice field," Webb said.
"That's when you saw that extra push that he has, that never giving up, that you're-not-going-to-beat-me attitude. He reminded me so much of me. He really, really wanted it. We weren't the biggest players on the field, but he played big."
At the NFL Scouting Combine, Young came in a 5-foot-7 ½ inches and 183 pounds, making him among the smallest players at the event. But on the field, Young measured up.
"He's always been given the tag of pit bull," said safety Chuck Clark, who joined the Ravens the following year. "You look at him, he's small, but he's scrappy and feisty. He's going to stick his head in wherever. If it comes down to a run fit; if he has to take on a lineman, a tackle, a tight end, he's going to do it without thinking. It's first nature."
In just his sixth NFL game, against the New York Giants in MetLife Stadium, Young was thrust into the starting lineup with the Ravens banged up across the board. Jimmy Smith shut down then-Giants wide receiver Odell Beckham Jr. in the first half but suffered a concussion.
That left Young matched up against one of the NFL's premier wide receivers in the most pivotal point of the game. With less than two minutes to play and the Ravens holding a three-point lead, Beckham shook off Young's jam attempt, crossed his face on a slant, and broke open for a 66-yard game-winning touchdown. Young, who had an interception earlier in the game, took the blame for the loss.
"I'm going to come back harder," Young said. "You've got to have that mindset. Be a dog. That's what it's got to be."
The Ravens stuck with Young as a starter the following week, and he remained in that spot the rest of the season, showing his resiliency. It was a strong rookie season, especially for a small-statured fourth-round rookie out of Temple.
But the following year, during Organized Team Activities, as Young prepared to have an even bigger role in Baltimore's defense, he suffered his first ACL tear. Young was going for an interception when he bumped into a teammate, hardly making any contact.
"It was the first major injury of my life," Young said, looking back on it now. "I was disappointed and sad, but I knew I'd be back. So I just attacked the rehab. The first one, it was tough, but I got through that one a little easier than the second one."
Being that Young reminded him of himself, Webb took the youngster under his wing during the rehab. Webb had been down this path before. A third-round pick out of Nichols State, Webb became a starter late in his rookie season before tearing his ACL in the next-to-last regular-season game.
"What I told him is, 'You still have a long career ahead of you. It's just going to be about how you work now, how you rehab, how you put in the work in the offseason to get back to 100 percent,'" Webb said.
The following season, Young came back and played 15 games. He had a monster season with five interceptions, two sacks, five tackles for loss and two touchdowns on fumble recovers. He earned the name the "Scoop and Score King" from his teammates.
Not long after the season, Young truly got kinged.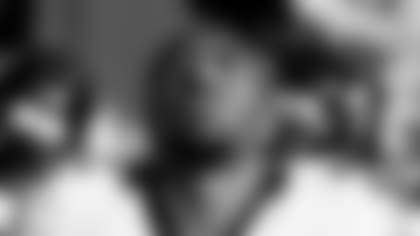 Broken And Repaired
On Feb. 21, 2019, the Ravens gave Young a three-year, $25.8 million extension (four-year contract overall) that, at the time, made him the highest-paid nickel cornerback in the league.
It was one of DeCosta's first moves as the new general manager taking over for Ozzie Newsome.
"If you guys remember, a few weeks ago I talked about my desire, and I think the organizational desire, to keep our best young players, and I think that Tavon really is the definition of that," DeCosta said at the time.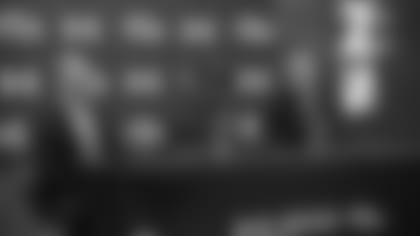 "Very excited for him. He's earned it. To see him last year overcome the knee injury in the manner that he did, the work ethic, his intensity and desire to be the best, is really impressive for all of us to see daily."
Little did the Ravens know, Young's rebound from his first major knee injury was just the start.
During a training camp practice, Young suddenly felt a shooting pain as he simply tried to put his helmet on. He forced his helmet onto his head and went on the field for another play, but the pain was just too much.
The Ravens sent him for tests and when the doctor pulled up an X-ray, Young had a herniated disc in his upper spinal column. The first thing they said was he might not be able to play football again.
"I ain't gonna lie, I started crying," Young said. "I'm like, I don't know what I will do if I'm not playing football. That kind of broke me for a second."
"He told me, 'Bro, it's up to you at the end of the day. If that's what you really want to do, just do it,'" Young recalled.
The first doctor told Young they would get more opinions and it only took a few days to find a surgeon who said they could fix him.
"If ya'll fix it, I'm coming back," Young told them.
Young was forced to sit out another season, but he said that was the easiest recovery of them all, at least from a physical standpoint. He just had to wait.
The biggest hurdle would be the mental part of watching his teammates from afar during a magical 2019 season. When the Ravens fell short, Young was determined to help them get over the hump in 2020, and he wasn't going to let any fear hold him back.
You would think the first hit after a neck surgery would be a little nerve-wracking. Would Young play the same way, throwing his smaller frame around the field?
"I didn't have any hesitation when I came back," he said. "One thing about me; you've just got to know that once you're fixed, you're fixed. I made sure I didn't come back playing timid or anything like that. I came back playing like how I play."
'Just One More Chance'
When Young returned for the 2020 season, he looked like the same breakout player from a couple years earlier. He had a tremendous training camp, locking up Ravens receivers with regularity.
But when Young leapt to break up a pass in Houston in Week 2 of last season, he landed awkwardly and his knee buckled again. He immediately knew it was his ACL.
"I was just thinking, 'Is it the end?'" Young said.
DeCosta's reassuring words in the locker room right after the injury took a lot of weight off Young's shoulders. Baltimore was willing to give him one more chance, but Young knew there was going to be a lot of painful rehab ahead again.
Young felt an obligation to return strong. The Ravens had faith in him when they drafted him and when they gave him that contract extension. He felt that he had to repay them.
"When somebody puts their trust into you, you've got to prove them right," Young said. "A lot of teams probably would have gave up on me by now, just with what I've been through. But the Ravens stuck by me, and I'm always thankful for that." I told EDC that, [Defensive Coordinator] Wink [Martindale] – I tell everybody. I'm just happy to be out here with ya'll. I missed it. This is what I love to do."
Young said he took a paycut before the start of this season. "It wasn't about the money; I just wanted to play," he said.
Young was back on the field, Week 1 in Las Vegas. In Week 2, he made a key late-game interception of Chiefs quarterback Patrick Mahomes that turned the game. Young has played in every game this season and has the second-highest grade in coverage of any Ravens defensive back besides Pro Bowl cornerback Marlon Humphrey, per Pro Football Focus (PFF).
Young was off to a terrific start in the "Thursday Night Football" game in Miami before suffering a foot injury that sidelined him for the rest of the game. But Young was back on the field Sunday in Chicago, even if he might not have been 100 percent. He left the game for a couple series in the first half, then gritted through the rest.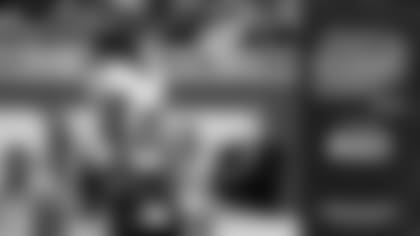 322: Tavon Young Stops By The Lounge
Baltimore Ravens CB Tavon Young talks about his multiple injury comebacks, his tumultuous game against the Colts, his role in the Ravens defense and going against the Los Angeles Chargers.
The Ravens secondary has struggled with giving up big plays this year, but not Young. He's been targeted 35 times, according to PFF, and given up just one touchdown.
"I'd be lying if I said I didn't doubt that he was going to be able to come back. I had my doubts. But if anybody was going to be able to do it, it would be Tavon Young," Pass Game Coordinator/Secondary Coach Chris Hewitt said.
"Right now, he's just good. By the end of the year, I'm going to say he's going to be great. That's how I feel about it."
After his ACL injury during his rookie season, Webb suffered the same injury three years later in the 2012 season. He missed out on the Ravens' Super Bowl run. Still, Webb played nine years in the NFL – all in Baltimore. He had a very successful career, and he knows Young is capable of the same.
"To be great, you have to go through some struggles. If it's easy the whole way, you're not going to reach your full potential," Webb said.
"Injuries hit me, so I kind of lost a step. I had to gain that step back with studying hard. That's what I saw from Ray Lewis. When Ray Lewis got into his 15th, 16th, 17th year, he wasn't as fast as he was when he was in Year 1 or 2. But he was so smart; he knew exactly what plays were going to come and he would be two steps ahead."
Who knows what Young's career would have looked like had he not suffered so many major injuries, but he's not getting caught up in the what-ifs. In a season in which the Ravens are riddled with injuries, Young knows he's being counted on to help keep the unit afloat.
"I'm always in it to have a long career, no matter what," Young said. "I didn't come in just to quit just because of injuries. I know I feel good. As long as I can run around, I know I can make plays and keep going, be there for my teammates, do my job."