Ravens General Manager Eric DeCosta joined "The Lounge" podcast Thursday to review the team's 2022 NFL Draft.
DeCosta shared insight into his pre-draft plans, his thought process as it unfolded, and his thoughts about a week since it ended.
Here are some of the top takeaways, and fans should listen to the full episode wherever you get your podcasts:
DeCosta was expecting to trade back from pick No. 14.
DeCosta did not expect Notre Dame safety Kyle Hamilton to be available at pick No. 14. He thought one or two other players, including Georgia defensive tackle Jordan Davis, would probably be there for the Ravens, or they could trade back if one of the top four wide receivers was still on the board when Baltimore was on the clock.
DeCosta is always looking to acquire more picks, so he was hoping a team would want to move up to No. 14 for Baltimore's pick.
"I thought the scenario that would probably be most accurate might be that a team picking in the 20s would have traded up to 14 to take a receiver," DeCosta said. "I thought looking out at it that Chris Olave might have been there at 14. And had that happened, I feel like our phone would have rung."
While Ravens fans were probably rooting for the wide receivers to all go off the board and push defensive talent to Baltimore, DeCosta was hoping one wideout would still be left so he could trade back. Instead, the Saints took Olave at No. 11 and the Lions picked Jameson Williams at No. 12.
That left Hamilton and Davis on the board and the Ravens able to grab one.
The Ravens preferred Hamilton over Davis.
The Eagles were at pick No. 15 and wanted Davis. They had a suspicion, correctly, that Davis wasn't going to get past Baltimore.
Thus, Philadelphia traded with the Texans in front of the Ravens and grabbed the hulking defensive tackle. That was just fine by Baltimore, however.
"I was thinking thank God Kyle Hamilton is still on the board because he was the highest-rated player, quite honestly, and it wasn't super close between those two," DeCosta said.
"People have asked me, 'Would you have taken Jordan Davis?' Yeah, we would have. Jordan Davis is an excellent football player and fits us very, very well. But as we mocked out and looked at all the different scenarios, in no scenario did we see Kyle there for us."
The Ravens could have drafted a wide receiver at No. 14.
The news of Marquise Brown's trade to the Arizona Cardinals was a complete shocker to mostly everyone. DeCosta explained why it was necessary for him to keep it a secret until after the Ravens' first-round pick.
One reason was that there was a chance the Ravens could have drafted a wide receiver at No. 14. DeCosta didn't want other teams to know Baltimore was going to have an open starting spot at wide receiver and take the Ravens' guy.
"It wasn't just any wideout; it was a specific wideout that we might have taken at 14," DeCosta said.
USC's Drake London (No. 8, Falcons), Ohio State's Garrett Wilson (No. 10, Jets), Olave (No. 11, Saints) and Williams (No. 12, Lions) were the wide receivers to go before Baltimore was on the clock.
The other reason was, as mentioned above, DeCosta was hoping to get a trade offer from a team looking to move up for a wide receiver. If teams knew Baltimore was trading Brown, they might have leapfrogged Baltimore instead of trading with the Ravens.
"What made this draft special, I think, was that there was a run on receivers," DeCosta said. "Disappointing to us, in some ways, because it probably reduced our potential of doing a trade and getting more draft capital. On the other hand, Kyle Hamilton fell and he was a player that we coveted. For us, even though we didn't have a trade opportunity, even though there wasn't really a receiver there that we would have taken at 14, in hindsight, the fact that Kyle was there made it a home run."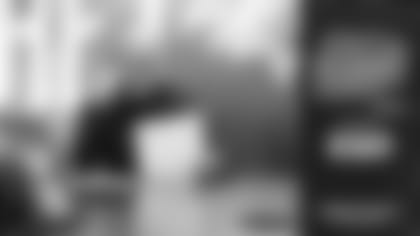 Eric DeCosta Shares Insight Into 2022 Draft
General Manager Eric DeCosta talks about what he thought would happen at pick No. 14, the trade of Marquise Brown, how he wanted to help Lamar Jackson, the need at wide receiver, the value of tight ends, and each of the Ravens' 11 draft picks in the 2022 class.
DeCosta wanted to keep Marquise Brown but saw a looming contract issue.
As DeCosta said previously, Brown held a special place in his heart as his first draft pick ever as the Ravens' general manager. The two had a good relationship.
However, when Brown came to DeCosta after the season was over to request a trade, DeCosta wasn't going to fight him to stay.
"Maybe I'm just mellowing as I get older, but if players really don't want to play here, then I don't have a strong feeling for keeping them – all things being equal," DeCosta said.
"I appreciated his thoughts, appreciated where he was at in his career. I told him I would try to help him all things being equal, but the organization had to win. We had to make a trade that I felt was a strong trade beneficial to the Ravens.
"All things being equal I would have preferred to keep Hollywood. But knowing his mindset, knowing what was important to him and his desires, we made a trade that we feel like we could live with at the time that would look good in the future. We look forward to watching him play in Arizona but we also look forward to watching Tyler Linderbaum play here in Baltimore."
There was also a looming mega contract awaiting Brown, which he will certainly be looking to get now in Arizona. Instead of paying that, the Ravens got three years of Brown's production on his cheaper rookie contract and essentially recouped the original No. 25-overall pick they used on him in 2019.
"We saved a little bit of money this year, but not much," DeCosta said. "Then next year and moving forward, had we picked up his fifth-year option, now we're talking about over $13 million, plus now we're talking about a long-term contract, which as you guys have seen, these wide receiver contracts are off the charts and that would pretty hard for us to do."
Lamar Jackson prioritized building up the offensive line.
The Ravens signed veteran offensive tackle Morgan Moses in free agency, then spent a first-round pick on center Tyler Linderbaum, and got more offensive tackle insurance in the fourth round with Daniel Faalele.
DeCosta said he, Head Coach John Harbaugh and Offensive Coordinator Greg Roman all strongly believe that you win up front, and pointed to some of the most successful teams in Ravens history having strong offensive lines.
But the Ravens' investment in the offensive line this offseason stems, in part, from conversations with Lamar Jackson. They talk about more than just his contract.
"I've had conversations with Lamar many times and I've said, 'Lamar, what can we do to help you? What is most important to you?'" DeCosta said. "Honestly, the thing that he always comes back to is the offensive line."
Ravens felt David Ojabo may not have gotten to No. 14 before his injury.
During the Ravens' pre-draft press conference, DeCosta said David Ojabo's Achilles injury was not just unfortunate for him and the Ravens, but the entire league. DeCosta called Ojabo a "tremendous talent."
When the second round came around, DeCosta was thrilled to still get Ojabo.
"He could have been [our pick at No. 14]. He probably would have been," DeCosta said. "But I'm not really sure, and I would say it would have been doubtful that he would have been there at 14 for us.
"He's got all the traits. … This was a guy that just burst onto the scene this year, somewhat reminiscent of another guy years and years and years ago, Ziggy Ansah, who came in and was basically a one-year player and burst onto the college scene and was a top-10 pick. This guy has all the traits. He had a great year, he played huge in big games, very very explosive, runs to the football."
Ansah had 4.5 sacks in his final college season and ended up going No. 5 overall to the Detroit Lions in 2013. He broke out in the NFL, registering 44 sacks in his first five seasons in Detroit.
"If you want to feel good about the draft, we got three guys that we would have considered in the first round," DeCosta said.
DeCosta threw people off the scent with pre-draft center comments.
The Ravens knew they liked Linderbaum. In December, they talked about using their first pick on him.
But during the pre-draft press conference, DeCosta said the team likes big centers. Linderbaum, as the smallest center in the draft, didn't seem to be an ideal fit. That's just how DeCosta wanted it, as he felt the Ravens could probably score Linderbaum later in the first round.
"When I say we like big centers, yeah we do," DeCosta said. "But we also like ass-kicker centers. And we like mean centers, we like smart centers, we like athletic centers. We love good football players and Tyler, to me, is one of the best football players in this draft at any position, across the board."
DeCosta said he enjoys playing the game of deception before the draft. He said it makes it more fun, and that he's in a competition with 31 other teams.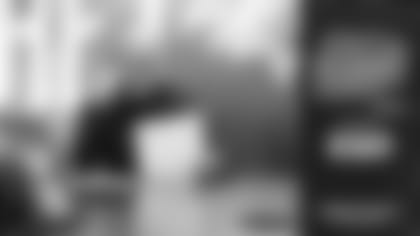 Eric DeCosta Shares Insight Into 2022 Draft
General Manager Eric DeCosta talks about what he thought would happen at pick No. 14, the trade of Marquise Brown, how he wanted to help Lamar Jackson, the need at wide receiver, the value of tight ends, and each of the Ravens' 11 draft picks in the 2022 class.
Ravens value tight ends and safeties perhaps more than others.
DeCosta admits that the Ravens wanted wide receiver Calvin Austin III in the fourth round before he was nabbed by the Steelers one pick before Baltimore was on the clock.
However, having to pivot to take a second tight end was a reflection of Baltimore's dedication to taking the best player available and fits with the team's research that tight ends are more valuable than realized.
Baltimore signed Marcus Williams and drafted Hamilton, then grabbed two tight ends in the draft, stockpiling talent in both rooms.
"I think one of the things we do is we listen to our analysts upstairs. There's a sense that safeties and tight ends are actually a lot more than people perceive them to be worth," DeCosta said. "And a lot of it has to do with the rise of the passing game and what their impact is on the passing game. Maybe they're not corners, maybe they're not wide receivers, but they impact the game quite a bit.
"We play some teams that have excellent passing games. We play some teams that have great, young offensive talent. The idea that we've got really, really strong corners and potentially elite-type, at some point, safeties, that's a comforting factor for us."