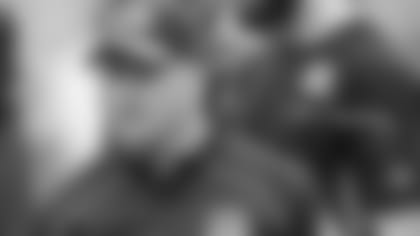 It was no surprise that the Ravens held a press conference to introduce Wink Martindale as their new defensive coordinator a few days ago.
Offensive and defensive coordinator jobs are important in the NFL, and whenever there's a change, everyone wants to hear the new guy's ideas, how he plans to operate, what he might alter, etc.
As Martindale took questions and generated headlines at the Under Armour Performance Center, another coach, James Urban, quietly slipped into town and went to work.
Not surprisingly, Urban's hiring as the Ravens' new quarterback coach didn't generate nearly the splash that Martindale's promotion did; position-coach hires are just blah-blah-blah to most fans.
But I think it's possible Urban could end up having more impact than Martindale on the Ravens' fortunes in 2018.
Let me put it this way: The Ravens hope his low-key hiring is that important.
That's not in any way intended as a commentary on Martindale. As he told the media, his challenge is to take a good defense and make it great. It will be interesting to watch him go to work on that project. But my point is the Ravens were already playing at a pretty high level on that side of the ball, so Martindale can only manufacture so much change for the good.
Is there still room for improvement? No doubt. But there's more room for improvement at the crucial position where Urban is being inserted into the coaching calculus.
If he can help Joe Flacco perform at a higher level, his addition, perhaps more than any other, would bolster the Ravens' prospects and just make them flat-out better.
I do believe that's why Urban was hired: on the hope that giving Flacco a position coach – one who doesn't hold another job – enables the Ravens to get more consistent play from a quarterback who ranked low in many key statistics and metrics in 2017.
Given that the Ravens finished No. 7 in total defense and fielded some of the league's most effective special-teams units in 2017, even a modest uptick in Flacco's performance could have a major impact. And substantive improvement would be a game-changer.
In 2017, the Ravens asked Offensive Coordinator Marty Mornhinweg to coach the quarterbacks as well as implement the offense. He and Flacco have a solid relationship, but there was a lot on Mornhinweg's plate.
Without a separate position coach, Flacco experienced a blend of ups and downs that didn't really satisfy anyone in the end.
As I see it, Urban's hiring is a tacit acknowledgement that the arrangement didn't really work, not that that's any big secret.
To be fair, Flacco was hampered early by a back ailment, suffered a concussion in November and was forced to throw to an injury-depleted receiving corps all season, all of which must be factored into any analysis. Regardless, the Ravens want more from him going forward.
Can Urban make the difference? He is a well-respected assistant who has coached the Cincinnati Bengals' receivers for the past seven years and worked with Donovan McNabb and Michael Vick as the Philadelphia Eagles quarterback coach before that.
In an interview with my colleague Garrett Downing, Urban said of Flacco, "It's obvious he's a football player; very tough guy mentally and physically. Those kinds of guys have careers like he's had, very successful, lots of wins, lots of playoff appearances. We want to get back to doing those things."
Urban explained that he would install "a system," a set of fundamentals, guidelines and habits, to be repeated as often as possible.
"There's a system in place; you teach, you build, and within that system, you allow the great natural ability to go," Urban said. "I'm looking forward to putting things together, working to establish the foundation and go from there; get Joe healthy and watch what we can do."
Flacco flourished with Rick Dennison as his position coach in 2014 and also benefitted from Hue Jackson's tutelage early in his career. Jim Zorn, who lasted one season, wasn't a great fit.
The Ravens hope this new marriage is a good one, and if it is, they might well have already made one of their biggest moves of the offseason – surprisingly, one that barely made any splash at all.