After the Ravens wrapped Saturday's training camp practice, the team had the distinct honor of hearing from one of America's great leaders in Army Colonel (retired) Gregory D. Gadson. A man of great strength, courage and character, he delivered his story and a powerful message to Ravens coaches and players.
Col. Gadson has always been committed to serving his country – spending more than 25 years in the United States Army – but before that, he dedicated his life to the game of football. He grew up playing in his native Chesapeake, Va., and eventually brought his will to serve and love for the game to West Point, where he enjoyed a four-year career as an outside linebacker for Army from 1985-89.
After his playing days, Col. Gadson spent more than two decades serving his country as a field artillery officer, including active duty in some of the world's major conflicts: the first Gulf War in Operations Desert Shield and Desert Storm in Kuwait, Operation Joint Forge in Bosnia and Herzegovina, Operation Enduring Freedom in Afghanistan and Operation Iraqi Freedom.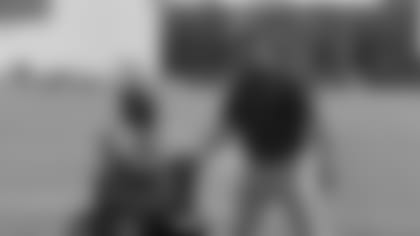 In May 2007, Col. Gadson was serving as commander of the 2nd Battalion, 32nd Field Artillery during the surge in Iraq when the vehicle he was riding in ran over an Improvised Explosive Device (IED). The attack cost him both of his legs above the knee, and countless other injuries that left him fighting for his life.
Col. Gadson returned to the United States, where he faced a long road to recovery. During this time, he re-connected with many of his college teammates who were there to support him throughout his difficult time. He considers them his football family.
Just four months after suffering his injuries, one of his West Point classmates and teammates, Mike Sullivan, reached out to offer his support. At the time, Sullivan was the New York Giants' wide receivers coach. The Giants were off to an 0-2 start that year, and when the team traveled to Washington for a Week 3 contest with the Redskins, Sullivan thought Col. Gadson's story could help lift the players, while also serving as a therapeutic release for Gadson.
"In terms of sharing my story, especially early on, if anything, I was coaching myself as much as I was coaching anyone else," Gadson said. "The first time that I spoke with the Giants was just four months after I was wounded. It was still very fresh."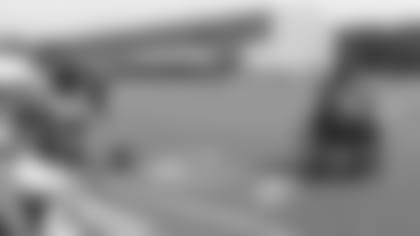 The Giants went on to win six-consecutive games following Col. Gadson's speech. He had an opportunity to spend time with the Giants off-and-on that season, which culminated in New York's victory in Super Bowl XLII over the 18-0 New England Patriots. Col. Gadson spoke to the team the night before the big game.
Despite his injuries, Col. Gadson amazingly spent the next seven-plus years serving his country active duty in the United States Army. He held a couple of positions, first as director of the Army's Wounded Warrior program for two years, and then acting as a Garrison Commander for a military base. He still had an opportunity to spend a number of years with the Giants, and also brought his story and message to college football programs across the country, including the University of Texas, Oklahoma, and other distinguished teams.
In 2013, Ravens Head Coach John Harbaugh was honored by the NFL as the recipient of the Salute to Service Award, which was created to acknowledge the exceptional efforts by members of the NFL community to honor and support military and their families.
Upon receiving that distinction, Harbaugh met Col. Gadson for the first time at the house of his close friend, General (retired) Raymond T. Odierno.
"Football is family," Gadson stated. "You know about Coach Harbaugh's relationship with General Odierno. Well, General Odierno was a West Point football player, and he was a three-star commander. He was the corps commander in Iraq when I was wounded, and we were all invited to his house for a special ceremony and award that Coach Harbaugh had received – the Salute to Service award. That's when I met Coach Harbaugh. It's all about football.
"But General Odierno, just how we are all a family, after my injuries, he personally called my wife when I was evacuated. When I arrived to the hospital, I was still unconscious. His son had been wounded and lost an arm; he had been hurt a year or two before me. So, he understood what I was going to go through, and he was able to talk to my wife Kim about that. It's just about family. The investment that you put into people and the relationships and the bonds that grow from a game, from a sport, it can last a lifetime. You could say my life is a trail of football, and I can tie it back to just about everything."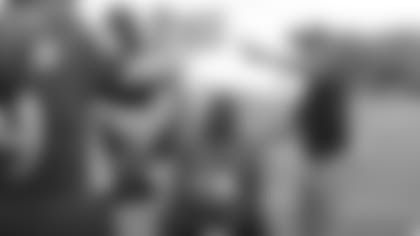 Harbaugh told him then what an honor it would be for him to one day address his team.
Harbaugh and Col. Gadson kept in touch over the years, and it ultimately led to Col. Gadson making his first trip to the Under Armour Performance Center Saturday . Following practice, the team huddled tightly around Col. Gadson at midfield, where players and coaches listened intently as he shared his powerful story and words of encouragement for the team.
"My message to the team was about being accountable to self first, and being accountable to each other and working hard and developing a character," Gadson said. "It's all about developing individual character and developing team character and building a team. That team is about trust, and it's about trust that you're doing the right things for the team in all aspects of your life. Taking care of yourself, making smart decisions on and off the field and being accountable to one another [is most important]."
Harbaugh added: "He talked about what it means to be a team, and he talked about the essence of being part of a team is about trust, being able to trust one another. He told his story, which is just a tremendously heroic story, and talked about living every moment, being in every moment, in that moment, and not living in a moment you're not in. That's the one thing I remember: Don't live a moment you're not in. We can take that one with us."
After his address, one by one, players and coaches formed a line to shake Col. Gadson's hand.
For Col. Gadson, football has become more than just a game. To him, football is family. He cherishes the relationships that are cultivated through football and treasures the opportunities to impact an individual or a team.
A distinguished and decorated serviceman, Col. Gadson has twice earned the Legion of Merit, three Bronze Stars, three Meritorious Service Medals, three Army Commendation Medals and a Purple Heart.
Col. Gadson now lives in Alexandria, Va., and has a small company where he continues to support the government – mostly the military – through service-based contracts. He also enjoys speaking engagements throughout the country. As he noted, it keeps him busy.
Thank you, Col. Gadson for visiting the Ravens and for sharing your incredible journey. But mostly, thank you for your sacrifice and for your service.