Ravens kicker Billy Cundiff was ready for the next phase of his life.
He didn't want to be, but after scratching for a way back into the NFL, the league was telling him there wasn't much of a choice.
If a player doesn't make a roster for three straight seasons, the NFL starts sending severance checks. Cundiff and his wife, Nicole, already had a spot in the bank ready for it and were in a way excited.
It was time for Cundiff to be the husband and father his wife, Nicole, and newborn daughter, Chloe, needed.
"I don't care who you are in the real word or football, when you've got three years without working and you have a family to support, you need to move forward," Cundiff said. "You think, maybe football's just not in the cards."
Two years later, Cundiff and his wife are in Honolulu, Hawaii for the Pro Bowl, where Cundiff has perhaps the game's best story.
He went from the brink of being out of the NFL to the AFC's top kicker. He's gone from a journeyman to the Ravens' long-term answer.
"I'm really persistent," Cundiff said. "Sometimes it can be to a fault, but I think in this situation it came in handy."
'LIFE'S GOT TO KEEP GOING' 
According to the NFL Players Association, the average NFL career lasts 3.3 years.
That's about how long Cundiff, an undrafted free agent out of Drake, was with the Dallas Cowboys to begin his career. The ride ended in 2005 when Cundiff had two field goals blocked on Christmas Eve in Carolina. He was cut two days later with one regular season game remaining.
That was the beginning of Cundiff's journey around the NFL.
He signed two contracts that offseason, one with the Tampa Bay Buccaneers and the other with the Green Bay Packers, and was cut both times. He landed with the New Orleans Saints midway through 2006 as their kickoff specialist.
But that was the last time Cundiff would see regular-season game action in two years.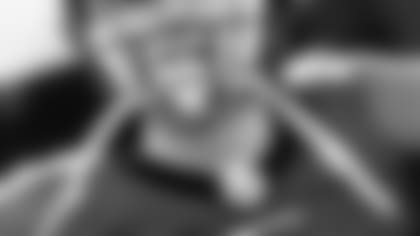 He competed for the starting job in Atlanta in 2007 and lost out to Matt Prater on the final cut. Cundiff had eight more tryouts that season, all ending with a flight home to Phoenix, Arizona.
"There were a lot of times that I got kicked in the teeth," Cundiff said. "I felt like maybe the league was saying my time was over, but I tried to make sure I never said my time was up. I just felt like if I could be patient, my time would come."
With his football career up in the air, Cundiff enrolled in a full-time business program at Arizona State.
"I told my wife, 'Look, I've got to start doing this," he recalled. "I'll stay in shape and wait for my time [in the NFL] to come, but life's got to keep going."
At 29 years old, Cundiff landed an internship with a local venture capital firm and was hired on full-time about six weeks later. It was his new career.
"I was really excited," Cundiff said. "I really liked what I was doing and thought it was something I would do long-term."
Still, Cundiff couldn't give up on his dream. He was convinced he was good enough and feared that if he didn't try, he might live with the regret for the rest of his life.
So Cundiff would wake up at 5:30 a.m. to hit the gym for an early lift. He'd come home, put on a tie, drop his daughter at daycare and head to work.
After his desk work ended, Cundiff drove to Scottsdale Community College to kick. He often didn't return home until 9 or 9:30 p.m., his wife said.
"We would eat dinner, go to bed, wake up, and do it again," Nicole said. "It was tough."
Mentally, Cundiff was wrestling with the thought that the NFL didn't want him back.
He went through what he called "cycles," first of defeat, then optimism after pep talks from Nicole and his agent, Paul Sheehy.
"There were times when he was real determined something was going to break soon," Nicole said. "There were other times when he was really discouraged. My job was to keep him balanced. I never wanted him to give up on his dream, but we also had to be realistic about his possibilities of getting in [the league]."
Nicole told her husband that someday, somebody would make a movie about their lives.
"You're not just going to get back in, you're going to do the best," she told him. "He felt that way, but he needed that affirmation."
Ultimately, Cundiff got antsy. He found an open tryout for the nearby Arena Football League Arizona Rattlers, and sent his agent an email saying he was "sick of not playing" and that he was going to show up.
Sheehy responded, "YOU ARE NOT DOING THAT. You're an NFL kicker. Be patient. Your time is coming."
So Cundiff waited, and waited.
'HEY, THIS IS MY JOB' 
Cundiff was weeks away from filing for severance pay when he was signed by the Detroit Lions.
His stay lasted just 10 days, but Cundiff had his foot back in the door.
A month later, the Cleveland Browns signed him to fill in for injured veteran kicker Phil Dawson. He went 6-of-6 on his field goal attempts, including a game-winner against Buffalo in a 6-3 victory.
Cundiff was cut on Nov. 3, but signed with Baltimore a week later when the Ravens cut bait on Matt Stover's replacement, Steve Hauschka.
Cundiff knew there were high expectations in Baltimore, a place that had been spoiled by 13 years of reliable kicking by Stover, but he had moved past trying to meet others' standards.
"Once I came here, I was like, 'Hey, this is my job,'" Cundiff said. "It was a major weight off my shoulders. Now this wasn't a fill-in. This was the real deal. I was the guy and there was no one else looking over my shoulder. I was very, very, very, very appreciative of the opportunity."
Cundiff hit 12 of 17 field goal attempts last season, including an overtime game-winner against the Pittsburgh Steelers.
Still, the Ravens weren't yet convinced Cundiff was their long-term solution. On came another test, this time in the form of Shayne Graham, the fourth-most accurate kicker in NFL history.
"My opinion was this," Cundiff said. "If you're going to be the man and prove you're the guy, let them bring in the best guy off the street they can possibly find so that when you beat that guy, there's no more doubt. So I loved it, I absolutely relished it."
On Sept. 4, Cundiff won the job in the final cut down. Ravens coaches said they went with Cundiff essentially because of his better kickoffs.
He carried that momentum throughout the season.
Cundiff believes the ups-and-downs of his career toughened him mentally. His year-round preparation and dedication put him in tip-top physical shape.
Now with an entire offseason practicing to be an NFL kicker, Cundiff further honed his technique.
He had already learned to keep his head down throughout the entire length of his kick, making him more accurate on field goals. Then he and his position coaches, Jerry Rosburg and Randy Brown, started tinkering with his kickoffs.
Cundiff's logic was that people confuse hang time on a kickoff with how high the ball gets. Rather, it's a measure of how long the ball is in the air. So if a kicker can take the energy put into getting additional lift and focus it on getting more distance, the ball is afloat for just as long and drives the opposition back.
However, if the kicker doesn't get a full boot on the kick, it's going short and low, giving the opposition a prime opportunity for a big return.
"I understood the risk, but it started to take on a life of its own," Cundiff said. "I saw the arch of progress and I said, 'I think I can make that even steeper and continue to get better and better.'"
By mid-season, the Ravens made the decision that they would kick it deep every time. A confident Cundiff made it pay off, booting an NFL record 40 touchbacks to tie Mitch Berger's single-season record.
Cundiff also hit 26-of-29 field goals for an 89.7 percentage, including an overtime game-winner against Buffalo.
"It just all came together this season," Cundiff said.
As if paradise wasn't good enough, Cundiff signed a reported five-year, $15 million contract while at the Pro Bowl. It was the 15th contract he signed during his career and the first that gave him stability.
"It's something I've always wanted," Cundiff said. "I'm very grateful and feel honored."
"I feel like, in a way, I've arrived and now people are taking notice. At the same time, I feel like I've set a bar that I always knew I could attain. Now I think I can push that bar a little higher and continue to grow as a kicker. I don't feel like I've reached that peak."