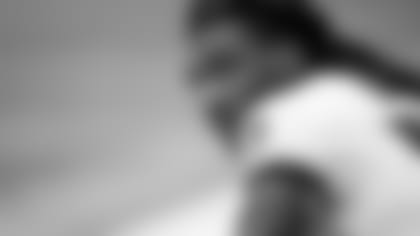 The "In Line For A Bigger Role" series looks at players who will see more snaps in 2015. So far we've featured defensive tackle  and tight end .
6-foot-5, 214 pounds
3rd season
2013 undrafted free agent
24 receptions, 255 yards, 0 touchdowns
426 snaps out of possible 1,091 (39.0 percent)
After being a 12-game starter in 2013, Brown moved back in the wide receiver pecking order with the arrival of Steve Smith Sr. Brown 's receptions and receiving yards were each less than half of what he produced as a rookie. He went from seven touchdowns to zero. But Brown performed well when targeted. He had a seven-game streak in which he caught 18 straight passes.
Who Is He Taking Snaps From?
Torrey Smith
49 receptions, 767 yards, 11 touchdowns
901 snaps out of possible 1,227 (73.4 percent)
Smith was the Ravens' deep threat and often targeted around the end zone. Brown doesn't have Smith's speed, but he can make big plays with his size. He just needs to do it more consistently. Brown is a strong option around the end zone given his big body,wingspan and sure hands. There will be competition for Smith's reps from rookie Breshad Perriman and veteran Kamar Aiken.
Brown will have more of an opportunity to get snaps this summer. Heading into his third season, he's quite familiar with the offense and is more seasoned as a professional. Head Coach John Harbaugh said he expects a "big year" for Brown because he has improved on the technical aspects of the game, refining some of the more nuanced skills.