He's the NFL's version of Times Square in New York City.
An exhibit of regular showmanship and non-stop excitement, Jacoby Jones captivates with ease. 
"Entertaining and electrifying," cornerback Corey Graham states without hesitation. "Fast – incredible speed," safety Matt Elam asserts, nodding his head with conviction. "You can't help but get out of your seat to take notice," running backs coach Wilbert Montgomery affirms.
Such is true of the Ravens' affable wideout/return man, who over seven seasons has emerged as one of the league's most dynamic playmakers. Having set several NFL records with his explosive football exploits, simply put, Jones' ability to shine on the field is rare. Jones is also distinct in that he's likely the first NFL player who's ever been told on national TV: "You've got the spice of life!!!"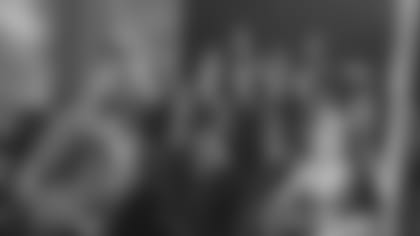 Performance judge Bruno Tonioli of "Dancing With The Stars," a show on which the ever-adventurous Jones competed this past spring, belted this expressive declaration. The jubilant critic didn't stop there, also praising Jones by asking: "Are you plugged into a nuclear reactor? It is just coming out of you – charisma, energy, brilliance."
Indeed, these are prime examples of not just Jones as a performer (on the field or the dance floor), but also as a personality to whom many people gravitate naturally.
But for all the unique ways he mesmerizes and amuses, there are simple, tender and serious sides to Jones – traits that might surprise those who've solely seen him "wow" on Sundays or during a dance routine.
Gas Station Chicken
It's sometime after midnight in the early hours of a Monday morning. Following an eventful and intense Sunday, a hungry Jones stops by a New Orleans gas station in search of chicken tenders.
Given that most people have had late-night cravings, this doesn't seem too odd ... except for one reason: Just several hours earlier, Jones was basking in a shower of purple and gold confetti while celebrating the Ravens' Super Bowl XLVII victory. On the grandest of global stages, he had delivered the game of his life, scoring two eye-popping touchdowns in Baltimore's jaw-dropping performance.
On Twitter, #Jacoby was trending worldwide. After all, he had just played a starring role in one of the world's biggest sporting events. Certainly, options for post-game celebration became abundant for the Big Easy native, as lavish parties and kingly festivities were all around. What Jones opted to do, however, was go to the one place he was most familiar and most wanted to be: his mom's house. "After the game, I went to a gas station, got some chicken tenders and then headed to my mama's house," he fondly recalls. "I wanted to celebrate and relax with my son and my mama, so that's what I did.
"[Publicly], nobody really knows about that. People always see me joking and having fun, but you see, I take things in a little differently."
Can't Quit Baseball
Around the age of 12, Jones badly wanted to quit his little league baseball team mid-season. Having played for several consecutive years, he reached a point of annoyance with the sport, admittedly, because he "hated it" and "couldn't bat worth a damn."
"I had a good glove, and of course, was a great base stealer," he proudly states, "but I couldn't hit. The infield players would always move in, because I had to bunt each time."
Though he tried to leave the team, Jacoby's mother, Emily London-Jones, refused to let her young son bail on his teammates. He could stop playing baseball eventually, but first, the youngster must finish the season, which he did. In what served as a valuable lesson, the strong-minded and dedicated approach Emily regularly took sheds bright light on Jacoby's upbringing.
"My mom, she is relentless and always has been," Jones proclaims. "She's such a hard worker who never quit, and she wouldn't let me quit either. That taught me how to work."
In what has developed into a daily occurrence, each morning Emily sends her son a passage of Bible scripture. Meant to inspire and educate, the act is one facet of Jacoby's life that he cherishes tremendously.
"My mom is amazing. She's who I admire most."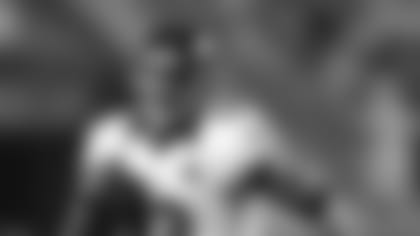 The Elevator
The Ravens have just concluded another grueling training camp practice. Situated on their Owings Mills practice field in the sweltering heat, Head Coach John Harbaugh calls Jones to the middle of the team huddle.
In what's become a post-practice ritual, oftentimes throughout the season a veteran player will address the team and deliver a motivating message. These speeches – some brief and others lasting several minutes – have produced team slogans, much like guard Marshal Yanda's "Embrace the Grind" motto became a Baltimore battle cry in 2012.
Enveloped by a circle of silent teammates, Jones begins to share his message; it's one that focuses on a unique opportunity staring the Ravens dead in the eye: Unlike any other NFL team, Baltimore has the only ability to win back-to-back World Championships.
"I told the guys that the opportunity to be great is small," Jones recollects. "It's like an elevator door closing. Either you're going to stick your hand in there and jump in to go to the top, or you're going to sit in the lobby and wait while somebody else does. Which one is it going to be?"
As a locker room leader, someone who knows what it takes to consistently persevere and excel, Jones believes the 2013 Ravens are prepared to seize that opportunity.
"Honestly, this year's team is the same team personality-wise and in character [as the 2012 squad]," he adds. "It's the same type of team and same type of people.
"Since the day I arrived in Baltimore, I could tell this really is a family. I've never seen anything like what this organization has."
And suffice it to say; the Ravens organization has never seen anything quite like Jacoby Jones.