John Harbaugh regularly preaches to his players the importance of taking care of tasks immediately facing them. He refers to the philosophy as W.I.N.
Harbaugh brought that theme with him Thursday as he delivered a powerful keynote address at Stevenson University's commencement ceremony. In his first-ever commencement speech, Harbaugh spoke for 18 minutes and focused his message on how the class should approach their first jobs after graduation.
"This is what's next in your lives for many of you," Harbaugh said. "Talking about the first job is also something that the parents would appreciate a little bit."
Harbaugh shared stories from his personal life and coaching career, and he tailored the message around seven key principles:
*Start With Respect             *
"If you want to be respected, you must respect first. Be a respecter of people – up, down and sideways. Treat everybody as if they are the most important person to your success in that moment, because they are. Respect experience. Respect the job. Respect the equipment."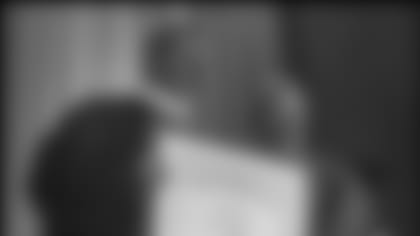 To illustrate his point, Harbaugh shared a story from his first job in the coaching profession. As a graduate assistant working for his dad at Western Michigan, they were coaching a game against Ohio University when a pair of late penalty calls went against them. The young Harbaugh then ripped off his headset and tossed it across the sidelines. His dad saw it happen, and he immediately told John to go pick up the headset. Harbaugh had to trot down the sidelines, in front of the band and the student section, to retrieve the equipment. 
"I learned that lesson the hard way," Harbaugh said. "But I've never thrown my headphones since." 
"You will have choices to make in your careers. There will be situations where a dishonest edge can be easily gained. Don't cheat. It won't be worth it. The value of becoming known as a person of character and integrity is priceless. You can't buy it. It's earned. There's no grading scale for integrity."
*Do One More Thing                       *
"Everybody you are competing against will do what they are supposed to do. It doesn't take all that much to outdo them. Do everything they do. Then everyday find one more thing to do."
"Obedience is an underrated talent. To execute well in football or in life, it requires obedience. To execute well, precision is required. Precision depends upon obedience."
"The days are long but the years are short. … We have a principle of stacking with our football team. Stack everything. Get 1 percent better today. It will take 100 percent of your energy every day to get just 1 percent better."
"Our greatest need is to be believed in. It's also our greatest gift."
"Be yourself because everybody else is taken. This is one of our players' favorite quotes, especially Steve Smith."
Harbaugh then closed the speech with sage advice he received years ago from his father on the three most important things to have success in coaching:
Love what you do, and that will allow you to be great at what you do
Work harder than everybody else
Most importantly, marry wisely