Kubiak Accepts Broncos Interview … Contingency Plans
UPDATE: Gary Kubiak will interview with the Broncos.
The Denver Post is flashing Throwback Thursday pictures of best buds Gary Kubiak and John Elway* *while Baltimore fans are biting their fingernails, hoping Kubiak turns down the Broncos' interview request.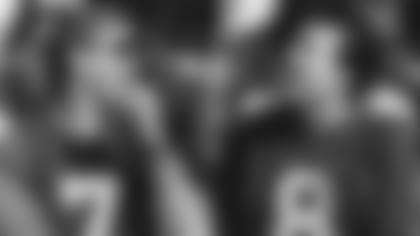 Head Coach John Harbaugh planned to talk yesterday morning with Kubiak about the Broncos' interview request to discover if the Ravens' current offensive coordinator is interested, according to multiple reports, including Albert Breer of NFL Media.
If Kubiak has any interest in the job, the Ravens won't stand in his way, per The Baltimore Sun's Jeff Zrebiec. And if Kubiak accepts, he will immediately become General Manager Elway's top candidate, according to The Denver Post's Mike Klis.
Harbaugh told CSNBaltimore.com's Brent Harris that Kubiak has the right to look at Denver, but Kubiak is currently in Houston. "We will see," Harbaugh said. 
"If the Ravens were to lose Kubiak, it would represent a serious setback in their quest to build off of what was a solid 2014 season offensively," wrote Zrebiec.
Now, the Ravens are bracing for the possibility of losing Kubiak and having a new offensive coordinator for the fourth straight year.
With quarterback Joe Flacco and his unit learning a brand new offensive system when Kubiak arrived this season, it appears the Ravens would be looking for replacements that would continue teaching the same system.
If Kubiak were to leave, he would undoubtedly want to take the two men he brought with him to Baltimore in Quarterbacks Coach Rick Dennison and Tight Ends Coach Brian Pariani. The Broncos could also show interest in Dennison as their offensive coordinator.
That said, the Ravens would be interested in Dennison as an in-house replacement and contingency plan, according to The Sun's Aaron Wilson.
"Dennison built a good relationship this season with quarterback Joe Flacco, who took well to his upbeat coaching style," Wilson wrote. "As a former Broncos linebacker, Dennison related well to the Ravens' players.
"Dennison has a unique background as a former offensive coordinator for the Houston Texans and Broncos who's also coached the offensive line and special teams in two decades as an NFL coach. When Dennison was hired, former Texans offensive tackle Eric Winston praised him heavily as a sharp coach and all-around troubleshooter for Kubiak."
A potential outside candidate could be Kyle Shanahan, who resigned as the Cleveland Browns' offensive coordinator after just one season. Shanahan was one of the finalists last year for the Ravens' post before Kubiak became a possibility at the last hour. Shanahan runs a similar system to Kubiak.
Of course, this is all just-in-case-plans.
Who knows what was said in Harbaugh and Kubiak's meeting yesterday? To be continued …
Brady: 'He Poked Me In The Face!'
Appearing in front of media for his weekly press conference, Patriots quarterback Tom Brady had a* *bloodshot right eye.
He said it came via an "eye-gouge" from "that guy" on the Ravens team. It happened during a tussle in which Brady was screaming in the face of a referee. 
Brady didn't say who it was that poked him in the eye, but while he was still on the ground, he shoved Pernell McPhee after the outside linebacker sacked him. Brady said it was the same guy he got in an argument with, which was also McPhee.
New England reporters asked if the eye-gouge happened during the scrum or afterwards, and Brady said it was after.
A closer shot of the play and audio was revealed in this week's episode of "Ravens Wired" in the video below at the 5:35 mark (mobile users tap "View in browser" at the top of the page to watch).
It's possible that McPhee got to Brady's eye as he lunged toward him and tackled him to the ground. It appears that McPhee's hand is near Brady's chinstrap area, but an eye poke isn't clearly seen. If a finger did get to Brady, it didn't seem to be "after" the scrum.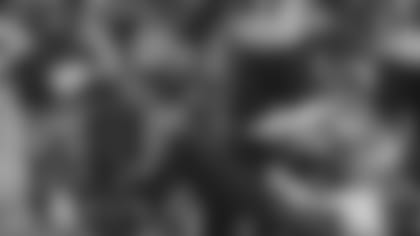 "Just part of the tussle of football," Brady said.
When a reporter joked it was a move from professional wrestling, Brady replied "you can't even do that in pro wrestling."
Ray Lewis: Brady Is An All-Time Great
After getting a lot of flak for his comments about Brady only being known for the tuck rule, and not his three championships and countless other achievements, retired Ravens linebacker Ray Lewis took to Twitter to clarify.
"To clarify my comments from this week: I was trying to express my frustration about the Tuck Rule itself," Lewis wrote. "Rules like that should not be part of the game. They lead to controversial plays that impact the outcome of the games and thats what everyone remembers, especially when you are talking about playoff games. I have immense respect for Tom Brady and everything he has achieved in this league. He will go down as one of the all-time great."
No one would argue with Lewis about his feelings toward the tuck rule, not even the NFL, as it repealed the rule in 2013. The ruling on the Dez Bryant non-catch is what spurred Lewis' rant about the rules, and ProFootballTalk.com's Josh Alper believes the controversial play "will likely" lead to a review of the rules governing the "process of a catch."
Meanwhile, reporters asked Brady for his reaction to Lewis' initial comments.
Brady: "Everyone has an opinion. I think Ray is a great player. He's a first-ballot Hall of Famer. I was fortunate enough to play against him."
Rice, Ravens Settle Grievance
The Ravens and former Baltimore running back Ray Rice reached a settlement before his grievance hearing began Thursday, as was first reported by ProFootballTalk.com's Mike Florio.
Rice was seeking $3.5 million from the Ravens for cutting him after an elevator video was revealed, showing him striking his then-fiancé. There are no reports that indicate what amount of money the two sides settled on.
"The term 'settled' implies money changed hands," wrote Florio. "Chances are that the amount will not be disclosed publicly, which is common when money changes hands to put to rest a legal claim.
"So that ends the relationship between Rice and the Ravens.  The real question is whether anyone else will give Rice a job."
CSNBaltimore.com's Clifton Brown discusses what this means for the Ravens going forward in the video below.