Ravens Hysterical In Return Of Bad Lip Reading
When I watch Marshal Yanda in the Pro Bowl Sunday, it's going to be hard not to think of him walking around saying in a deep, slow, dumb-guy voice:  "MORE STICKS I WILL EAT."
Or the next time John Harbaugh yells at a ref, I'll be hoping the head coach doesn't throw a rock at the official's neck, causing him to get two stiches.
What the heck am I talking about?
Only the glorious return of those twisted geniuses behind NFL Bad Lip Reading. A 2015 version is back and it doesn't disappoint.
They take footage from the NFL season and lay sidesplitting inaccurate lip readings over players and coaches' mouth movements. The absurd lines in cartoon-like voices appear like dead-on translations, but alas, they would only be real in some alternate universe.
The Ravens are featured quite a bit and it's a must-watch. Enjoy!
Oh, and Justin Forsett, please don't forget to breathe.
Brandon Marshall Tells Fans How To Feel About Trestman
In Baltimore, we still don't know new Offensive Coordinator Marc Trestman very well.
Fan opinions really can't be fully formed until we see him running the offense during the 2015 season, but until then, we can take the word of his former All-Pro wide receiver.
Five-time Pro Bowler Brandon Marshall played for Trestman for two years in Chicago. He had a down year in 2014 (the whole team struggled behind Jay Cutler), but in 2013 Marshall had one of his best seasons, notching 1,295 yards and 12 touchdowns on 100 catches.
So, Brandon, how should Ravens fans feel about Trestman?
It's nice to get a stamp of approval from a guy like Marshall, but I already know what you're thinking. No, Marshall will not follow Trestman to Baltimore. He is locked into his Bears contract through 2017.
Analysts: Hard To Believe Tom Brady
Head Coach Bill Belichick and quarterback Tom Brady both denied knowing anything about how their footballs were deflated by 2 pounds per square inch after they were inspected and approved by league officials.
"I was shocked to learn of the footballs on Monday. I had no knowledge until Monday morning," Belichick said.
"I don't know what happened," Brady added. "I didn't alter the football in any* *way. … I get the snap, I drop back, I throw the ball. I don't sit there and try to squeeze it and determine that."
What is making many analysts and fans raise an eyebrow is both Brady and Belichick saying they don't think much about the pressure of the ball, yet Brady more than once said the 12.5 psi felt like magic in his hands. And Belichick said he intentionally makes balls hard to deal with in practice.
"Tom Brady could not hide from the fact he was convicting himself in the court of public opinion," wrote ESPN New York's Ian O'Connor. "The quarterback of the New England Patriots admitted that footballs pumped up to 12.5 pounds per square inch are "a perfect fit for me," yet swore he did not notice a difference in the AFC Championship Game when most of the balls had significantly less pressure."
Analysts in the video below talk about why it was hard for them to believe Brady:
Torrey Smith's Son Wins Gerber Spokesbaby Contest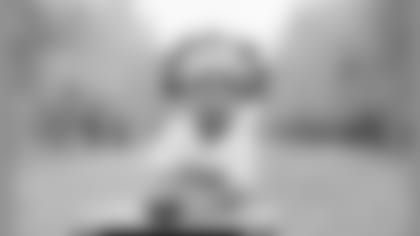 I must say the peeps at Gerber have good taste.
Torrey Jr. (T.J.) is a seriously cute baby, and he was recognized as such by being selected as one of the winners of the "Crawler" division of the Gerber Spokesbaby competition.
The son of Ravens wide receiver Torrey Smith didn't win the grand prize of $50,000, but the photo of him in a turkey hat and standing next to a crate of apples won his division and a $5,000 prize.
Torrey Sr. and wife Chanel entered their adorable prince into the contest in November, and said they didn't care about the money. They only wanted their son to be recognized for his adorableness.
They promised to give half the winnings to a charity, and they are making good on their promise. Torrey Sr. is soliciting suggestions for which charity the family should choose.
Colts quarterback Andrew Luck was asked about the turnaround from the AFC championship game to going to the Pro Bowl and gave an answer for the ages: "The energy is sort of sucked out of you, you do feel deflated," he said. He then realized his unintended pun. "Aww, shoot. Ummm, well. (Audible sigh.)" [NFL.com]