Ed Reed Training For Another Season?
Ravens fans keep hoping Ed Reed will come back to Baltimore as a secondary coach someday.
But after a full year off, Reed appears to be still hoping for an NFL comeback.
Let's address both possibilities:
Reed can't coach if he doesn't retire. It's that simple. And he's not going to retire as long as we keep seeing tweets like the one above.
Reed can't play if teams won't take a chance on him. He didn't get as much as a workout with any of the 32 franchises last year, at least none that was reported. He'll be another year older, so why would teams change their minds now?
Since the 2013 offseason, Reed seems to place a greater value on his services than NFL franchises do. The Ravens allowed him to walk in free agency in 2013, he was signed and then cut by the Houston Texans mid-season, and the Jets didn't re-sign him last offseason after a short stint in New York.
Reed told reporters last June he was preparing for the 2014 season, but he was never signed. At the time, ESPN's Jamison Hensley said Reed was "an NFL great who was hanging on too long. … For a player with such an outstanding football IQ, Reed just can't figure out what many others have already concluded: He needs to walk away from the game."
But hypothetically speaking, Zrebiec, could Reed do the job?
"[T]hat's the question I've probably gotten the most over the past 10 days. And my answer has been the same: Things happen that surprise me, but I can't see any circumstance where that happens," he wrote.
"[J]ust because Reed was a Hall of Fame player and a great leader, and obviously had remarkable instincts and film study habits, that doesn't necessarily mean that would transition to the coaching side. Let's just say that few people could do what Reed does in the manner that he does it. It wouldn't surprise me if Reed, who very much marches to the beat of his own drummer, stops by training camp or works with the Ravens' defensive backs from time-to-time, but a full-time coach? Can't see it."
The next time you see Reed at M&T Bank Stadium, it should be for his induction into the Ravens Ring of Honor, Zrebiec added. If he retires, that could happen this year.
"The Ravens wanted to do it last season, but they weren't sure whether Reed would play or not," Zrebiec wrote.
Tucker Hoping For A Long-Term Deal
Justin Tucker went from an undrafted rookie free agent in competition with Pro Bowler Billy Cundiff, to the most accurate kicker in NFL history in a matter of four years.
Now, Tucker is scheduled to become a restricted free agent in March and he hopes to eventually strike a long-term deal with the Ravens. The fact that he's restricted makes it a strong possibility that he'll return for the 2015 season, but what about beyond?
"Tucker has been one of the NFL's best bargains for years, playing under a three-year, $1.451 million rookie contract that didn't include a signing bonus. That financial situation is about to change, as Tucker has proven he's worthy of a more significant investment."
To keep him in Baltimore in 2015, Wilson could see the Ravens assigning him a first-round tender of $3.113 million or a second-round tender of $2.187 million (money based on last year) to deter other teams from trying to go after him. Another team would then have to give the Ravens a first or second-round draft pick and offer him a contract that the Ravens wouldn't match in order to lure Tucker away.
Or, the Ravens could act now and give Tucker a long-term deal this offseason to lock him up for the foreseeable future. Wilson points to some similar kicking deals that Tucker could get:
Raiders' Sebastian Janikowski: five years, $18.9 million, $8 million guaranteed
Bears' Robbie Gould: five years, $17.39 million, $8.85 million guaranteed
Jaguars' Josh Scobee: four years, $13.8 million, $4.75 million guaranteed
Patriots' Stephen Gostkowski: five years, $15.425 million, $5.1 million guaranteed
Cowboys' Dan Bailey: four years, $22.505 million, $7.5 million guaranteed
Tucker knows he has little control over the situation and said he'll just let the process take care of itself. That said, he didn't deny that it would be nice to get a deal done so he can plan for the future.
"Absolutely, I think when you take a step back and look at it from the big picture and think long-term, that would just be great to know what's going to go on for the next several years as opposed to the next few months or next year," Tucker told Wilson at Super Bowl Radio Row in Arizona.
"When you think about it from a general perspective, it feels and sounds great for me personally. I've really enjoyed my time in Baltimore and would [want] to continue it. I think it's just a matter of everybody getting something together and discussing it."
Tucker Talks Deflated Balls: I'll Kick A Cinder Block And Make It
Tucker gave a classic response to questions surrounding the CBS Sports report that "some on Baltimore's sideline" believed their kicking balls were under-inflated during the divisional playoff game against the New England Patriots.
Well, Tucker was the one kicking the balls, and he said it never crossed his mind.
"I literally never said anything to anybody until somebody asked me the same question 20 minutes ago here on radio row," Tucker told SiriusXM NFL Radio in the audio below. "I wasn't asked or interviewed by anyone with NFL security or the NFL or the Ravens. Nobody has talked to me about it.
"Frankly, I don't really care. You could put a water balloon or a cinder* *block in front of me and I'm going to kick and I'm probably going to make it."
With reports indicating that a locker room attendant was seen on surveillance cameras taking the Patriots and Colts footballs into a bathroom for 90 seconds, the New York Daily News conducted a test to see if 12 footballs could be deflated that quickly. Gersh Kuntzman deflated 12 footballs footballs in 40 seconds.
Yes, this is where sports reporting is just days before the Super Bowl.
Ravens No. 13 In 25-And-Under Talent
That's not especially surprising considering their lead back, Justin Forsett, was 29 years old, the leading receiver, Steve Smith Sr., was 35 years old and the leading pass rusher, Elvis Dumervil, was 31 years old.
"This isn't to say the Ravens are devoid of young talent," wrote ESPN's Jamison Hensley.
Baltimore has some stars in the making with 22-year-old rookie Pro Bowl linebacker C.J. Mosley and 25-year-old Tucker.
And they also have plenty of young proven starters in Kelechi Osemele (25), Brandon Williams (25), Torrey Smith (25), Rick Wagner (25), Courtney Upshaw (25), Will Hill (24) and Kyle Juszczyk (23).
Hill Wanted For Child Support
A warrant for the arrest of Will Hill has been issued by New Jersey authorities because the Ravens safety allegedly failed to pay $16,588.18 in child support, according to multiple reports, including TMZ and The Baltimore Sun.
Hill was arrested in 2013 in New Jersey for the same charge involving the same woman.
According to The Sun's Wilson, Hill is aware of the child support issues, but didn't know of the warrant.
"Although Hill isn't being actively sought by police, he would be subject to arrest should he have any interaction with authorities," Wilson wrote. "In a December interview with The Baltimore Sun, Hill emphasized that he has changed his lifestyle and tends to stay home and spend time with family rather than enjoying the nightlife as he did in the past."
Hill has been suspended a total of 14 games in three NFL season; eight of those related to positive testing for Adderall and marijuana. The Ravens signed Hill in July after the Giants cut him because of another six-game suspension. He served that suspension in Baltimore,* *and it reportedly cost him $201,176 in game checks.
In his season-ending press conference, Head Coach John Harbaugh challenged Hill to improve his off-the-field behavior during the offseason.
"We put it on his plate a little bit," Harbaugh said. "We're challenging him for the next three or four months. 'Are you going to come back a better player than you were when you left here in January, and is that slate going to be clean?'
"We fully expect it to be. He just had a baby. He's doing great with his family, and we fully expect him to do a great job with that, and we're going to try to help him any way we can with that."
Harbaugh was NBC's first choice as their guest analyst for their Super Bowl coverage. "John Harbaugh was our target from before the season began because he's got Super Bowl experience, and he is an engaging personality," NBC Sports executive producer Sam Flood said on a conference call Wednesday. "It's an easy selection. After they got knocked out in the divisional round, that was our first thought, to reach out to John. Obviously, having just played the Patriots three weeks prior, it gives us an incredible insight on this team and in this time frame. There's a real relevance to this, and that's why we think it's an extra-good add to the team." [The Baltimore Sun]
This is weird to me, but maybe cat lovers will enjoy it. Hallmark put together it's 2015 player profile for Kitten Bowl II, and Terrell Suggs, I mean Snuggs, made it in. [Hallmarkchannel.com]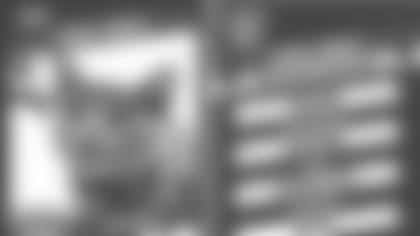 Outside of his touchdowns, what was Jacoby Jones' most memorable moment of Super Bowl XLVII? It was Torrey Smith karate chopping him in the neck during the blackout. You read that correctly. [NFL.com]