Fans Upset By Disrespectful ESPN Headline
There is plenty of bulletin board material out there for the Ravens to choose from, as few, if any, pundits are giving the Ravens a chance to beat the Broncos Sunday.
But this one may take the cake.
ESPN published on its NFL landing page a picture of Ray Lewis, who is scheduled to retire this offseason, giving a farewell hug at his last game at M&T Bank Stadium with the headline, "Thanks for the Memories …" and a subhead saying, "…because Sunday was your final NFL win, Ray Lewis. Your career will end in Denver."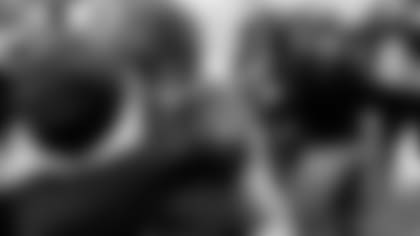 Ravens fans were outraged with reporter Ashley Fox, who wrote: "Baltimore will have to short-circuit the MacBook to have a chance at beating Denver next Saturday. Remove the hard drive. Pour beer on the keyboard. Take a hammer to the screen. Whatever works.
"That's the only way – the only way – the Ravens can beat the Broncos in Denver in that altitude at that stadium."
"The MacBook" is Broncos quarterback Peyton Manning (Ryan Mink will post a story later this morning to explain that reference), implying that the only way to beat Denver is to take out the future Hall of Famer.
Baltimore is considered a 9-point underdog Sunday, and while Fox's prediction may prove correct, Ravens fans weren't pleased with the wording used. Some were specifically upset with the headline and subhead, but to be fair, writers usually have little to no input on headlines. That's tends to be the job of an editor, so you may not be able to put the blame on Fox there.
Gabefergy:  "I have a hankering to write the Ombudsman, but I doubt it would accomplish anything. Still, how ESPN.com can headline an article like that is beyond me."
ravens__ : "What a joke!!"
Bravens292: "if thats not edited, then she has crossed the line."
Mr. Irrelevant: "I would fire her immediately if  I was in charge there.... That's pure disrespect.........
As much as I hate Skip [Bayless], this crosses the line. THIS MEANS WAR..............."
AsianRice: "I don't read this kind of biased article cuz it will make me call my anger management; I stay away from it for sure...."
redrum52: "LMAO. I for one LOVE the disrespect.   All the way to the title,  keep our guys focused and give em something to read.  Team always plays inspired as the under dog.  Flacco for some reason also usually has his best games under the brightest lights.  Lets get it.  I hope not one person in the media picks us, and does so in the most disrespectful fashion"
Wayne: Lewis' On-Field Dance Disrespectful
While we are talking about the respect card, here's another story on the topic.
Lewis, who was drafted as a young 20 year old before he even knew the Ravens were "The Ravens," and Baltimore saluted each other in Sunday's wild-card win. The day included Lewis' last tunnel dance, tributes on the RavensVision video boards and a victory lap around the field of M&T Bank Stadium.
Perhaps the most memorable moment was Lewis' unscripted "squirrel" dance at the middle of the field when the legendary linebacker was sent out for the offense's last kneeldown. For Ravens fans, it was the perfect ending to a 17-year career.
But at least one person didn't like it.
"I saw it as disrespectful," Colts receiver Reggie Wayne said Monday on WNDE-AM in Indianapolis. "They'd already had a tribute every quarter."
It's easy to understand Wayne's perspective, especially after a disappointing loss in the first round of the playoffs. But sometimes the making of sports history is bigger than us all.
Brigance: The Heart Of The Ravens
Now that you've probably got steam coming out of your ears, it's probably a good time to watch this inspiring video about former Ravens linebacker O.J. Brigance, who is battling ALS while continuing to work in the Ravens' front office as the senior advisor to player development.
It's a good way to remind ourselves what is really important in life. And it also shows that ESPN is not out to get the Ravens, as it was the news outlet that produced the video.
Ravens Get Roster Exemption For Jackson
The NFL reinstated Ravens rookie cornerback Asa Jackson now that he has served his four-game suspension without pay for violating the league's performance-enhancing drug policy.
The team hasn't had to make a roster transaction yet because the league gave it a roster exemption through Jan. 14, according to The Baltimore Sun. The Ravens have until that time to activate Jackson.
"The roster exemption will allow Jackson to practice with the Ravens this week, but the team will need to make a move to place him on the active roster in order to play Saturday against Denver," explained ProFootballTalk.com's Curtis Crabtree.
Ravens Second-Year Breakout Candidates
Most rookies don't get a chance to break out in their first year because they don't get early reps with more experienced veterans ahead of them on the depth chart.
ESPN's Mel Kiper takes a look at 21 NFL rookies who didn't star in 2012, but could emerge in 2013. Ravens center Gino Gradkowski and running back Bernard Pierce made the list.
Kiper on Gradkowski:  "The Ravens got Gradkowski for interior line depth, and they're really high on him going into 2013 as the potential starter at center, depending on what Matt Birk decides to do. Yeah, I know he's a center, but Gradkowski could provide a seamless transition on the line for a team that really values the run game."
Kiper on Pierce: "If there is such a thing, Pierce is deceptively explosive. He can patiently wait behind blocks, but once he sees daylight, he has a quick-twitch burst to get down the field. He finished with 532 yards on an impressive 4.9 yards per carry and should be successful as a complement to Ray Rice going forward."