Would Ravens Trade For WR Josh Gordon?
I've seen this question circle around Baltimore for more than two weeks.
That's when it was reported the Cleveland Browns were fielding offers and were open to trading wide receivers Josh Gordon and Greg Little.  ESPN's Adam Schefter reported the San Francisco 49ers made an offer for Gordon, who would likely cost a second-round pick.
With the trade deadline of Oct. 29 less than three weeks away and injuries plaguing the Ravens receiving corps, the chatter continues.
When asked if the Ravens would try to pursue Gordon, ESPN's Jamison Hensley made it clear a trade between these two teams is highly unlikely.
"Why would the Browns give up a big-play receiver to a rival like the Ravens?" Hensley wrote.
The need for a receiver was large in Baltimore with just three – Torrey Smith, Tandon Doss and Deonte Thompson – healthy enough to suit up last Sunday. But the need won't be as pressing because the Ravens are close to getting their full arsenal back with Jacoby Jones, Marlon Brown and Brandon Stokley's returns on the horizon.
Flacco has had plenty of turnover with his targets after losing Anquan Boldin (trade) and Dennis Pitta (hip), and is starting to gel with all his new pieces.
Gordon is certainly a talented weapon and the biggest threat on the Browns offense. As a rookie, he caught 50 passes for 805 yards and five touchdowns with a fellow rookie, Brandon Weeden, throwing the ball.
But as Hensley mentioned, Gordon's personal record has taken some hits. He has already served a two-game suspension this season for violating the league's substance-abuse policy. Gordon also failed a marijuana test in college, which resulted in an indefinite suspension and led to him transferring from Baylor to Utah. Gordon never ended up playing for Utah and skipped his senior season to declare for the 2012 supplemental draft. 
If Gordon were to fail any more drug tests, he would be done in 2013. 
Browns Head Coach Rob Chudzinski tried to squash trade talk yesterday, telling media: "We're not shopping Josh and we have no plans of trading Josh."
But not everyone is buying it.
"The Browns might not actively be shopping Gordon, but they sure can listen," wrote NFL.com's Kevin Patra.
Just don't expect Ozzie Newsome to be on the line when the Browns' phone rings.
Predictions For Monroe, Jacoby
The Ravens offense could get two key players on the field Sunday in left tackle Eugene Monroe and No.  2 receiver and playmaker Jones.
Whether they will play, and how big of an impact they'll make are the questions surrounding the two. We won't know their impact until they suit up, but Hensley has a prediction on.
"If I had $1 million, I would bet $999,999 on Monroe starting," Hensley wrote. "My guess is [Jones] suits up Sunday. Ravens are going to need some playmakers and deep threats."
If Monroe plays, he could get the bulk – if not all –  of the snaps at left tackle. But for Jones, Hensley says the Ravens will want to ease him back in with that sprained knee.
The Ravens may want to use Jones more in the receiving game to help stretch the field and get big plays. The offense will need to score plenty of points to keep up with the Packers' high-powered offense. But Hensley says to "not overextend" Jones on special teams. Thompson has looked good returning kickoffs and Doss leads the NFL in punt return average.
McClain Upgrade Over Bynes
Linebacker Jameel McClain has been medically cleared to resume his football career after suffering a spinal cord contusion 10 months ago, according to Aaron Wilson of The Baltimore Sun. Being on the physically-unable-to-perform list, McClain will be eligible to practice after Week 6 (Monday), but it is unclear when he would play in a game.
When coaches do feel McClain is ready for game action, would he replace either Daryl Smith or Josh Bynes? The two have worked effectively together the first five weeks of the season. Bynes has received mixed grades from Pro Football Focus, receiving negative overall grades in three of five games this season. But he did receive the highest grade of any Raven last Sunday against the Dolphins.
Despite his strong play, however, Hensley believes McClain would be a better choice than Bynes to start.
"With Josh Bynes having an up-and-down season, the return of McClain would upgrade the inside linebacker spot," he wrote.
Canty To Fans: Don't Show Up At My House
A Texans fan showed up at quarterback Matt Schaub's house to confront him about his poor on-field performance (he's thrown a pick-six in four straight games).
Fans can be upset, but showing up at a man's house, with his family and children potentially inside, is just wrong.
Ravens defensive lineman Chris Canty made that point clear Wednesday when asked about the situation.
"I think that fans can sometimes cross the line," Canty told the NFL Network in the video below (mobile users tap "View in Browser" at the top of the page). "I think that as players in the National Football League, we open ourselves up to criticism on our performance on the field.
"Just don't show up at my house. That's unfortunate that a fan would take it this far. When you're in a situation like that where somebody is trespassing on your property, your family's safety comes first. For that fan's sake and for Matt Schaub's family's sake, you want to avoid those situations because anything can happen when a man is forced to protect his family in that fashion."
Ravens Have Chunky Soup To Thank?
You've heard of the Madden curse. But what about the Chunky Soup curse?
After "game-wrecking" linebacker Clay Matthews broke his thumb Sunday and will miss four weeks, Packers fans started pointing fingers at Chunky Soup.
"Some say Matthews was just another victim of the Chunky Soup Curse, in which those who choose to endorse [the] product suffer injury, failure on the field and humiliation," wrote Bob Wolfley of the Milwaukee Journal Sentinel.
"The curse is said to extend even to the mothers who appear with their sons in these ads."
Packers fans may be a little paranoid after Packers defensive end Reggie White, who endorsed the soup in 1997, started all 16 games the next season but battled through several physical ailments.
With Matthews out, the Packers will turn to Mike Neal to fill his shoes when they visit Baltimore Sunday.
While Neal isn't very well known, he played out of his mind last week against the Detroit Lions.
"Neal is exceeding expectations — by a long shot," wrote Tyler Dunne of the Journal Sentinel. "He picked off a pass in a blowout win over Washington. He had six tackles and a sack in Green Bay's 22-9 win over Detroit last weekend. …
"Neal said that might have been his best game ever."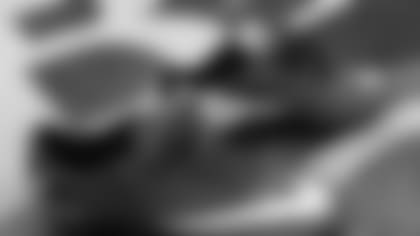 @RavensInsider: Former Ravens wide receiver LaQuan Williams tried out for the Raiders, according to a league source [Twitter] * @RavensInsider: Former Ravens linebacker Brandon Copeland (Gilman) was signedto the Titans' practice squad following a visit [Twitter] * @BaltimoreLuke: Jacoby Jones: "I've been like a punished child that can't go outside and do anything. You sit in your house and keep begging your mama." [Twitter] * @CliftonBrownCSN: Bryant McKinnie watched from side during first part of practice, while Eugene Monroe took reps at left tackle with 1st unit. #RavensTalk [Twitter] * @jtuck9: Breaking these puppies in this wk for #BCA game vs Green Bay [Twitter/Instagram]