All Hell Could Break Loose
And the stakes have changed.
So there's no denying there's a different feeling in this upcoming Ravens-Steelers round. But a case can be made that Sunday's matchup could be even more intense.
Jamison Hensley used the word "desperate" to describe both the Ravens (3-3) and Steelers (1-4), who are trying to get their seasons on track.
"There is something at stake," the ESPN blogger wrote. "It's just not superiority this time. It's a matter of survival."
With a loss, Baltimore would be in unchartered territory. They've never been below .500 seven weeks into a season in the John Harbaugh era. Pittsburgh would be 1-5 after a loss, and it would be nearly impossible to make the playoffs after that start.
Baltimore would love nothing more than to push Pittsburgh deeper into the hole it's already in.
"I don't think records are as important in this game from an intensity standpoint," Steelers coach Mike Tomlin said in a conference call with Baltimore reporters. "If nothing else, I think it heightens it. There's a certain sense of urgency based on the position that the teams are in, I'm sure."
The Steelers are favored by one point, but the home team is usually spotted three points. Oddsmakers are essentially saying it's a 50-50 shot for both squads.
There are plenty who argue that a more desperate Steelers team playing at Heinz Field will pull off the win. But some, like WNST's Drew Forrester, are picking the Ravens because …
"Pittsburgh's 1-4 for a reason.  They stink.  And they're not winning on Sunday."
He did add this warning, however.
Story Behind Ravens-Steelers Explosion In Egypt
Before I move on to all the predictions for the game, I want to give major props to Maj. Cameron Stokes from Severna Park, MD, who sent us this amazing picture form Sinai, Egypt.
Here's the note he sent with the image, explaining the background behind it:
"My name is Cameron C. Stokes and I'm active duty (AD) military officer who is proudly serving in the United States Army and is presently stationed as a member of the Multinational Forces and Observers (MFO) located in the Sinai, Egypt.  I'm a HUGE Ravens fan and recently me and another fellow officer, who is unfortunately a Steelers fan, had some fun getting our picture taken during a controlled EOD blast that took place on camp.
* The picture came out beautifully and as I'm sure you can attest – even across the globe, the Ravens-Steelers rivalry endures!!  Please notice though that my RAVENS banner is much larger and more dominant than CPT Pamela Tipler's (Steelers Fan) terrible towel.   *J
* Anyhow, we've gotten clearance from our military public affairs office to release this photo.  I wanted to share it with you to possibly put it on the Baltimore Ravens website or possibly use it during 'military appreciation' week. My tour over in Egypt is almost complete and I'm set to be returning home to Severna Park, MD in less than two weeks."*
Thanks for being a hardcore Ravens fan, Maj. Stokes, and even more, thank you for your service!
Week 7 Picks: Ravens vs. Steelers
Fifteen of the 42 analysts below are picking the Ravens, while 27 believe the Steelers will pull out the victory.
Of the 15 picking the Ravens, six are local analysts. So of the 35 national writers, only about a quarter think Baltimore will notch the win.
**The Baltimore Sun**: 6 of 7 pick the Ravens
Jeff Zrebiec (Ravens 19, Steelers 16): "The names and faces of the rivalry may change, but the Ravens and Steelers always play tight games, and I don't expect this one to be any different. Joe Flacco gets it done at Heinz Field again with a late scoring drive."
Matt Vensel (Steelers 20, Ravens 17): "The Steelers are still getting their act together, but this rivalry brings out the best of both teams. With Big Ben back and this game being played at Heinz Field, the Steelers narrowly take Round 1."
**ProFootballTalk.com**: 1 of 2 pick the Ravens
Michael David Smith (Ravens 17, Steelers 16): "I've gone back and forth on this one a few times, but in the end I think Baltimore's defensive front is too much for the injury-depleted Steelers offensive line. The Ravens win a close, hard-fought, defensive struggle."
Mike Florio (Steelers 13, Ravens 10): "The defending champs visit Pittsburgh for the first time since hoisting the latest Lombardi.  If the Steelers can run like the Packers did against Baltimore and throw the ball smartly and quickly, the home team in this tarnished (for now) rivalry can hold serve."
**Sports Illustrated, Don Banks**: (Steelers 20, Ravens 17):
"I'm sure there have been Ravens-Steelers games where neither team entered with a winning record, but I don't quite recall any lately. Not that this game isn't meaningful. The Steelers stirred to life last week against the Jets on the road, and they're only a win over Baltimore away from being back in the picture in the AFC North. Pittsburgh's defense finally got a couple takeaways against New York, and history says the turnovers tend to come in bunches when Dick LeBeau's guys start finding the football. That's bad news for Joe Flacco and an underwhelming Ravens offense.""
**CBSSports.com, Pete Prisco**: (Steelers 22, Ravens 17):
"The Steelers are coming off their first victory of the season last week against the Jets, while the Ravens lost at home to the Packers. The Steelers have lost twice already at home. But I think they end the streak here. Look for Ben Roethlisberger to make some of those patented escape throws for big plays."
**NFL.com, Elliot Harrison**: (Steelers 13, Ravens 10):
"Feeling a Troy Polamalu game. Call it optimistic, but the 32-year-old still can make plays, and he has a history of doing exactly that against the Ravens. Will he decimate Joe Flacco on a safety blitz? It will be a lot easier for the Steelers to get pressure if Baltimore deviates from the ground attack early, or if the Ravens fail to get any kind of push (similar to what happened against the Packers last Sunday). If Polamalu -- or any other Steelers defender -- isn't made to hesitate even a little bit before crashing the pocket, the spotty Pittsburgh pass rush suddenly will appear to be rather formidable. Baltimore is averaging 2.74 yards per carry right now -- 2.48 in the club's three losses. Ray Rice's long run of the season is 11 yards. Pittsburgh rookie Le'Veon Bell will be the most productive back in this game, which the Steelers will take at home. #BALvsPIT"
**The Sporting News, Vinnie Iyer**: (Ravens 19, Steelers 16):
"The Steelers can smell the opportunity to get right back into the AFC North race, and the Ravens will be aware of that fact, too. Their physical lack of affection will be seen as the defenses try to smack wood on anyone who comes close to the ball. But the Ravens have done more pushing around of their hated rivals of late, and having the better pass rush and the sturdier line sets them up to steal another one in Pittsburgh."
Birk: Gino Has Got The Goods
Ravens retired center Matt Birk seemed hesitant to diagnose the Ravens' offensive line and run game issues.
He made it clear that he doesn't watch every single Ravens game, and he hardly talks to his former teammates because he likes to stay out of their way. He mostly just offers encouragement when they do speak.
Downplaying his Harvard education and reputation for being smart guy, Birk said he's also taken "a lot of blows to the head."
He knows the chatter around Baltimore. Some are wishing he'd come out of retirement (sorry people, the man has lost 75 pounds and is working to become a model with his new chiseled abs). Besides, Birk believes the Ravens are in good hands with second-year center Gino Gradkowski.
"I don't think they need a new center," Birk told WNST.
According to Birk, Gradkowski just needs a little time to polish his responsibilities as a center. He said he can remember when he was the new center with the duties to make calls for the entire offensive line. Birks said the situation is "intimidating."
"It was like, 'Whoa! OK, this just got real all of a sudden,'" Birk said. "You have to earn respect. Earn credibility as a young player within the huddle. They talk about that with a young quarterback all the time, it's kind of the same to a lesser degree with a center."
But as Gradkowski's former mentor, Birk knows what the young lineman is capable of and thinks it's just a matter of time before he settles in.
"I know Gino has got the goods," he said. "I know it's not too much for him mentally or physically. I think he's got what it takes. He's got the character that it takes to play offensive line, football in general, but offensive line is a tough deal and it's not for everybody."
Birk: Too Early To Rush To Castillo Judgment
One more note from Birk* *since Juan Castillo, the Ravens' new run game coordinator, is a hot topic with the struggles the team has had on the ground.
Birk said it's far too early to say the move to bring him in is not working after just six weeks of play.
"Knowing Coach Harbaugh the way I do, he's an outside-the-box kind of guy and if he thinks there's something that can make us better, he's going to do it. … I guess time will tell if it was the right decision or a good decision or not. I think six weeks into the first year it'd be too early to pass judgment."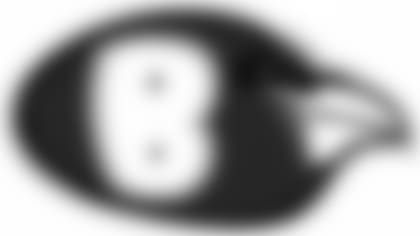 @mzenitz: Pees said he told the Ravens' defense that PIT's WRs are year after year the best in the NFL at getting open when the play  breaks down [Twitter]
Haha … here's a fun look at NFL logos if they were all fat, including a chunky Poe to the right. [Kissing Suzy Kolber]
Steelers rookie linebacker Jarvis Jones has a concussion and his status for Sunday's game against the Ravens is unknown. [Pro Football Talk]
Punt protection is a point of emphasis for the Ravens after two blocks this season. [The Baltimore Sun]
I know that Ed Reed is currently a Houston Texan, but the future Hall of Famer will always be a Raven. Here's a great inside look from NFL Films at him and the Steelers' Troy Polamalu, and how they became two of the best safeties in the NFL. [NFL.com]