Does Flacco Feel Sorry For Ryan? 'No, Not At All'
Sure, they're draft mates and buds and everything, but football is football. Outside of injury, there's no pity for an opponent.
That's why when Joe Flacco witnessed his buddy Matt Ryan get hit like a human piñata yesterday, the Ravens quarterback felt no sorrow.
When asked after the game if he "felt sorry" for Ryan as the Ravens relentless pass rush smacked him around, Flacco immediately quipped back.
"No, not at all," he said, while emphatically shaking his head and grinning from ear to ear.
Five, nine and 16. That's how many times the poor guy was sacked, hit and hurried (the latter per Pro Football Focus). On one of the sacks, Ryan was hit hard enough to force a fumble, and another resulted in a safety.
It all went into one of the finest defensive performances of the season, and it looks as though the unit may be putting it all together.
"The offense has been clicking, but it was the defense that was always a concern. …. No one took the Ravens seriously after they shut down Tampa Bay, but the showing against Atlanta was strong. Remember folks, we're talking about quarterback Matt Ryan and receivers Roddy White and Julio Jones. This was a thorough butt whipping."
Yes, the "physical domination" was impressive, as Elvis Dumervil (2 sacks), Pernell McPhee (2) and Terrell Suggs (safety/sack) trounced the Falcons' banged-up offensive line. But Preston pointed out that the scheme created by Defensive Coordinator Dean Pees was noteworthy.
"Pees was dialing up packages like he was a mad scientist in a laboratory," wrote Preston.
"We rolled out a few [wrinkles]," Pees said, per Preston. "I do stay up late at night."
In addition to the new blitzes, Pees is mixing it up with the coverages too. Adding Will Hill to an already creatively-rotated unit of safeties, gives Pees a chance for even more interesting looks on the back end. Preston noticed Jimmy Smith playing safety in a two-deep coverage at one point, and Hill lined up on the receiver.
With cornerback Lardarius Webb healthy, he and Smith can play more man-to-man, which opens things up to get creative with the pressure.
"There is no longer the fear of getting burned by blitzing," Preston wrote.
Suggs Chucks Ball Waaaay Into Stands
Which was more impressive? Suggs' safety/sack in the final moments of the game, or the pass he threw high into the stands?
"That's a great throw!" exclaimed FOX play-by-play announcer Justin Kutcher during the broadcast. "Look at him throwing across body, on the run. Look at the guy!"
OK, OK, the sack was better, but still.
Rubbing It In? No, But Falcons Ticked
Up 15 points, the Ravens seemingly had the game in hand with one minute, 54 seconds remaining, but they still went for it anyway on fourth-and-9.
Not only did they convert, but they put a nail in the coffin with Flacco hitting Torrey Smith on a 39-yard touchdown pass to make it 29-7.
Uh, nooooo. But Falcons cornerback Josh Wilson, a former Raven, didn't like it too much.
"Falcons looked ticked that Ravens were passing in that situation," tweeted The Sun's Jeff Zrebiec. "Josh Wilson had animated convo w/Flacco and motioned to Ravens sideline."
Sometimes players get a little heated in the middle of the battle, and cool off after the game. But Wilson still expressed disapproval in the post-game locker room.
"I don't think that's the way you should do things, but they can do whatever they want to do," Wilson said, per ESPN's Vaughn McClure. "I just don't think that's the way you should do things."
But the Ravens weren't running up the score. Head Coach John Harbaugh explained after the game that he was in a dilemma because his long snapper, Morgan Cox, went down with an ACL tear, and he feared the worst with a bad snap on a punt or field goal. And with it being a two-score game, Harbaugh felt one of the best offenses in the league could potentially come back.
"Well, maybe I have more respect for their team than they do," Harbaugh said. "I mean, it's a 13-point game at that point with plenty of time left on the clock.
"So snapping the ball back there in that situation, that's risking any number of bad things that could happen to us. [To] put them back in the game wouldn't be smart. We certainly weren't expecting a touchdown. But we get all-press man coverage, and that's what we do. That's just football. It was big for us because it sealed the game at that point."
While Wilson wasn't happy about the score, Falcons Head Coach Mike Smith had no problem with it.
"They called a play, we didn't stop them and that's the end of it," Smith said. "Our job is to stop the opponent, and we didn't do it. It doesn't matter what the situation is, or the score. That's what our job is."
Torrey Smith Is Happy Again
It's good to see Torrey Smith smiling again.
He had a rough start to the season, but he has come alive the past two games with seven catches for 132 yards and three touchdowns. The broadcast caught this happy moment between him and Flacco after his 39-yard touchdown.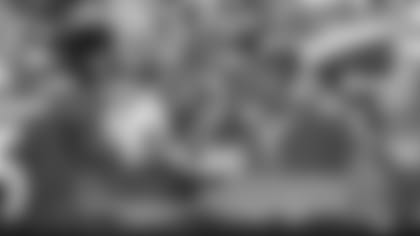 Give Campanaro A Shot At Returns?
It's so tough to give up on Jacoby Jones. The guy is a Pro Bowl, big-play threat in the return game, and a huge reason why the Ravens won Super Bowl XLVII.
But he fumbled another punt against Atlanta yesterday, and the team was lucky that the Falcons didn't get any points out of it.
His "nightmare season" continues, says Hensley, who suggests a change.
McPhee Could Make Big Money This Offseason
With the way outside linebacker Pernell McPhee is playing this year season, he could be in line for a big contract this offseason.
Lining up all over the defensive line, McPhee has recorded at least one sack in three straight games. The two drops he had yesterday ups his total to four.
We've seen this story before. Art Jones, Paul Kruger and Dannell Ellerbe all developed in Baltimore, and then went off to get big money. Let's just hope this time the Ravens can keep their budding star.
"Another sack for Pernell McPhee who is making himself a lot of money this year in his free agent season," tweeted Zrebiec.
Geeez, Steve Smith Sr. You still got speed and fight left in that 35-year-old body.
I know we keep talking about him defying Father Time, but as long as he keeps doing it, we'll keep writing about it.
Check him out putting on the burners against all those young-buck defensive backs (mobile users tap "View in browse" at the top of the page to watch).
Jimmy's Perfect Pic To Describe Feelings After Dropped INT
Jimmy Smith, this is perfect.
Smith had a gift-wrapped interception – maybe even a pick-6 – in his hands Sunday, but let it bounce out and to the turf. He was clearly upset with himself on the field, and he expressed that disappointment via Instagram after the game.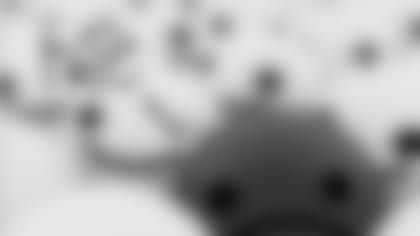 "No one ever accused the Ravens of not knowing a good P.R. move when one presents itself, so yesterday's acknowledgement of the Orioles and skipper Buck Showalter certainly fell under the proverbial 'no brainer' category but it was still good to see," wrote Drew Forrester. "The crowd clearly appreciated it and I think the players on the sideline get a glimpse into how special of a town Baltimore is when they see the baseball manager embraced by the football crowd." [Drew's Morning Dish]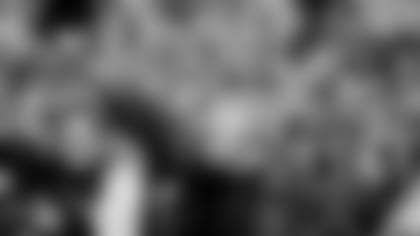 The Colts roughed up Bengals running back Giovani Bernard in a butt-whooping 27-0 victory. Is the Ravens' rematch with Cincy coming at the right time? [FoxSports.com]
I thought Steve Smith quit Twitter! I guess as long as it's positive, he's OK with it?
Thanks to all my fans and teammates as today I move to 16th all time in NFL yardage #GoRavens — Steve Smith Sr (@89SteveSmith) October 19, 2014