Mosely's Top Competition For Rookie Of The Year
In Baltimore, we keep hearing how inside linebacker C.J. Mosley could end up as the 2014 Rookie of the Year if he keeps up his pace.
Pro Football Focus has Mosely rated as the No. 4 rookie in the NFL with a plus-8.2 grade, while ESPN's Mel Kiper has Mosley listed No. 1 on his rookie rankings (through 6 weeks).
"He's playing a position where we've seen some guys transition quickly, but Mosley isn't just playing well," Kiper wrote. "I'd say he's been one of the top dozen or so linebackers in the NFL to this point, and has filled a crucial role for the Ravens. He never comes off the field, leads the Ravens in tackles (63) – and is among the NFL leaders in that category."
But there are plenty of other talented rookies out there, so who could challenge Mosley for the honor?
Based on Kiper's rankings, and PFF's grades, here's who to keep an eye on:
No 2: Jason Verrett, CB, Chargers PFF Grade: 8.2Kiper: "This guy can flat-out cover, and has been the best rookie corner so far in a year where we've actually seen a few. Remember: This isn't a position where guys typically transition smoothly."No. 3: Joel Bitonio, G, Browns PFF Grade: 11.1
Kiper: "[The Browns] can run, and they can provide time. Bitonio has been a starter since Day 1 and has excelled both in run and pass blocking."
4. Kyle Fuller, CB, Bears
PFF Grade: 2.0Kiper: "He's had a little bit of uneven play, but I'm keeping him up high because he's taking on a greater level of responsibility than some other guys. Fuller has been the Bears' best corner so far in 2014, and according to the snap data I have, hasn't taken a single play off in the past four games. He leads all rookies with three INTs, and he's taking on tough coverage assignments."
5. Zack Martin, G, Cowboys PFF Grade: 8.0
Kiper: "Like Bitonio, some will argue that Martin is facing an easier transition to the NFL because he's not playing tackle and is instead inside, but you have to give credit for a great performance so far on a team that is winning football games in part because its O-line is so good."
6. Kelvin Benjamin, WR, Panthers PFF Grade: -2.9
Kiper: "I get that Benjamin has had some drops, and hasn't been the most efficient receiver, having hauled in only 31 of 55 targets, but he gets a bump because he has been asked to be the top target in the passing game of a team with its eyes on the playoffs."
7. Khalil Mack, OLB, Raiders PFF Grade: 17.0
Kiper: "It says a lot about Mack that he's played really well even though he still doesn't have a sack yet. The Raiders would probably like to see that number tick up, but Mack has played well in space, is a really solid run defender and has been effective pass rushing."
8. Anthony Barr, OLB, Vikings PFF Grade: 3.6
Kiper: "What's truly impressive about Barr is how well-rounded his game looks. He has played 394 snaps, and has essentially not come off the field at all for the Vikings. He's an outside linebacker with the ability to cover, but he's also picked up a handful of hurries and two sacks. What's good about Barr is that he really hasn't had a game in which he just made a bunch of 'rookie' mistakes. He's been steady."
9. Corey Linsley, C, Packers PFF Grade: 5.5
Kiper: "The fifth-rounder from Ohio State has proved he's worthy of the starting role. Where he's really doing a nice job is in the run game, where he creates an early advantage and is able to get to the second level. "
10. Aaron Donald, DT, Rams PFF Grade: 15.5
Kiper: "I expect him to rise up these rankings pretty quickly now that he's a full-time starter, as the snap count has really been the big reason why he has been this far down."
Ravens' Super Bowl Odds Improve
For you gamblers out there, I sure hope you picked up the Ravens when they had 66/1 odds to win the Super Bowl. That's because their odds keep getting better.
Now that the Ravens are sitting at 5-2, their odds of getting to the big stage are now 18/1, according to Bovada. That is the 10th-best odds in the league, and a jump from 25/1 last week.
As for the odds to win the AFC (10/1) and division (5/7), the Ravens are ranked No. 5 and No. 1, respectively.
"During a given season, Las Vegas is often a good indicator at where a team projects," wrote Baltimore Beatdown's Jason Butt. "This year's Ravens team is beginning to get some respect from the oddsmakers after being brushed off before the 2014 season started."
Ravens Plan To Shadow Bengals RB Bernard
The last time the Ravens and Bengals clashed, Baltimore was able to hold star running back Giovani Bernard to just 48 yards rushing, but he also added 62 yards through the air.
He's a dangerous threat, which is why The Baltimore Sun's Aaron Wilson says the Ravens will pay special attention to him and where he is on the field at all times.
Linebacker Daryl Smith told Wilson: "It's hectic, but you've got to know where Bernard is. They do a lot to get the ball to him. We've got to know who's where and be focused on our assignments on each play."
Daniels Misses Practice For Injury, Not Day Off
Tight end Owen Daniels regularly gets a day off each week, which is why most media members didn't think much of it when he wasn't on the field during the open portion of practice.
But it turns out, that wasn't the case yesterday.
"Many assumed Baltimore Ravens tight end Owen Daniels was getting his usual day off when he wasn't on the practice field Wednesday," wrote ESPN's Jamison Hensley. "That changed when the team's injury report was released.
"Daniels, the team's second-leading receiver, missed practice with a knee injury. Although Daniels has played in all seven games this season, he only played two full seasons in his previous eight years in the NFL." 
New Long Snapper Getting Up To Speed
Kevin McDermott, the Ravens new long snapper, has just a few days to get up to speed with Sam Koch and Justin Tucker before the Ravens travel to Cincy. He was picked up by the team Monday after Morgan Cox tore his ACL.
"It's been great, very glad to be here and getting to know my new teammates and getting to know everybody," McDermott told Wilson. "It's an honor to be a part of the Ravens I think I benefited from being here in the preseason. They've been great trying to catch me up to speed."
McDermott's main goal is for his name to never be called by the media this season. As a long snapper, he knows that's the greatest sign of success.
Twitter Breaks Down Ravens Fan Base Across Country
And you can dig deeper  to look at where specific teams fans are located. It comes as no surprise that most Ravens fans are close to home, but check out the representation in Alaska!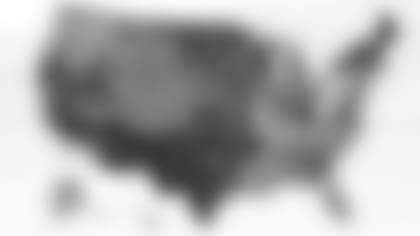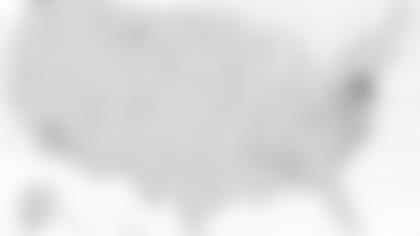 The Ravens top the NFL in points differential, outscoring opponents by 89 points this season. The teams that were the best in this statistic last year, Seattle and Denver, made it to the Super Bowl. [ESPN]
Bad teams' "rebuilding years" can last 20yrs (not naming names). The Ravens "rebuilding year" they were 1 game out of the postseason. Oh — lindsey ok (@lindseyyok) October 23, 2014
We know about Torrey Smith's journey, filled with hardship, but it still gets me teary-eyed every time another outlet documents it.  [NFL.com]