Pitta Expected Back In November
We're still about a month away from quarterback Joe Flacco* *getting back one of his favorite targets.
 Per the rules of injured reserve with the designation to return, tight end Dennis Pitta is eligible to practice right now and could play in the Week 9 matchup against the Cleveland Browns on Nov. 3.
However, his return isn't expected until a few weeks after that.
"I'm hearing Ravens not expecting TE Dennis Pitta until mid- to late-November," ESPN's Ed Werder tweeted. "He's working out regularly but return to field not imminent."
If Flacco and the offense can hold tight for a few months and put up enough points to keep the Ravens in playoff contention, Pitta would be a major boon.
Dallas Clark leads the tight ends with 23 catches for 265 yards this season, including two touchdowns in crucial fourth-quarter moments in back-to-back games. Meanwhile, Ed Dickson has struggled with just seven receptions this season, but has fared better recently.
"Getting Pitta, who had 61 catches last season, back would help a scuffling offense, but it looks like they'll need to find help elsewhere a little while longer," wrote Pro Football Talk's Josh Alper.
Canty Admits Foul On Last-Second Miami FG
The NFL is buzzing about the unsportsmanlike penalty that led to the Jets getting a second attempt to kick the game-winning field goal in overtime against the Patriots. Kicker Nick Folk first missed on a 56-yarder, but the flag gave New York a first down and Folk later got another shot from 42 yards out.
He nailed it. Jets upset Patriots. Onlookers go crazy.
Guess who the Patriots have to blame (other than themselves) for the penalty? Ravens defensive end Chris Canty.
Turns out, per the NFL Network, the Dolphins filed a complaint after the Week 5 matchup with the Ravens where Canty pushed teammate Arthur Jones in an effort to block kicker Caleb Sturgis' potential game-tying 57-yard attempt in Week 5. Canty's push was very similar to the one the Patriots got called for.
 For a good view it, CBS Sports' Will Brinson got this shot of Canty violating the field goal push rule. (Mobile users tap "View in Browser" at the top of the page.)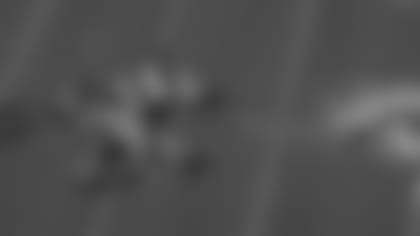 The refs missed it, and Sturgis' kick sailed wide left. The Ravens got out of Miami with a 26-23 win (their last win on the year). If Canty had been flagged, the Dolphins would have had a second attempt from 42 yards out.
 "You're trying to knock back the line of scrimmage and use a guy to get a hand up," Canty said. "Maybe if you can't block the kick, you can get in the kicker's eyesight and maybe alter his kick. … Obviously, we got the result that we wanted. Unfortunately, it didn't work out for New England."
As a result of the missed penalty, NFL Vice President of Officiating Dean Blandino reportedly sent out a training video to game officials, explaining to keep an eye out for it.
Special Teams Coordinator Jerry Rosburg said yesterday he didn't know about the Dolphins' complaint to the NFL or the Patriots being flagged, but that he was aware of the rule change for the 2013 season.
"We're just trying to follow the rules," Rosburg said. "We don't want any fouls. That and all the other rules we're trying to follow."
Bynes Expects To Be Back For Browns
After missing Sunday's matchup against the Steelers with an infected finger, linebacker Josh Bynes expects to be back for the Browns game after the bye.
He had surgery on the finger last week and was released from the hospital Sunday, per CSNBaltimore.com's Clifton Brown.
"I should be able to play the next game," Bynes said. "If I had a choice, I would've played Sunday. Watching the game was horrible. You never watch your guys go out to battle without you. I'm getting better, it's healing up kind of fast."
The Browns game will mark the first time that both Bynes and fellow inside linebacker Jameel McClain will be healthy at the same time this season, and it appears at this point that McClain would be the starter.
Dumervil Agent Suspended For Fax Gate
Elvis Dumervil's former agent Marty Magid is paying for the infamous fax gate.
Per the NFL Players Association, Magid was suspended for six months and fined $25,000 for "negligence" that led to Dumervil's release from the Broncos and subsequent signing with the Ravens. Dumervil had agreed to take a pay cut in Denver, and Magid failed to fax the Broncos a signed copy of the restructured contract by the team's self-imposed deadline.
Dumervil fired Magid and later signed with Baltimore.
Magid's attorney told NFL Network's Andrew Brandt, "The discipline will not stand.  Marty will appeal. Marty will win."
The Broncos could also face discipline for its conduct, "which may have violated the Collective Bargaining Agreement and Dumervil's rights under the CBA."
X's And O's Breakdown Of Botched Kickoff Return Coverage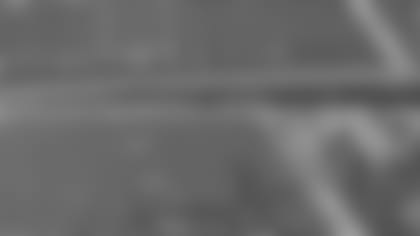 With under two minutes left in the Ravens-Steelers tied game, Baltimore had hoped kicker Justin Tucker could kick the ball out of the back of the end zone so the Steelers wouldn't have a chance at a return.
Instead, Tucker only got it seven yards deep, but it was deep enough for the Ravens to be in good position to stop Emmanuel Sanders when he surprisingly ran the ball out.
In the screen shots above, the Baltimore Sun's Matt Vensel highlights the breakdowns with safeties Jeromy Miles and Michael Huff and wide receiver Deonte Thompson.
Miles cut across two Steelers blockers in an attempt to cut off Sanders inside the 15-yard line, but "got there a half second late." In the L2 assignment, Thompson got sealed off, and Huff in the L1 assignment was blocked out of his lane, per Vensel.
"We weren't in our right lanes. I'm the safety [on special teams]. So I'm the one when all fails, I'm supposed to clean it up," Huff said. "I'm supposed to make the play. Regardless of what happens, I should have been there so I take the blame for that. That time of the game, we have to find a way."
Tucker was the last line of defense to stop Sanders, but was spun around by a Steelers blocker. Luckily a dive from rookie John Simon forced Sanders to barely step out of bounds, saving a game-winning touchdown. But the play took Pittsburgh all the way to the 33-yard line, setting up the eventual 42-yard field goal that sealed the victory for the Steelers.
Huff Adjusting To Backup Role
After signing a three-year contract reportedly worth $6 million in March, Huff is adjusting to life as a backup with the Ravens.
He was supposed to help replace Pro Bowler Ed Reed, but was benched after Week 1 in favor of rookie Matt Elam.
"Obviously, the competitor in you wants to play," Huff told The Sun's Aaron Wilson. "For me, the day I signed, it's been team first. It's all about the team. It's never been about me.
"I got to run down on punts, run down on kickoffs. That's what I'll do. Whatever it takes for us to win, get to the playoffs, defend the Super Bowl, that's what I'll do. You're a competitor. You want to be out there with your brothers playing. At the end of the day, we just want to win."
The Ravens' plummet in power rankings continues. Last week's average ranking of No. 13 has dropped to No. 15.
SB Nation, Ryan Van Bibber: No. 13 (dropped two spots)
"This offense is brutal to watch. With Torrey Smith locked up in coverage, audiences got to see Joe Flacco throw a bunch of meaningless passes. As bad as that was, it was nothing compared to watching Ray Rice stumble through another game averaging 3.0 yards per carry ... his best output in three weeks."
ESPN, Panel of six voters: No. 14 (dropped two spots)
"Joe Flacco may not have saved any of his deep ball magic from last year's Super Bowl run. Flacco has no touchdowns on passes 20-plus yards downfield this season."
CBSSports.com, Pete Prisco: No. 16 (dropped four spots)
"They don't look anything like that Super Bowl team. It's time for Joe Flacco to pick it up."
SportingNews.com, Vinnie Iyer: No. 16 (dropped three spots)
"The Super Bowl champs have never been below .500 seven games into a season with John Harbaugh as coach and Joe Flacco at quarterback. It's got to sting more that it happened after a tight loss at AFC North archrival Pittsburgh."
NFL.com, Elliot Harrison: No. 17 (dropped two spots)
"Tough to figure this group out. Ravens fans deposit a lot of anger on Twitter, particularly toward @Harrison_NFL, particularly when we pick their team to lose. But really, how can you pick Baltimore to do anything, win or lose? One could argue the Ravens are the most inconsistent team in football. Even last season's incredible playoff run came after a stretch in which they'd lost four of five. Baltimore is 8-8 over the past 16 regular-season games, notching impressive wins (in Miami two weeks ago) and brutal losses (in Buffalo the week prior)."
Fox Sports, Brian Billick: No. 17 (dropped four spots) 
"The Ravens are the first defending champs to have a losing record after seven games in the following season since the 2006 Steelers."
MMQB.com, Peter King: Not Rated
This is a top-15 list, and the Ravens fell off of it after being No. 15 last week. Carolina took the Ravens' spot from last week.
The Ravens offensive line essentially kept Flacco cleanagainst the Steelers, allowing just one sack. "Despite the fact that the Steelers aren't exactly getting after quarterbacks like they did during their Blitzburgh days, it was definitely a big step in the right direction for the Ravens' oft-criticized offensive line," wrote Matt Vensel. "But more difficult matchups loom in the season's second half, including the Cleveland Browns after the bye week." [The Baltimore Sun]