Unbelievable Amount Of Food On Ravens Plane
I feel full just typing this.
Some of the bigger guys consume 2,500-3,000 calories in just few hours. That's more than what the average person takes in during an entire day.
Former Ravens linebacker Brendon Ayanbadejo recently detailed the food options on NFL private planes for FoxSports.com, adding some insider eating traditions for Ozzie Newsome, Ray Rice, Ray Lewis and John Harbaugh.
I would be stuffed from the "appetizer" alone.
A long-lasting "sacred" tradition for all NFL teams has rookies providing fried chicken for the entire team. As soon as Saturday's walk through is over, rookies rush to Popeye's Chicken (or Chick Fil A) to get all the orders and then dash to the plane before departure.
"If they are late there is a fine, if there is no chicken they risk locker-room retribution," Ayanbadejo wrote. "On Saturdays, the hustling doesn't stop on the field."
Rookies would be in charge of getting orders and delivering it to their positional groups. Some would be assigned to team executives and coaches.
When Rice was a rookie, he would be the one to deliver two chicken legs and two biscuits to Newsome. The two hit it off so even though subsequent rookies would make the run, Rice would still be the one to hand-deliver the order.
Some people – like Lewis, Harbaugh and Ayanbadejo – preferred to abstain from fried chicken and order chicken from Chipotle. Ayanbadejo delivered Lewis his chicken bowls and grabbed Coach Harbaugh's favorite chicken tacos.
That gave Ayanbadejo the chance to mess with Harbs' order just a little bit if needed.
"If Harbs was hard on us that week, I would 'accidentally' slip him spicy salsa instead of medium," Ayanbadejo admitted.  "If you know Chipotle at all, even the medium packs a punch so you know spicy is not only hot on the way in but also ...."
When the players board the plane, there are ham and turkey subs in brown bags waiting on their seats. Then, imported fresh fruit, cheese platters and candy bars are handed out as they take their seats.
Have you noticed they HAVEN'T EVEN TAKEN OFF YET!
Once the plane is finally in the air and reaches 35,000 feet, the pre-flight delivered food has disappeared and the menus are handed out.
Choices usually include hot food items – a filet, chick parm or a grilled chicken breast salad – with side dishes of a salad, shrimp cocktail and a [add] dinner roll.
FINALLY, here comes dessert: a chocolate-and-almond covered Häagen-Dazs ice cream bar or two chocolate chip cookies served with a couple cartons of 2% milk.
Ugh, I want to throw up just reading about all of it.
With all those options, players have to be careful not to get too unhealthy, and the team certainly helps. Harbaugh limited the amount of candy intake in 2012 and there is a weight check in. Players are fined $470 per pound they are over.
"As you can see, with so many food options it can easily get out control," Ayanbadejo wrote. "NFL players burn an amazing amount of calories on game day but it is critical to get whole foods into your system. Foods rich in macro nutrients and not junk.
"There are not too many guys that fail their weigh-in tests during the course of the season. In fact, many guys actually do lose weight. I don't see NFL teams opting for natural or organic foods any time soon but there are just as many healthy food options on flights as there are non-healthy ones. You just need the will power to stick to the game plan."
Dumb Bye Week Suggestions
Are you like Ryan from Hanover, Md.?
He admits he's close to "jumping off the cliff" because of the Ravens' 3-4 record. It's the worst record this deep into a season during the Harbaugh era.
Desperate people are thinking of desperate changes to kick start a Ravens offense that is struggling to get off to a quick start and score points, and a defense that has recently strained to stop the run.
Below are some crazy suggestions fans, but ESPN's Jamison Hensley did his best to bring these ideas back down to earth.
pj (midlo):Would be an interesting approach for Ravens to give Tyrod [Taylor] a series each game in first half where they would ask him to drop back and take off on a planned run or two - the Ravens are just sooooooooo unimaginative on offense.
Hensley:* *I'm not in favor of giving Tyrod Taylor playing time. Have you seen him on the field? Not impressed. His arm is just not accurate. … Not really [concerned with Flacco's play] when you put it in context. He's received little help from his offensive line and running game. Plus, he doesn't have Boldin or Pitta in the passing game. I'm not saying Flacco has played great this season, but he hasn't been the main reason why the Ravens are 3-4 right now.
Ryan (Clemson): Do you [see] there being a scenario where the Ravens trade Terrell Suggs and/or Ray Rice during the offseason? If so, what could the Ravens get in return?
Hensley: No to both scenarios. Not happening.
Sean McDermott (Charlotte): Could I be the Ravens DC next year?
Hensley: Dean Pees has done a very good job since taking over as DC last year. He's dealt with a lot of injuries last year and is dealing with a lot of turnover this year.
Ryan (Hanover, PA): I took Harb's comments as someone who might look again to change OC's just like last year. Caldwell is so predictable.
Hensley: Caldwell is staying. No chance of him going anywhere right now.
Mason: Ravens Super Bowl Dark Horse
With a losing record after seven weeks of football, it almost seems blasphemous to even speak of the Ravens returning to the Super Bowl.
Beating the Browns coming out of the bye is the only thing on the Ravens' minds right now.
But former Ravens receiver Derrick Mason was asked which AFC team that has already been dismissed by many is still a dark horse to make it to the big game.
Knowing Harbaugh and Joe Flacco very well, Mason believes the two will turn around the team.
"I'm gonna go with Baltimore," Mason said on the NFL Network. "I think regardless of the way they've played up until this point, I think Joe Flacco always finds a way and Coach Harbaugh always finds a way to rally this team around and make sure they put themselves in position to get to the playoffs.
"And once they're in the playoffs, as we've seen with Joe, he is a heck of a playoff quarterback. So, if this team can continue to get on a roll – they got the leadership in Suggs, Haloti Ngata, Dumervil – and they've got some piece on offense to get the job done. I think this is the dark horse of the AFC."
While NFL QBs Keep Falling, Flacco Hits 100 Straight Starts
Bears quarterback Jay Cutler is out for the next four weeks after sustaining a groin injury Sunday.
The Rams lost Sam Bradford for the year with a torn anterior cruciate ligament.
There's Josh Freeman, who got exactly one start with his new Vikings team before getting a concussion. He's out for this week.
Eleven teams have changed their QB entering Week 8, and there will have been 45 different ones to start a game this season come Monday, per USA Today.
Meanwhile, Flacco made his 100th-straight start last Sunday (including playoffs). He's got the third-longest regular-season starts streak (87) in the league among active quarterbacks behind Eli Manning (141) and Phillip Rivers (118).
"It makes you appreciate Flacco's durability" wrote The Baltimore Sun's Matt Vensel. "He is unafraid to step into a blitzer to complete a deep pass down the field and he will take a hit to pick up a first down on the ground if he has to."
Per Pro Football Focus, Flacco's been sacked or hit 347 times since his rookie season.
"Say what you want about Flacco and his performance this season … but with other quarterbacks dropping like flies around the NFL, you have to respect his important ability of availability," Vensel wrote.
Bye Week Affords T. Smith's Visit To Brother's Gravesite
Love this entry from Torrey Smith.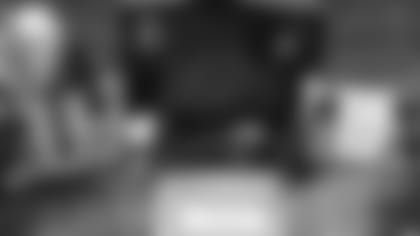 With the opportunity to get away from football during the bye week, the Ravens No. 1 receiver visited his brother's gravesite for the first time. Below is his touching entry about the visit:
"First time visiting my brothers gravesite...No tears but I do miss him...death happens to everyone and often times it's when you least expect it...I don't cry over things I'll miss or memories that will never be formed...I'm thankful that god gave me the little bit of time with him that he did because truth be told it didn't have to be that long...the fact that he is gone makes me cherish our memories even more and they will never leave my heart...through my faith I believe that he will be fine and through his death I know that I need to live my life the right way to see him again...his death was not in vain...I have become a better son, brother, uncle and overall person because of him...life is too short to not cherish and capitalize on every moment...How many reminders do we need? Make sure you tell your loved ones that you love them...I had the opportunity to tell my brother that before he passed...my actions showed that I loved him but I started telling him before he died...I know that he knows I loved him and because of that I find peace #RIPTEVIN #RIPLILCHRIS."
@BrentCSN: Former Raven Bryant McKinnie on OL struggles: "Scheme, a new line coach, with a new way of teaching.  It's been a transition" #RavensTalk [Twitter]
Hey Jamison, who is a better No. 2 receiver: Jacoby Jones or Marlon Brown? "Jacoby Jones has impressed me with the way he's run routes," wrote Hensley. "Much better than last year. I also like Brown's potential. That's why I advocated going three-wide and spreading out defenses. So, I thought the Ravens had the right strategy going against the Steelers. Use Torrey Smith, Jacoby Jones and Marlon Brown. They're among your best 11 players, so why don't use them at the same time?" [ESPN]
Harbaugh likes his adversity track record. [ESPN]
Ravens players head out of town for the bye week. [The Baltimore Sun]
@ronfritz The Baltimore Sun]: Ravens don't have regular season game [in London next year. NFL announces games there - Dallas-Jacksonville; Detroit-Atlanta; Miami-Oakland. [Twitter]