Lists, Awards, Polls … And Lots Of Them
It's the bye week in Baltimore and we're nearing the midseason mark. Thus, tis the season for Ravens lists, awards and polls.
There are plenty to look at, so let's get started …
Ravens (Almost) Midseason Superlatives
With seven games of the 2012 season in the books, The Baltimore Sun's Aaron Wilson came up with 14 Ravens superlatives. I'll highlight just a few, along with his explanation and my take.
Most Valuable Player:"Pro Bowl running back Ray Rice is the most dynamic presence on the offense."
Sarah's Take: It's hard to argue with this pick. The Ravens overcame the loss of Defensive Player of the Year Terrell Suggs, notching a 5-1 record without him. Baltimore has also overcome losses of linebacker Ray Lewis and safety Ed Reed in the past. Could they overcome the loss of Rice? I'm not so sure. The absence of only two other players could be argued as equally, or more, devastating: quarterback Joe Flacco and defensive tackle Haloti Ngata.
Best Moment: "Wide receiver Torrey Smith catching six passes for 127 yards and two touchdowns against the New England Patriots just one night after his younger brother, Tevin Jones, died in a motorcycle accident."
Sarah Take: The entire nation was rooting for Smith when he overcame that devastating loss and caught two touchdowns on primetime television. I still get teary-eyed when I listen to Smith's post-game locker room comments.
Best Decision: "Cutting former Pro Bowl kicker Billy Cundiff and installing rookie Justin Tucker as his replacement."
Sarah's Take: With hindsight we know this was a great decision. Tucker is setting Ravens franchise records and Cundiff was cut from the Redskins after an awful start. But we can't forget that this wasn't an easy or clear choice at the time. Veteran NFL kickers wouldn't even accept the invitation to come and compete against Cundiff because they thought he was a lock for the job. Pundits wondered if it was a*smart move to hand the critical role over to an unproven rookie in a year the Ravens hope to *make a run for the Super Bowl. Credit goes to Head Coach John Harbaugh and his staff for taking a risk that has greatly paid off.
Best Draft Pick: "Gritty rookie offensive tackle Kelechi Osemele has started every game on the right side, displaying toughness and durability."
Sarah's Take: If Tucker were a draft pick, I'd give him the award. Since he's not, K.O. is the easy decision. Courtney Upshaw has played well as a starter, but hasn't stood out like Osemele. It will be interesting to see this rookie class continue to develop.
Worst Moment: "Cornerback Lardarius Webb, the Ravens' top cover guy and arguably their best tackler, tore his left anterior cruciate ligament against the Dallas Cowboys and is out for the season. In the same game, the Ravens lost middle linebacker and emotional leader Ray Lewis to a torn right triceps that also required surgery."
Sarah's Take: I hated seeing Webb lying on the field clutching his knee. I wasn't feeling much better when Lewis was on the sideline while his unit was trying to stop a charging Cowboys offense from making game-winning plays. And I still wasn't feeling better the next week when the Ravens got trounced by the Houston Texans – which I believe is up there with some of the worst moments of the season so far.
Biggest Disappointment:  "Nose guard Terrence Cody was beaten out by Ma'ake Kemoeatu, who weighed over 400 pounds and was out of football last year. The former second-round draft pick only got back in the starting lineup because Kemoeatu had a sprained knee."
Sarah's Take: Neither Cody nor Jimmy Smith has lived up to their second- and first-round draft positions, respectively. "Mount Cody" has at times been pushed around up front, and Smith is only starting because of the injury to Webb. It's too early to lose hope in the two defensive players, but they have plenty of room for growth and improvement.
One Raven Makes NFL Overrated Players List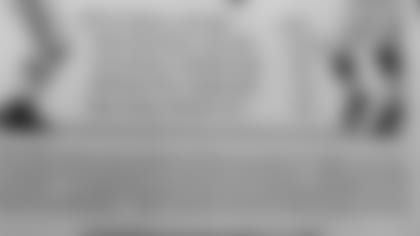 One Raven made the list at No. 5 with three percent of the votes. Drum roll … Ray Lewis.
"Yes, in a survey of 180 players, Baltimore's sainted middle linebacker and future no-doubt Hall of Famer was listed by three percent of the player vote as a guy whose reputation – at least at 37 years of age, with 17 years in the league – far exceeds his production," wrote The Baltimore Sun's Kevin Cowherd."
Honestly, I'd be shocked if Lewis didn't make this list. Nobody on the Ravens, including Ray, pretends that he's as fast or physically dominant as he was in his prime 12 years ago and won the Super Bowl XXXV MVP award (but he has said that his wisdom can compensate for that). Not even Lewis himself can live up to that, plus 13 Pro Bowl appearances, 10 All-Pro selections and two Defensive Player of the Year awards.
So while it isn't surprising that Lewis is on the list, one does have to chuckle and wonder how the Jets managed to have two players, playing the same position, voted as the two most overrated players in the game. Now that's a remarkable feat.
The top five include: 1) Jets quarterback Tim Tebow (34 percent of votes, 2) Jets quarterback Mark Sanchez (8 percent), 3) Cowboys quarterback Tony Romo (8 percent), 4) Eagles quarterback Michael Vick (four percent) and 5) Lewis.
Baltimore is the NFL's most-penalized team, with 57 accepted flags, and is on pace to set the franchise record with 1,131 penalty yards.
ESPN's Jamison Hensley drilled down into the numbers, noting that the most-penalized player has been Jimmy Smith, who has twice been flagged for defensive holding and added illegal use of the hands, offsides and pass interference penalties.
Here's Hensley's the breakdown of penalties by player and coach:
Five penalties: Jimmy Smith
Four penalties: Bernard Pollard, Marshal Yanda, Kelechi Osemele
Three penalties: Torrey Smith, Anquan Boldin, Cary Williams, Dennis Pitta, Michael Oher
Two penalties: Sean Considine, Lardarius Webb, Ed Reed, Joe Flacco (delays of game), Courtney Upshaw, team (illegal substitution and illegal formation).
One penalty: Pernell McPhee, Ray Rice, Matt Birk, Jacoby Jones, Art Jones, Dannell Ellerbe, Anthony Allen, Paul Kruger, Deonte Thompson, Jameel McClain, Chykie Brown, Christian Thompson, John Harbaugh (unsportsmanlike conduct),
First, those players whose stock is increasing:
Tandon Doss: "Slowed in training camp, the second-year wide receiver is slowly and steadily getting more involved in the passing game."
Corey Graham: "Signed primarily for his Pro Bowl ability on special teams, Graham made clear he also hoped to see more action in the secondary with the Ravens. He will have that chance now with [Webb] out for the season."
Bryan Hall: "A practice squad player last year, the defensive tackle made his regular-season debut at Houston and made his first career tackle. If Haloti Ngata continues to be bothered by a knee injury, and if the Ravens' front three continues to struggle mightily, Hall could get additional playing time."
And players whose stock is on the decline, according to Smolka:
Joe Flacco: "Coming off his best training camp of his career, Flacco has looked in command at home but continues to struggle mightily on the road."
Ma'ake Kemoeatu: "'Kemo' was one of the surprises of the early season. … But the Ravens' run defense has been shredded the past three games and Kemoeatu missed the Houston game with a knee injury."
Deonte Thompson: "The undrafted rookie was originally considered a long-shot to make the team, but then used his speed to not only earn a roster spot, but win the job as the No. 1 kick returner. … But after losing a fumble at Kansas City, he's been replaced in that role by Jacoby Jones and has been a game-day inactive the past two games."