Update On Former Ravens Leaving In Offseason
With a few extra days between the Ravens' Week 4 and 5 games, we have some time to check in with a few former Ravens that left via free agency this offseason.
We know Baltimore isn't faring as well in the pass rush and run defense after watching Jarret Johnson, Cory Redding and Brandon McKinney depart. However, the safety unit appears to be fine without Haruki Nakamura and Tom Zbikowski. Ramon Harewood surprised many by becoming the replacement for two-time Pro Bowler Ben Grubbs, and is performing well. And Justin Tucker – you'd be hard pressed to find someone who didn't like the move to keep him over Billy Cundiff.
But how are these former Ravens getting along in their new cities with their new teams?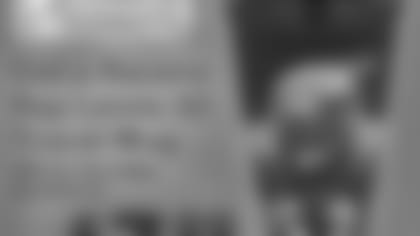 ](http://www.dunkindonuts.com)The Baltimore Sun's Jeff Zrebiec wrote about the departed teammates, and I've added in a few more tidbits:
LB Jarret Johnson: San Diego Chargers (3-1), No. 1 in AFC West
Ten tackles and no sacks; expected to make 100th career start Sunday
S Haruki Nakamura: Carolina Panthers (1-3), No. 3 in NFC South
Seventeen tackles, two passes defended and one interception; reports indicate his starting job is in jeopardy
G Ben Grubbs: New Orleans Saints (0-4), No.4 in NFC South
No penalties, given up two sacks. Before losing again last Sunday, Grubbs said: "Oh-and-three sucks. I've never been 0-3 before. Nobody wants to be 0-3."
DE Cory Redding: Indianapolis Colts (1-2), No. 2 in AFC South
Eight tackles and two passes defended; first player Chuck Pagano called when he became head coach
S Tom Zbikowski: Indianapolis Colts (1-2), No. 2 in AFC South
Nine tackles and one pass defended as starter
DT Brandon McKinney: Indianapolis Colts (1-2), No. 2 in AFC South
Placed on season-ending injured reserve in August with torn ACL
K Billy Cundiff: Washington Redskins (2-2), No. 2 in NFC East
Hit game-winner (and job-saver) Sunday after missing three field goals earlier in the game; 6-for-10 on season
CB Chris Carr: San Diego Chargers (3-1), No. 1 in AFC West
Signed one-year deal with Chargers yesterday after being released by the Vikings during their final major roster cutdown
Suggs Guest Judge On Spike TV's 'Ink Master'
While Terrell Suggs continues his rehabilitation from Achilles tendon surgery, the outside linebacker found time to be a guest judge on the upcoming episode of Spike TV's "Ink Master."
Ravens fans can watch his judging skills and style in the second hour of a two-hour season premiere Tuesday, Oct. 9 at 10 p.m. EST. The show highlights 16 tattoo artists from around the country in various challenges with the goal to survive each week and win a $100,000 grand prize.
Suggs, a tattoo enthusiast with plenty of body art to prove it, will join a panel of judges to evaluate the artists' work.
"I have a great appreciation for body art," Suggs said in the video below. "As a football player, we love tattoos."
Earliest Suggs Could Return?
Speaking of Suggs, fans are dying to know when the reigning Defensive Player of the Year will return to the field.
Head Coach John Harbaugh was clear last week that Suggs will be back this season, but didn't give a specific date. Suggs is currently on the physically unable to perform (PUP) list through the Oct. 14 game versus the Cowboys. The Ravens will then have three weeks to either activate him or put him on season-ending injured reserve.
Zrebiec offers his prediction:
Crennel Leaves Door Open For Quinn
The quarterback controversy in Kansas City continues.
After a 1-3 start and throwing seven interceptions in four games, fans are calling for Matt Cassel to be benched.
While Head Coach Romeo Crennel said Cassel will remain the starter, he did leave the door open for Brady Quinn to play. He may give Quinn some of the first-team reps in practice this week as the team prepares to host the Ravens.
"At some point, as a coach, you go through and you see what's happening in the game and how a guy is reacting and how he's responding to what's happening in the game," Crennel said, per the Kansas City Star.  "If you feel he's inept, constantly making poor decisions, bad choices, then that's when you move on from him and give someone else a chance."
There isn't a whole lot of rhyme or reason to the Ravens' movement this week in power rankings. After a close win over the Cleveland Browns Thursday night, some pundits didn't budge in their opinion of the Ravens, some dropped the team down a spot, some moved it up one.  SI.com's Peter King gave Baltimore the biggest bump of the week, pushing them up three spots to No. 4.
The Falcons and Texans are usually listed ahead of the Ravens.  Then either Arizona or the 49ers are generally the other two teams that seem to be contending with Baltimore for that that third spot.
Pete Prisco, CBSSports.com: No. 5, no movement
This might be the season that the offense actually carries the Ravens. That defense has some problems.
ESPN.com: No. 3, no movement
The Ravens have given up 300 yards passing in three straight games. Next up: struggling Matt Cassel.
Brian Billick, Foxsports.com: No. 4, moved down one spot
The Ravens have beaten the Browns in nine consecutive games, so did we really expect it to be any different last Thursday?
Elliot Harrison, NFL.com: No. 4, moved up one spot
Solid overall team performance from the Ravens on NFL Network last Thursday night. Sure would be lovely if Offensive Coordinator Cam Cameron would give Ray Rice the rock in the running game five to six more times per contest. If someone can explain why one of the league's premier tailbacks is tied for 15th in the league in rushing attempts while playing on a team that has either been ahead or in close games each week, please hit me up at @Harrison_NFL. Ridiculous.
Peter King, Sports Illustrated: No. 4, moved up three spots
Ravens average points per game in 2011: 23.6. Ravens average points per game through the first four games this year: 30.3.
Zac Wassink, Yahoo! Sports: No. 4, no movement
Baltimore survived facing the Browns on just three days of rest, and they now have a couple of extra days to prepare for lowly KC. Perhaps facing the Chiefs is just what this defense needs.
Lewis Won't Stick Around Long Enough To Tackle Son
Linebacker Ray Lewis made the media rounds yesterday.
Lewis' son, Ray Lewis III, will enroll next year at the University of Miami after a stellar high school career at running back. And Mike Florio asked Lewis if he will stick around long enough for his son to get drafted so he could tackle him in the NFL.
Lewis let out a big belly laugh, saying: "No way. Nah. Are you serious? Nah.
"There's one thing I've shared with many people – my family and definitely my kids, they've made the ultimate sacrifice for my career. Now it's kind of daddy time. It's daddy time to be there for them; to be on the sidelines for them whenever that comes. Me and my son talk about that all the time. He always keeps asking me, 'Daddy, you going to be there?'"
Unitas' Son Encourages Brees To Break Dad's Record
Johnny Unitas' son, Joe, is encouraging Saints quarterback Drew Brees to beak one of the longest surviving streaks in football held by his dad.
Brees has the chance this week to break the mark of 47 consecutive games with at least one touchdown pass – a 52-year-old record.
Joe posted a letter to Brees on his Facebook page (per The Sun) that said in part:
 "My father always said that records were meant to be broken. I know that if he was still with us that he would wish you the best as well. … My family and I will be watching Sunday night cheering for you. Best of luck." 
@jasonbuttcbs:

Courtney Upshaw

![](/team/roster/courtney-upshaw/08b30e8b-a2a6-41d1-b3f9-f3fa2787c875/ "Courtney Upshaw") listed as starting rush LB with Albert McClellan as starting Sam LB on this week's team depth chart. Ravens PR makes chart. [Twitter]
@ravens: VIDEO: Go inside the locker room for Coach Harbaugh's speech after the win over Cleveland: [Twitter/BaltimoreRavens.com] [Twitter]
Cornerback Cary Williams was awarded the defensive AFC North game ball by Jamison Hensley for coming up big when the Ravens needed him in the third quarter to pick off a Brandon Weeden pass and return it 63 yards for a score. "In a game decided by seven points (23-16), Williams made the decisive play," Hensley wrote. [ESPN]
"For those following the blog, you know I've been critical of Ed Reed and his campaign to get a new deal," wrote Hensley. "My response has always been to go out and earn a new contract. Through four games, Reed has done exactly that. He's almost matched last year's interception total and he's back being a physical presence again." [ESPN]