Who Knew Haloti Ngata Could Sing?
Haloti Ngata can sing. … And he's good. … And a little charming.
Certainly not his teammates.
"I didn't know my boy could sing," Art Jones wrote on Instagram with this video snippet of Ngata showing off his vocal abilities (mobile users tap "View in Browser").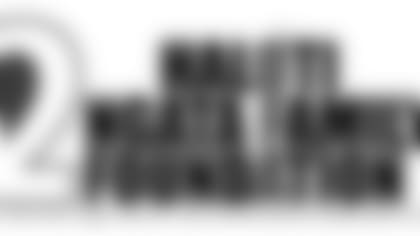 The Ravens defensive tackle, a.k.a. the big block of granite, performed Bob Marley's "Stir It Up" at his second annual Haloti Ngata Family Foundation Luau last night. Ngata took center stage in his flip flops, a floral luau shirt and lei with a band draped in No. 92 Ravens jerseys backing him up.
Listening to the big fella sing lyrics like, "Come on, baby" and "little darling" in a smooth voice is definitely a different look for a guy that gobbles up offensive linemen on gameday.
I wish there was more, but take a listen.
By the way, how great is Ngata's foundation logo that highlights the letters "Ofa" in red? Ofa is the name of Ngata's late mother, who died of a heart attack in 2006, and the Tongan word for love.
"Thank you to everyone that helped make my Foundation Luau a huge success!" Ngata tweeted with a picture of a $50,000 check written out to the Johns Hopkins Diabetes Center.
Ravens Try Out Four WRs, Two QBs
The Ravens opted not to make a trade as the NFL deadline passed Tuesday (despite reports they were "all over" the receiver market), but they were still very busy.
Instead of making a trade for a pass catcher, they tried out four Tuesday, according to The Baltimore Sun's Aaron Wilson. The report also noted the Ravens worked out two quarterbacks.
The receivers included* *Kamar Aiken, Charles Hawkins, Dan Buckner and Quentin Sims. The two quarterbacks were James Vandenberg and Nick Stephens.
No one was signed to the team.
Wilson gave a brief overview of the six lesser-known players:
"Buckner (Arizona) has played for the Arizona Cardinals and Tampa Bay Buccaneers. Hawkins (Southern) was on the Cardinals' practice squad, while Sims (Tennessee-Martin) went to training camp with the Patriots. Vandenburg (Iowa) went to training camp with the Minnesota Vikings, and Stephens (Tarleton State) has played for the Tennessee Titans and Dallas Cowboys."
Wilson: No 'Significant' Ravens Trade TalkThe most excitement in Baltimore as Tuesday's trade deadline came and went was Qadry Ismail's joking rumor attempt that Torrey Smith was traded.
"WHAT TORREY GOT TRADED!?!?!?! #RumorStarter hahaha," Ismail tweeted five hours after the deadline passed.
Wilson tweeted after the deadline that sources said the Ravens "never got involved in any significant way."
It's unclear what "significant" means.
Despite all the hype leading up to the deadline, the result was essentially the same as any other year.
"To sum up the responses I'm getting from @nfl people as the deadline approaches: 'Zzzzzzzz,'" tweeted NFL.com's Ian Rapoport.
Comparing Doss vs. Boldin Production
Tandon Doss and Anquan Boldin's stats look nearly identical over the past four games.
Boldin: 26 targets, 14 catches, 179 yards and no touchdowns.
Doss: 23 targets, 13 catches, 239 yards and no touchdowns.
What does this all mean? I don't know, but The Baltimore Sun's Matt Vensel has a few thoughts.
"I am not presenting these two stat lines to suggest the 3-4 Ravens don't miss Boldin," he wrote. "But they are finally getting the kind of production they had hoped to get from Doss when they drafted him in the fourth round two years ago. Meanwhile, Boldin, who is making $6 million this season, is not presently providing the 49ers bang for their buck."
Of course, just looking at the last four games discards some of Boldin's bigger outings, including Week 1 when he churned out 208 yards and a touchdown and Week 4 when he added 90 yards and another score.
That said, it's fair to point out that Doss is finally showing flashes and beginning to fill the role Boldin played. After being cut before the season opener and then re-signed a week later, Doss is now mostly working out of the slot like Boldin, with 81.9 percent of his snaps there, per Pro Football Focus.
Doss also showed Boldin-esque toughness when he held onto a first-down catch after getting hammered by safety Troy Polamalu in Pittsburgh.
"He has to get his jaw rattled a few hundred more times to catch up with Boldin, who may be pound for pound the NFL's toughest receiver," Vensel wrote. "But it was a big moment for a young receiver who did not finish off plays in the past." Ravens' Playoff Chances Improved?
Despite the Ravens' long list of struggles and 3-4 record, the changing landscape of the AFC gives Baltimore a lot of hope for a postseason berth.
"The likelihood of John Harbaugh leading his team into the postseason for the sixth straight year actually has improved," wrote The Baltimore Sun's Peter Schmuck.
While the undefeated Chiefs are a big surprise and the AFC West will likely send at least two teams (Kansas City and Denver), there have been more surprise underachievers, including the Texans and Steelers. Three AFC divisions – the North, South and East – all have second-place teams without winning records.
Those standings improve the Ravens' wild-card chances significantly.
The Chargers (4-3) currently own the sixth and final wild-card spot, but they still have four games to play against the conference top dogs, Chiefs and Broncos.
"Ideally, they would leave nothing to chance and sweep through their remaining division games to get back into the race for the AFC North title, but if they don't, there definitely is another path to the playoffs," Schmuck wrote.
Ravens' Deep Game Missing
The Ravens rode Flacco's big cannon to the Super Bowl, connecting on four touchdown passes of 21 yards or more in the air in four playoff games. That hasn't happened once in seven games this season.
Hensley says Flacco's accuracy has been off, and injuries have hurt the downfield attack.
"Throwing deep should be a strength of the Ravens," the blogger wrote. "Baltimore has the receivers -- Jones and Deonte Thompson -- who can get behind defenses. Injuries kept Jones and Thompson out for a large chunk of the season, but both are healthy now.
"The other factor is the Ravens' problems in the run game. Defenses don't have to drop a safety in the box when the Ravens are only averaging 2.8 yards per carry. When teams can play both safeties deep, it's tougher for the Ravens to throw downfield."
Deonte Thompson has been the "odd man out" at wide receiver with the emergence of Doss and return of Jones. His role is diminishing as he didn't play a single snap offensively against the Steelers. [The Baltimore Sun]
Flacco tops Herm Edwards' list of underperforming NFL players this season. "Flacco simply hasn't lived up to the expectations that come from the money the Ravens paid him this offseason," he wrote. "If Flacco can't protect the ball better and his receivers can't get open on intermediate routes, this offense will continue to be ineffective." [ESPN]
The Ravens are $1.645 million under the salary cap after signing running back Bernard Scott to a one-year, $715,000 contract. It counts $298,824 against the salary cap. [The Baltimore Sun]
"One of the characteristics of a John Harbaugh-coached team over the previous five seasons is that it really improves as the season goes on," Jeff Zrebiec wrote in a question-and-answer session. "This year's team hasn't shown that yet, but the Ravens are coming off a bye, they feel like their offensive line was solidified with the acquisition of left tackle Eugene Monroe and they are getting healthier. The Ravens had so much turnover from last season and so many new faces playing key roles. The expectation is that the chemistry between Flacco and his pass catchers will get better and better with more game experience and the defense will clean up some of the communication issues that arose earlier this season from having so many new guys." [Akron Beacon Journal]
Which matchup should the Ravens worry about most when they face the Browns? Phil Taylor vs. Gino Gradkowski. [Akron Beacon Journal]
@HensleyESPN: Bengals finally place Leon Hall on IR [Twitter]
@ProFootballTalk: Steelers bench first-rounder Jarvis Jones [Twitter]
@JameelMcClain: Another day of work on my day off. Foot doc, chiropractor, acupuncture, cardio workout, film break down then a charity event #theLife [Twitter]
@MichaelOher: I am too positive to be doubtful. Too optimistic to be fearful. And too determined to be defeated. [Twitter]
@TorreySmithWR: Just saw the audio of Dez's "rant" and I've come to the conclusion that the media doesn't want him to do well...wasn't bad at all [Twitter]
Everything the Smiths do is creative and adorable. First they announce* *they're pregnant with a picture of a jar of Prego, and now this … @TorreySmithWR: Someone will be wrapping one of these in a box for us and we will be opening it on Christmas. I want to open it now!!! But she will not let me. Help me convince @libraladii to move it up to Thanksgiving please. [Instagram]