Joe Flacco Finally Picks Up MVP Corvette (Photos)
We all witnessed the moment when Joe Flacco learned he would get a car for being named the Super Bowl XLVII Most Valuable Player.
"I get a car? Do I really?" Flacco questioned incredulously. Finally convinced, he turned to somebody with a big smile on his face. "I get a car!"
Nine months later, the (freaking gorgeous) torch red 2014 Chevrolet Corvette Stingray was finally delivered to Flacco on Friday.
Now, he's beaming even brighter.
The guys at CorvetteBlogger.com posted pictures of Flacco and his son, Stephen, checking out their new ride at Mall Chevrolet in Cherry Hill, N.J.
Can Joe even fit into that thing?
Kneeling down, Flacco still towers over it. Maybe that's why baby Stephen also has a grin on his face as he explores the inside of the car all by himself (my dad wouldn't let me within 10 feet of it for fear I'd put a fingerprint on it or breath on it wrong – Flacco is one nice dad). That baby smile seems to say, "Thanks, dad! You got me a car that fits me perfectly … how many years until I can drive?"
Why did it take nearly a year for Flacco to get his new whip?
"Like everyone else, Flacco had to wait until C7 production started this fall. That Stingray was rolled out of the factory earlier this month," Keith Cornett of CorvetteBlogger.com explained.
I can't speak for Flacco, but I'm sure it was worth the wait.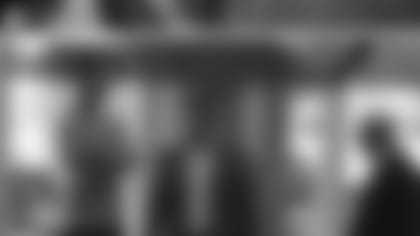 Would Ravens Consider Fitzgerald This Offseason?
The idea of landing a big-name receiver prior to the trade deadline was planted in Ravens fans' minds, but after nothing happened, some wondered if the Ravens would still address the position with a big move this offseason.
With rumors that the Arizona Cardinals might part ways with the seven-time Pro Bowler Larry Fitzgerald after the season, one fan asked whether the Ravens would pursue him like they did Anquan Boldin in 2010.
As amazing as it would be to see Fitzgerald and Torrey Smith lining up together, ESPN's Jamison Hensley doesn't believe it is a realistic option.
The Cardinals also denied that they would be interested in shopping Fitzgerald after the season.
The salary cap limit is partly what prevented the Ravens from making a trade Tuesday, says Hensley. Kenny Britt was one of the few players that the team could afford, and it apparently didn't think a fourth- or fifth-rounder was worth nine games.
"Hard to blame them," Hensley wrote.
Even after this season, one reason why they still won't be able to afford a big-name weapon next to Smith is because they have to pay for, well, Smith.
"If there is going to be a big deal for a WR, it's going to be extending Torrey Smith," Hensley explained. "He's entering the final year of his contract in 2014. The Ravens are going to have to add another WR next season, though. I don't see them bringing back Jacoby Jones. So, they will add someone to the mix of Smith, Marlon Brown, Tandon Doss and Deonte Thompson. Just don't expect a big name."
The top three receivers Hensley envisions for next season are already on the roster: Smith, Brown and Doss in the slot.
Why wouldn't the Ravens re-sign Jones, whose two-year contract expires after this year?
"Jones isn't a Harbaugh-type guy," Hensley wrote. "He lost some points when he was involved in that party bus incident. Plus, the emergence of Tandon Doss as a punt returner and receiver hurts Jones. Doss is cheaper and giving the same amount of production. The Ravens can use the cap room on another position."
Fair To Criticize Offseason Moves, But Ravens Aren't Sitting On Hands
When the Ravens cut defensive veterans Michael Huff and Marcus Spears yesterday,* *that meant they were cutting ties with nearly half of their offseason free agent signings that were part of a defensive makeover.
The Ravens nailed their other three defensive free agent signings of Elvis Dumervil, Daryl Smith and Chris Canty. Smith is considered by some the team's MVP through the first half of the season, and Dumervil has combined with Terrell Suggs as one of the best pass-rushing tandems in the NFL. Canty is a major force in the middle. 
For some, missing on Huff and Spears is grounds for criticism, but Hensley gives the Ravens credit for doing something about it quickly.
"It's legitimate to criticize General Manager Ozzie Newsome for whiffing in free agency this offseason," he wrote.
"What you have to like about the Ravens is the immediacy in recognizing their mistakes. How much are the Ravens committed to turning around their disappointing 3-4 season? The Ravens are going to pay Huff and Spears a total of $926,470 the rest of the season not to be on the team because they saw younger players as upgrades. That doesn't include the combined $2.1 million in signing bonuses for those veterans."
The Ravens believe they can still win, and by "not sitting on their hands," they are showing they believe they might still catch the Bengals, who have a 2.5-game lead in the division.
And don't think Baltimore will stop with these two cuts if they don't right the ship.
"If the Ravens don't show immediate results, you can expect more changes to come," Hensley wrote.
"The Ravens have set the precedent."
Rolando McClain: I Felt Like I Wanted To Kill Somebody
Linebacker Rolando McClain shocked the NFL when he abruptly retired just a month after signing with the Ravens in April. Baltimore was supposed to be his second chance, but he was arrested just 10 days after signing.
Instead of using that second chance, he left football altogether.
McClain said he was angry, and saw himself going down a bad path. People were trying to take advantage of him and his money. He spent nearly $600,000 in six months on friends and family. He needed to return to a place where he could regain control of his life, and try to avoid an ending behind prison bars.
Wickersham spent a few days with McClain, detailing what the 24-year-old young man does during a day and his state of mind. It's a fascinating look inside a world where McClain has little to do, still struggles with making sound decisions and is afraid of going to a therapist for fear of what he might find out about himself.
As for his football career, McClain says he will "probably" return next season.
If he does, the Ravens own his rights.
Rice's High Pain Tolerance
Running back Ray Rice has a story behind every tattoo on his body, and he's still not done telling his life story.
He's got eight tattoos … and counting.
AOL followed Rice as he added a tattoo of his daughter's footprints on his ribcage. While a tattoo artist painfully sketched that one, Rice asked to do a second one – area code "914" representing where he grew up – on his arm.
Two tattoos at once! Ouch!
"I've always had HPT – a high pain tolerance," Rice said.
We've told the stories behind Ray's tattoos before, but if you haven't heard them, check out this video (mobile users tap "View in Browser" at the top of the page).
Covering Browns wide receiver Josh Gordon could be a problem for the Ravens. The talented 22 year old did not play in the Week 2 meeting. [CSNBaltimore.com]
Chris Canty, can you put a finger on why the Ravens aren't winning more? "No, I really can't. This is one of the hardest working football teams I've ever been a part of." [NFL Network]
@mzenitz: Canty on Matt] Elam: "You can see the talent. You're just waiting for the game to slow down for him. As soon as that happens, [he's going to take off." [Twitter]
@RavensInsider: Terrence Cody said his sprained knee is 'definitely ready. It feels good. Hopefully, nothing happens this week and it stays strong.' [Twitter]
"Because Huff and Spears] were cut after the trade deadline, they'll pass through waivers," wrote Mike Florio. "Which means that, if they are claimed, the Ravens will be [off the hook for termination pay." [ProFootballTalk.com]
@RavensSalaryCap: After today's flurry of activity, Ravens are now $1.17M under Salary Cap.  [Twitter]
@mattvensel: Have to wonder if these roster moves clear the way for to rejoin the team next week. Still not a guarantee, though. #Ravens [Twitter]
@RavensSalaryCap: Ravens now carrying 6 Safeties, but it's likely that one (Trawick?) goes next week when CB Asa Jackson is eligible to return from suspension [Twitter]
@PMGleason: After giving up 7 TDs at Denver in Week 1, #Ravens defense has allowed just 5 TDs in the last 6 games. [Twitter]