Mike Wallace: Ravens 'My Least Favorite Team'
Receiver Mike Wallace has traded in his black and gold uniform for one in aqua and orange, but his disdain for the Ravens remains.
The ex-Steeler told reporters in Miami that he hasn't played any AFC East rivals yet, so by default the team he likes the least is still the Ravens.
"Most definitely, I know they're my least favorite team," Wallace followed up.
There may not be two teams in the NFL that hate each other more than the Ravens and Steelers. It is one of the league's best rivalries, and the deep-rooted animosity hasn't subsided for Wallace after just four games in Miami. Not after four years in Pittsburgh.
Wallace has taken the opportunity to warn his new teammates about the Ravens' physicality. Even though the Ravens are not off to a great start (2-2), he isn't sleeping on them. He's faced this former AFC North rival nine times, and has come out on the winning end just four times.
"First of all, they're the defending champs. So it would definitely be big for us to win this football game," Wallace explained. "If you think for one second, because they lost some players, that they're not going to come out and try to whip our butts, you got it wrong.
"These guys are still the Baltimore Ravens. They still have the same mentality. So we definitely have to come out on our P's and Q's. If you don't have your chinstrap buckled, they will hit you in the face."
Wallace has had his ups and downs against the Ravens. He's had a monster game, and the Ravens have slowed him in others. While he's regularly churned out big yards, Wallace only has one touchdown against Baltimore in nine games. Check out his stats: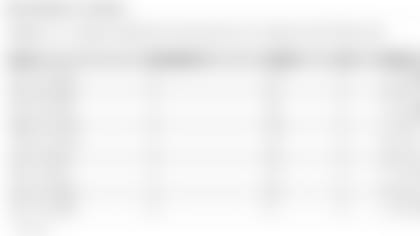 Browns Take Control Of Division
The Cleveland Browns have indeed taken control of the AFC North.
And they did it by beating the Buffalo Bills, the team the Ravens fell to last week, by double digits, 37-24.
Fifteen days ago, most thought the Browns had given up on their season after trading running back Trent Richardson. But since then they are 3-0.
The Ravens and Bengals could knot the division again this weekend with wins over the Dolphins and Patriots, respectively. Neither game will be easy.
Until then, the AFC North standings are as follows:
Cleveland: 3-2
Baltimore: 2-2
Cincinnati: 2-2
Pittsburgh: 0-4
The Browns seized the division after starting quarterback Brian Hoyer left the game with a knee injury, giving Brandon Weeden a second chance at the starting role. Bills quarterback EJ Manuel was also knocked out of the game with a knee injury.
Highlights from the game, and the awkward injuries to both quarterbacks, are below (mobile users tap "View in Browser" at the top of the page).
Newsflash For McKinnie (Who Ravens Shouldn't Trade)
Reporters, including our own Ryan Mink, spoke with Bryant McKinnie yesterday to get his reaction to the Ravens reportedly trading valuable fourth- and fifth-round draft picks for a younger left tackle.
As you would expect of any NFL player, McKinnie wasn't ready to give up his starting role.
But surprisingly, McKinnie didn't necessarily think that time was coming, which ESPN's Jamison Hensley found "amusing."
When asked if he'd have to adjust to being a backup again, McKinnie said, "Who said that's what I have to adjust to?" McKinnie said. "Maybe not, so we don't know yet."
The 34-year-old tackle said that coaches haven't told him that he's lost the starting post.
"Newsflash to McKinnie: Maybe the coaches didn't think they had to tell him because everyone in the football world knows Monroe is taking his starting job," Hensley wrote. "The only question is whether Monroe can acclimate fast enough to play Sunday in Miami."
While Hensley believes McKinnie will become the backup, he doesn't think the 6-foot-8, 360-pounder should be traded, which has been the recent speculation. McKinnie said he would be open to it.
Hensley is doubtful that another team would want McKinnie because of his age and recent play, but even if a team got "desperate," Hensley says the Ravens should hold on to him.
"It may sound like a good idea right now to get something for McKinnie and have another team pick up the remainder of his $1 million salary for this year. But what happens if Monroe or Michael Oher get hurt?" Hensley asked. "The Ravens would be in a better position to go back to McKinnie than start rookie Rick Wagner, who looked overmatched when he played in Denver."
M. Brown More Time At Slot WR?
With Deonte Thompson back in the lineup last Sunday against the Bills, the Ravens got a look at "perhaps the most promising trio" of wide receivers, wrote Vensel.
With Torrey Smith and Deonte Thompson burning on the outside and stretching the field, Marlon Brown was moved into the slot, which is a place where the rookie could see more snaps.
That would, of course, be contingent upon either Thompson (concussion) or fellow speedster Jacoby Jones (knee) returning from injury.
Brown, a big 6-foot-5- target, said he would like working the middle of the field "a lot actually."
"I've just got a big body so I can go across the middle easily," Brown told Vensel. "I'm faster than most of the inside linebackers and safeties that might be guarding me, so I feel like I've got an advantage there."
Week 5 Picks: Ravens vs. Dolphins
Local analysts believe in a Ravens* *bounce-back win more than national analysts.
But few seem confident with either pick, as the predicted scores are tight across the board.
**The Baltimore Sun**: 6 of 7 pick the Ravens
Matt Vensel (Dolphins 22, Ravens 20): "I won't feel comfortable picking the Ravens to win on the road until they get their running game going, which won't be easy against the Dolphins."
Jeff Zrebiec (Ravens 20, Dolphins 17): "The Dolphins are a much better team than the Bills are, but last week should serve as a wakeup call. The Ravens were challenged this week by their head coach and the bet here is they'll respond with a narrow win."
**ProFootballTalk.com**: 2 of 2 pick the Dolphins
Michael David Smith (Dolphins 31, Ravens 17): "Perhaps it's premature, four weeks into the season, to say this about the defending Super Bowl champion. But I just don't think the Ravens are a very good team. The Dolphins' defense had plenty of flaws on display in Monday night's loss to the Saints, but the Ravens' suspect offensive line is going to make it easy for the Dolphins to get to Joe Flacco."
Mike Florio (Dolphins 27, Ravens 20): "In 2007, the Dolphins got their only win of the season against the Ravens. This year, it will be one of a lot more than one. While it's too early to write off Baltimore, it's too late to consider them a viable candidate to knock off the improved Dolphins in Miami."
**Sports Illustrated, Don Banks**: (Dolphins 22, Ravens 17):
"Both teams looked shaky in losing on the road last week, but at least the Dolphins had the excuse of running into the undefeated Saints in the Superdome on a Monday night. The locals in New Orleans tend to get up for such affairs, after they've had all day to, um, prepare for the festivities. Apropos of nothing, a friend of mine made the observation the other day that Miami's new stylized dolphin helmet logo reminded him of the USFL's long-gone Boston Breakers' logo, with the cresting wave. I looked it up to refresh my memory and I can see where he's coming from."
**CBSSports.com, Pete Prisco**: (Dolphins 21, Ravens 20):
"The Dolphins are playing on a short week after getting blown out by the Saints. The Ravens are a tough team to try and regroup against. The Ravens are playing consecutive road games, and didn't play well last week at Buffalo. I think Miami will bounce back here at home to get to 4-1, but it will be close." 
**NFL.com, Elliot Harrison**: (Dolphins 21, Ravens 16):
"Can the Ravens run the football, er, call running plays? Yep, their running backs had just nine total carries last Sunday against the Bills, while Joe Flacco dropped back 54 times. The Dolphins are getting healthier on defense, and – especially since they will be ticked off about the way they failed to show up in New Orleans – you can bet they'll be ready Sunday. That's why the Ravens must get Ray Rice involved. He didn't even catch a pass in Buffalo, while Bernard Pierce had just one reception. That won't fly in Miami. #BALvsMIA"
**The Sporting News, Vinnie Iyer**: (Dolphins 16 Ravens 15):
"The Ravens should be angry birds as they need to iron out their pressing offensive issues, but the Dolphins are also mad mammals after their hard time in the Big Easy. This has the feel of an ugly, sack-laden fest, and because Baltimore needs to throw a lot more, there's a slight chance the more athletic Ryan Tannehill will be in a little less trouble than Joe Flacco."
Eugene Monroe made a strong first impression on Hensley during his seven-minute press conference yesterday. "[He] passes the eye-ball test. He's big and athletic. There will be no issues about working out like past Ravens tackles," the blogger wrote. "It was apparent that Monroe takes his job seriously. When he heard about the trade from his agent, he was watching film of the Jaguars' next opponent on his night off. Guess he's not a party bus-type of a guy. Monroe also comes across as extremely intelligent, which significantly increases his chances of playing Sunday at Miami." [ESPN]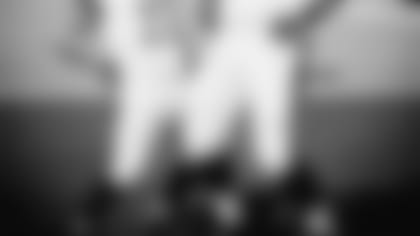 The Ravens are still one of the NFL's fastest at getting to the line of scrimmage and snapping the ball, even milliseconds faster than last year despite a struggling run game. Averaging 27.47 seconds between plays in neutral situations, the Ravens are the sixth-fastest team behind the Philadelphia Eagles, Buffalo Bills, New England Patriots, Denver Broncos and Green Bay Packers. "I think it can be faster, but our pace has been good," Offensive Coordinator Jim Caldwell said. [The Baltimore Sun] * @AdamSchefter: Who's got the best caption for this? [Twitter/Instagram] * @mzenitz: Impressive Terrell Suggs stat from Sunday's game vs. BUF. Thirteen of Suggs' 17 tackles stopped the Bills for a gain of three yards or less [Twitter] * @jeffzrebiecsun: Going forward, Ravens will have tough decision to make regarding offensive tackles. Both Oher and Monroe are FA's after season. It would be hard with their other salary commitments to imagine #Ravens signing both but they have some time to figure it out. [Twitter] * @jamisonhensley: #Ravens DC Dean Pees said only defender who played consistent last Sunday was CB Jimmy Smith [Twitter] * @RavensInsider: Billy Bajema was playing for $840,000 until being cut, but counted $555,000 against the salary under the veteran minimum salary benefit [Twitter] * @jamisonhensley: #Ravens do the right thing by not giving No. 75 to Monroe. He'll wear No. 60. No Raven should ever wear No. 75 (Ogden) or No. 52 (Lewis). [Twitter] * @nfl: With 1 more TD, Jordan Cameron joins Ozzie Newsome as the only TEs in @Browns HISTORY with 6 TDs in a season. [Twitter] * Where in the world is Ricky Williams now? It's great to see the former Raven so happy. Check it out. [ESPN]