Should Ravens Sit Suggs To Let Him Heal?
To pundits watching the Ravens-Colts game Sunday, outside linebacker Terrell Suggs didn't look like his normal self.
"Terrell Suggs is having a rough game, not moving well with groin injury," tweeted The Baltimore Sun's Aaron Wilson during the game.
Being hindered slightly would have been somewhat expected given the fact that Suggs was questionable heading into the game after missing two days of practice. But the question for CBSSports.com's Jason La Canfora is whether Suggs' injury is hindering him enough to hold him out of game action in order to let him properly heal.
Actually, La Canfora isn't so much asking. He is suggesting holding out the 2011 Defensive Player of the Year.
"The Ravens should be giving some younger pass rushers a chance. As he has in the past, Suggs is clearly fighting through great discomfort with his hip and other serious injuries, and even on the fast track in Indianapolis, he and the Ravens could not muster nearly enough of a pass rush."
As a group, the Ravens pass rush got after Colts quarterback Andrew Luck. According to the official box score, he was hit five times and sacked once. Head Coach John Harbaugh said that the Ravens knocked Luck down 15 times. And after reviewing the tape, Pro Football Focus (PFF) calculates that Luck was actually hit 10 times and hurried seven more.
But none of those logged hits came from Suggs.
PFF gave Suggs an overall minus-2.0 grade, mostly because of two penalties. He received a plus-0.8 grade in run defense and a minus-0.4 in the pass rush.
"He's a very good quarterback," Suggs said of Luck. "We knew that going into this week. I did get to him a lot. We got to him a lot as a group. A lot of people got a little bit today, but like I said, he was a very good quarterback. He showed why he went number one [in the draft]."
Suggs played about 80 percent of the defensive snaps Sunday, compared to 55 percent the week before against Carolina when he finished the game on the sideline because of the comfortable lead.
After Sunday's game, reporters didn't ask Sizzle if he was hampered by his injury. They did ask after the Panthers matchup, however, and Suggs downplayed its effect on his game.
"I'm going to be alright," Suggs said after the 38-10 blowout. "It was nothing big. We were up so we just pulled it, so we're good."
Texans Sign Simon Off Practice Squad
It appears the Ravens will no longer have their 2013 fourth-round draft pick.
The Houston Texans signed outside linebacker off the Ravens practice squad, according to The Sun. In order to nab a player off another team's practice squad, the signing team has to put that player on the active roster.
Simon had a strong preseason, including during the fourth and final tryout game against the New Orleans Saints. Simon feasted on the Saints, notching three tackles, including two for loss, four quarterback pressures and a sack.
But Simon was playing at one of the deepest positions on the roster, with Terrell Suggs, Elvis Dumervil, Courtney Upshaw and Pernell McPhee leading the way. As such, Simon never made the active roster this year. The Ravens were paying him an upgraded salary on the practice squad, according to Wilson. "With the Texans, Simon will make the veteran minimum and be reunited with former Ohio State assistant coach Mike Vrabel," Wilson wrote.
In seven games last season as a rookie, Simon recorded four special-teams tackles. He was a two-time captain for the Ohio State Buckeyes, and Head Coach Urban Myer said Simon was the "heart and soul" of that team.
Forsett's Son's Adorable Reaction To Seeing Dad On TV
They have the best reactions, especially when they are learning to talk and suddenly see daddy on TV.
Justin Forsett's son had an adorable response when CBS cameras showed him with his helmet off on the sideline Sunday.
The little guy called out to "Dada" as if Forsett could hear him and would look back at him through the TV.
"My wife @michellekole sent me this after the game," Forsett said of the Instagram video below. "My son got excited when he saw who was on tv. #ProudPops #PutASmileOnMyFace #Fatherhood"
Puts a smile on my face too, Justin.
Top, Bottom Grades vs. Colts
As much as rookie linebacker C.J. Mosley stole the show in terms of individual performances against the Colts (and rightfully so), it was right guard Marshal Yanda who received the highest grade (plus-3.7) from PFF.
"After a down year last season, Yanda seems to have gotten back to the level of play we were accustomed to seeing from him in the years prior," wrote PFF's Matt Claassen. "He has earned 'green' grades in all five games and currently sits with the highest overall (plus-12.1) and run blocking (plus-10.5) grades for a guard this season. Yanda was called for a holding penalty as he tried to pick up a stunt on a passing play, but it was the lone hiccup in what was otherwise a seemingly flawless performance."
Yanda's "signature play" from PFF came in the third quarter when "Yanda is able to drive back Ricky Jean-Francois with one arm, allowing Ricky Wagner to easily pick up the block, and then continues to the second level to get a good push on Josh McNary as Bernard Pierce picks up 13 yards and a first down."
Here are the other top and bottom grades from Sunday's game:
Top
Marshal Yanda: plus-3.7
Jeremey Zuttah: plus-2.6
C.J. Mosley: plus-2.5
Pernell McPhee: plus-2.4
Haloti Ngata: plus-2.3
Bottom
James Hurst: minus-5.9
Steve Smith: minus-2.5
Asa Jackson: minus-3.1
Terrell Suggs: minus-2.0
Lardarius Webb: minus-2.0
Torrey Smith: minus-2.0
Too Soon To Compare Mosley To Lewis
That's quite a compliment, but in the eyes of ESPN's Jamison Hensley, it's too soon to make such comparisons.
"It's too early to make such statements, and it's unfair to compare Mosley to perhaps the greatest defensive player in NFL history," wrote Hensley. "Mosley is only five games into his NFL career. He's learning and making mistakes. It looked like he was assigned to Dwayne Allen when the Colts tight end got open in the third quarter for a 6-yard touchdown pass.
"Mosley, though, is getting better each week."
While Hensley doesn't like the comparison, our own Garrett Downing is jumping in, and it is at least interesting to look at the numbers for both linebackers through their first five NFL games.
Playoff Picture In Week 6
I suppose it's never too early to look at the playoff picture.
Obviously the season isn't anywhere close to being decided, but it's interesting to look at where the Ravens would stand if the playoffs started today.* *
The team would be on the outside of the postseason looking in.
Here's the graphical outlook, per NFL.com (mobile users tap "View in browser" at the top of the page to see):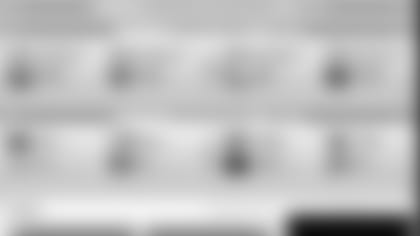 Webb had a bulls-eye on his back Sunday. He had the most passes thrown his way (10), and he allowed seven receptions for 91 yards. [ESPN]
The Ravens are looking forward to safety 's return from suspension next week. [The Baltimore Sun]
Head Coach John Harbaugh is focused on getting Torrey Smith past early struggles. [The Baltimore Sun]
The Ravens abandoned the run* *way too early in Indianapolis, says Mike Preston, pounding the rock 15 times compared to 38 passing attempts. Per Harbaugh, that wasn't the problem, however. "The biggest problem we had is not the number of runs or anything like that, it's not converting," Harbaugh said. "When you go 1-for-11 on third downs and turn the ball over, which is what we did in the first half, that combination means you don't get many plays." [The Baltimore Sun]
Ravens cornerback Jimmy Smith's disorderly conduct case postponed until after the season, has a Feb. 17 court date. Had been set for today. [The Baltimore Sun]
No time to panic. [105.7 The Fan]