Ravens Fans Most Superstitious In NFL
Did somebody wear the wrong socks the day the Ravens lost to the Buffalo Bills?
Because that might be the *real *reason for the defeat – not Joe Flacco's five interceptions or the franchise-low rushing attempts.
At least, that's what some of you superstitious Ravens fans might believe. And apparently there are a lot of you.
Ravens fans are the* *most superstitious of 28 NFL fan bases, according to Bud Light's "NFL Fan Superstition Index." They only ranked 28 because those are the ones sponsored by the beer company. It surveyed 10,000 adult NFL fans this summer to come up with the rankings, which had the Cardinals, Saints, Raiders and Eagles round out the top 5.
The teams that were not included were the Bears, Cowboys, Packers and Vikings. Something tells me those cheese heads would have given Ravens some good competition for the top spot.
Here are some key superstitions for Ravens fans, who value consistency highly:
Rank No. 1 in the league for watching games with the same people (48%)
Rank No. 2 for watching games in the same location (55%)
Rank No. 2 for wearing the same article of clothing (48%)
Rank No. 2 for drinking the same drink (36%)
Rank No. 2 for saying a certain phrase, cheer or song (34%)
Rank No. 1 in thinking that not completing their superstitions will cause their team to miss a winning field goal (25%) or touchdown (25%)
Rank No. 1 in believing their superstitious activities actually affect the outcome of the game (37%)
Rank No. 5 for engaging in activities that try to curse or jinx the opposing team (33%)
Ravens fans will even endure discomfort for their superstitions.
"I was sitting on the edge of a table we have in the family room when the Ravens won the Super Bowl in [2001], so now every game I sit in that exact spot," one male Ravens fan told Bud Light.
At least Ravens fans draw the line somewhere. They are not Panthers fans, who rank the highest in allowing a relationship to end due to game-day superstitions.
Rice Not Being Elusive Or Breaking Tackles
It's no secret that the Ravens offensive line is struggling in run blocking;* *they have the second-worst run blocking grade given out by Pro Football Focus (PFF).
But the unit isn't the only problem with the Ravens' ground game.
Pro Bowl running back Ray Rice doesn't appear to be his same elusive self.
"The biggest difference between Rice this year and previous ones has been his ability to make defenders miss and break big plays," wrote ESPN's Jamison Hensley. "The Ravens need Rice to be the explosive playmaker they've come to expect, especially with the team's inexperience at the offensive skill positions.
"But, instead of making tacklers look silly like he did on that fourth down-and-29 in San Diego, he's typically going down after the first hit."
Rice's elusive rating (10.7) is ranked No. 24 out of 27 qualifying running backs, per PFF, and he has broken only two tackles this season. Meanwhile, backup Bernard Pierce has broken 10 tackles (but he's had his had issues with being indecisive).
On average this season, Rice is getting 1.6 yards after contact, the fifth worst among starting NFL running backs.
"There were multiple times on Sunday where he was unable to maintain balance through a hole even when there was no defender making a serious tackle attempt, just bodies," wrote PFF's Michael Renner.
Rice did get two touchdowns on goal-line carries against the Dolphins, where he powered his way in on one, and made a sudden cut to walk in the end zone on another.
Of course the offensive line is a huge factor in his success, but is his hip injury affecting him?
"Another factor has been Rice's hip injury," Hensley wrote. "But Rice wasn't producing long runs before the injury and he isn't using the injury as an excuse."
The gritty win in Miami helped the Ravens, who have been all over the power rankings this season with their up-and-down play.
Everyone's still wondering who this team is, but as of right now, Mike Florio has the most faith in the Ravens (No. 7 ranking) while Brian Billick has the least (No. 13).
SB Nation, Ryan Van Bibber: No. 8 (jumped one spot)
"Baltimore's front seven brutalized Ryan Tannehill this week, sacking him six times. Terrell Suggs recorded three, bringing his season total to seven. He's got a strong case to be the Defensive Player of the Year. Don't overlook Elvis Dumervil, the loveliest feather in Ozzie Newsome's offseason cap of greatness. The former Bronco leads the team with 13 quarterback hurries."
ESPN, Panel of six voters: No. 9 (jumped five spots)
"In Ray Rice's career, the Ravens are 23-3 (including 20 straight wins after Sunday's victory) when Rice has at least 25 touches and 30-24 when he is active and does not."
CBSSports.com, Pete Prisco: No. 9 (jumped four spots)
"It wasn't pretty, but they found a way in Miami. The defense got after it with seven sacks. They still aren't clicking on offense."
SportingNews.com, Vinnie Iyer: No. 9 (jumped three spots)
"The Ravens have had trouble in close, ugly games, but were able to outlast the Dolphins in Miami, 26-23. The champs are in no position to go for style points, just enough points."
MMQB.com, Peter King: No. 10 (N/A, didn't make King's top-15 list last week)
"Good win to pull it out in Miami, but this is something John Harbaugh frets about: Last year, Ray Rice and Bernard Pierce averaged 4.6 yards per carry. This year: 2.9."
The Baltimore Sun, Matt Vensel: No. 11 (N/A, didn't make top-12 list last week)
"It was more gritty than pretty, but that was a big road win against a solid Miami Dolphins team on Sunday. They still have a long way to climb to crack the top five, but a win against the Green Bay Packers this weekend would help."
NFL.com, Elliot Harrison: No. 12 (jumped three spots)
"Gritty road win for the Ravens, who are hot one week, cold the next. Joe Flacco certainly played better this time around than he did during his five-interception afternoon in Buffalo, although he did give up a costly pick-six against the Dolphins. The real story of this game was the Ravens' renewed interest in their best player. Ray Rice ran the ball 27 times, which is analogous to the Vikings giving Adrian Peterson 84 carries. You have to multiply carries given to Baltimore running backs like you would dog years ..."
Fox Sports, Brian Billick: No. 13 (jumped two spots)
"Even though he only finished with 74 rushing yards, Ray Rice had 27 carries. That needs to be the formula for this team as the Ravens fight to get back on track offensively."
Drastic Changes To Pro Bowl Uniforms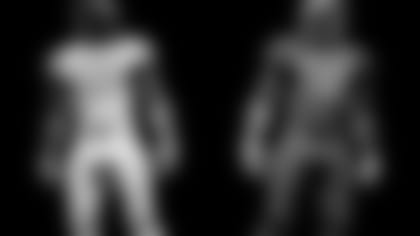 The NFL unveiled its new Nike Elite 51 Pro Bowl uniforms Tuesday, and they are drastically different.
Opinions on the changes vary, but from my observations of fan feedback on social media, few are impressed.
Now that the NFL has done away with the AFC vs. NFC format, the red, white and blue uniforms are out. This year, the Pro Bowlers will pick the teams and Nike went with a white and*orange color scheme for one squad (pictured above with a Ravens helmet), and a gray and 'volt' *green scheme for the other (mobile users tap "View in Browser").
As many have pointed out on Twitter, the new uniforms resemble a matchup between Oregon and Oregon State.
ESPN's Paul Lukas called the changes "crazy," but added that nobody will remember because "nobody cares" about the Pro Bowl.
"The Day-Glo colors should make for some, uh, interesting design combos with some of the players' regular team helmet designs," Lukas wrote. "In a nice touch, players will have stars indicating their number of Pro Bowl appearances above their nameplates. An even better stat would be the number of Pro Bowls the player opted not to attend because he didn't feel like it, even though he'd been selected, but apparently there's no uniform symbol for that. Maybe they can include that next year -- a new feature (or at least a new joke) to look forward to."
The Pro Bowl game is scheduled for Jan. 26 in Honolulu, one week prior to the Super Bowl.
What are the keys to slowing Packers quarterback Aaron Rodgers? One is making him uncomfortable with the Ravens' impressive pass rush. "The Ravens aren't built to go up and down the field with a team like the Packers," wrote Peter Schmuck. Another is the Ravens' run game. "The best way to stop Aaron Rodgers and the Packers on Sunday is to keep him off the field," Clifton Brown wrote. [The Baltimore Sun |CSNBaltimore.com]
@ryanmink: #Ravens have won 13-consecutive home games against the NFC dating back to 2006, NFL's longest home winning stretch by one conf. vs. another.
@gdowning14: Interesting stat: Ravens have 137 rushing attempts through 5 games in 2013. They had 121 through first 5 weeks of 2012.
Conditioning served the Ravens well in the win over Miami. [Baltimore Beatdown]
Jacoby Jones can do a lot with his feet, beyond just football. NFL Films presents the receiver's bumpy journey to becoming one of the league's notable names. **