Lewis, Urlacher Retirement Home Xbox Ad
He'd like to convince everyone, maybe including himself, that he doesn't miss the game he played professionally for 17 years.
Lewis is playing Madden NFL 25 online with friend and fellow retired linebacker Brian Urlacher while talking via Skype and watching a real-life Ravens game (all made possible by Xbox's new snap mode functionality).
Urlacher seems to miss playing football, but Lewis insists that he doesn't miss it at all and that "only a fool trips on what's behind him."
What Urlacher doesn't know is that Lewis is chatting with him from his elaborate Ravens man cave while wearing his No. 52 jersey, lifting weights, applying eye black to his face, putting tape on his wrists and using a mouthpiece.  The transition to retirement clearly isn't easy for the future Hall of Famer.
Lewis absolutely nails the role. Maybe a little too well …
You sure you don't want to suit up just* *once more for old time's sake, Ray?
Check out the brilliant commercial (mobile users tap "View in Browser" at the top of the page).
Burfict Accuses Pees Of Pushing … From Booth?
Bengals middle linebacker Vontaze Burfict accused a Ravens coach of shoving him from the sideline during the Ravens' 20-17 overtime win.
Burfict said he "thinks" it was Dean Pees.
"The funny thing is, I was on their sideline, and I think it was the defensive coordinator, and he pushed me," Burfict said, per The Baltimore Sun. "I was thinking, 'Come on, man. You should have a little more class than that.' And I will try to turn that into the league."
There's only one problem. Pees wasn't on the sideline.
The sideline accusation came on a play in which Burfict was flagged for unnecessary roughness for hitting quarterback Joe Flacco after he scrambled out of bounds. Burfict objected to the penalty, insisting Flacco was still in bounds and that he made an unaggressive, clean hit.
What does the film reveal about the alleged pushing?
"A review of the game video doesn't support Burfict's allegation," wrote The Baltimore Sun's Aaron Wilson. "Burfict can be seen arguing with several Ravens as coach John Harbaugh holds back some of his players, but no pushing is evident from any coaches."
Yahoo! Sports' Frank Schwab published the screen grab below to point out that an unidentified coach stood over Burfict briefly, but said "there is no definitive proof" of pushing.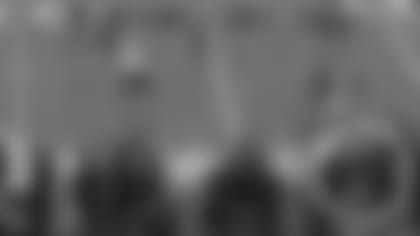 Harbaugh was asked about the accusation yesterday at his weekly Monday press conference.
"Yes, I heard him allege it," Harbaugh said. "That's all I heard. I don't take too much stock in that stuff. I thought our guys did a great job conducting themselves in that game with great poise and great class in spite of some of the stuff that went on."
Pierce, Webb Get Top Grades On Respective Units
Only two offensive players with 10 snaps or more got positive grades from Pro Football Focus (PFF) during Sunday's matchup: running back Bernard Pierce ( 1.5 grade) and tight end Ed Dickson ( 1.0).
We'll discuss Pierce more below, but one of the reason's Dickson got a positive grade was for his blocking, an area that he has not been well known for in the past. Harbaugh gave Dickson props Monday, saying the tight end has been blocking "really well."
On Tyrod Taylor's 18-yard rush, Dickson knocked his defender, safety Reggie Nelson, flat on his back. It was a thing of beauty and our own Ryan Mink captured it with the screen grab below.
"This is what I like to call a pancake block. Dang!" Mink tweeted.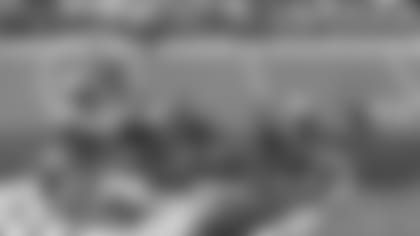 On the defensive side of the ball, it was Webb ( 5.4) who had the standout day, and he had a lot of competition with cornerback Jimmy Smith ( 4.3), linebacker Daryl Smith ( 3) and plenty of others.
PFF gave Webb its game ball, while noting that the Ravens' top corner is showing signs that he could be on his way back to his best 2011 form (before his second ACL injury) when he was one of the best corners in the league.
The interesting part about Webb's performance is that he was still being picked on by the opposing quarterback.
"That best form returned with a bang yesterday however putting in comfortably his best game of the season and one of the best of his career," wrote PFF's Ben Stockwell. "Targeted 12 times by Andy Dalton this was not a quiet 'shutdown' day for the Ravens' number one corner, it was an involved all action day. Of those 12 passes only four were completed. … We need to see this sort of performance more consistently to declare Webb as 'back' but this will certainly give encouragement that the 'old' Webb is still in there ready and waiting to re-emerge."
Below are the overall grades for the offensive and defensive players:
OFFENSE
DEFENSE
Name
Snap Count
Rating
Name
Snap Count
Rating
Bernard Pierce
25
1.5
Lardarius Webb
88
5.4
Ed Dickson
52
1
Jimmy Smith
91
4.3
Tandon Doss
14
-0.4
Daryl Smith
89
3
Deonte Thompson
26
-0.4
Courtney Upshaw
43
1.9
Eugene Monroe
78
-0.8
DeAngelo Tyson
23
1.8
Dallas Clark
20
-0.8
Corey Graham
57
1.7
Jacoby Jones
44
-0.1
Chris Canty
58
1.3
Ray Rice
51
-1.2
Elvis Dumervil
50
0.9
Vonta Leach
11
-1.3
Matt Elam
91
0.8
Gino Gradkowski
76
-1.6
Pernell McPhee
32
0.8
Torrey Smith
72
-2.3
Josh Bynes
21
0.7
Marlon Brown
53
-2.5
Jameel McClain
36
0.5
Michael Oher
76
-2.8
James Ihedigbo
91
0.4
Joe Flacco
76
-2.8
Haloti Ngata
43
0.2
A.Q. Shipley
65
-3.1
Arthur Jones
44
-0.3
Marshal Yanda
76
-4.3
Arthur Brown
28
-0.4
Terrence Cody
22
-0.6
Chykie Brown
10
-0.9
Terrell Suggs
83
-1.7
Hensley: Time To Reduce Rice's Role
In an effort to fix the run-game woes, the Ravens have changed their left tackles and made changes their schemes.
Neither change has had resulted in the desired effect. That's why ESPN's Jamison Hensley says it's time to reduce Pro Bowl running back Ray Rice's role and give the rock to Pierce at least 15-20 times* *against Chicago to see what the second year player can do.
"Bernard Pierce, not Ray Rice, should be the Baltimore Ravens' featured running back Sunday in Chicago," Hensley wrote. "This isn't a campaign to bench Rice or give his role away permanently. This isn't a post calling out Rice as the major reason why the Ravens rank 30th in the NFL in running the ball."
While Pierce (2.8 yards per carry this season) hasn't performed that much better than Rice (2.5) when he totes the ball, Hensley says that Pierce was more explosive last week and was the team's leading rusher despite having 10 fewer rushes. Neither back has been healthy this season with Rice dealing with a hip injury and Pierce a nagging hamstring.
Hensley acknowledges that Rice's NFL worst rush per carry average isn't his fault entirely, as the offensive line has done little to help.  On Sunday, none of the offensive linemen finished the game with positive run blocking grade from PFF.
"But Rice isn't the same Rice," Hensley wrote. "It's time for the Ravens to consider another [change] because of Sunday's opponent. The Chicago Bears give up 129.4 yards on the ground. Only the Jaguars have allowed more."
Quick Hits