Steelers Lose Big Ben, May Miss Ravens Game
The Pittsburgh Steelers barely survived Monday night with a 16-13 overtime victory over the Kansas City Chiefs, meaning they are still within a one-game striking distance of the Ravens for the lead in the AFC North.
While they won the game, the Steelers may have suffered a bigger loss when quarterback Ben Roethlisberger left the game in the third quarter with a right shoulder injury.
The Steelers didn't waste any time sending Big Ben to a Pittsburgh hospital to undergo an MRI.
The results of the MRI and the severity of the injury will not be made official until sometime today, but reports are already beginning to surface.
Either way, it appears the Steelers aren't counting on Roethlisberger's return for this week's Steelers-Ravens showdown, according to a tweet from CBSSports.com's Jason La Canfora at about 1 a.m. EST.
Roethlisberger was sacked by Chiefs linebacker Justin Houston and the quarterback landed awkwardly on his arm and shoulder. He was holding his right arm close to his body when he was wheeled out of the stadium on a golf cart before being taken to the hospital.
Steelers Head Coach Mike Tomlin wouldn't speculate on the severity of the injury after the game.
"I don't live in the hypothetical world," Tomlin said. "I wait until I get information and then I respond accordingly to that information."
AFC North Could Rest On Roethlisberger's Shoulder
With Roethlisberger's injury status up in the air, ESPN's Jamison Hensley says the Steelers' season is "officially in limbo."
By extension, that means the battle for the lead in the AFC North is in limbo too.
"Pittsburgh can win regular-season games without Roethlisberger," Hensley wrote. "It can get to the playoffs without him. But it can't win a Super Bowl without him. Roethlisberger is in the midst of the best season of his career and perhaps mounting an MVP campaign."
The blogger added, "Now Pittsburgh has a short week to prepare for the Ravens – in what will be a battle for first place in the AFC North. And the Steelers may have to play without one of the best quarterbacks in the NFL."
If Big Ben can't go Sunday night, the Ravens will face backup Byron Leftwich, who looked rusty when he took over in the third quarter against the Chiefs. Leftwich finished 7-of-14 for 73 yards with several of his passes off the mark. In five drives under Leftwich, the Steelers scored one field goal.
"Leftwich is experienced and tested, but he's no Roethlisberger," Hensley wrote. "If [Roethlisberger] is lost for multiple games or for the season, everything changes for the Steelers."
With the current makeup of the conference, the Steelers are still in good shape to make the playoffs, but it makes the Ravens' chances of winning the division brighter.
In addition to Roethlisberger, the Steelers also lost safety Ryan Clark during the game after taking a blow to the head. He will be evaluated for a concussion.
How many more injuries can Pittsburgh endure?
They are playing without top running back Rashard Mendenhall, leading pass catcher Antonio Brown, starting fullback David Johnson and starting offensive linemen David DeCastro and Marcus Gilbert. All-Pro safety Troy Polamalu is targeting a return for Sunday's showdown with the Ravens.
Too Much Being Made Of Reed's Comments?
There's a lot of chatter about Ed Reed's post-game response to a question about whether he or Head Coach John Harbaugh ultimately decided to sit the 11-year safety in the fourth quarter of a blowout.
In part, Reed said, "I was having a pretty bad game as an individual, and I really didn't want to go back out there as a competitor playing the way I was playing today."
Now, outsiders are questioning Reed's commitment and desire.
"It's a strange statement coming from a future Hall of Fame player. Most competitors want to redeem themselves and will fight to stay in games," Hensley wrote. "If you're a Ravens fan, you have to be worried about the fact that he was playing so poorly that he didn't want to go back into the game."
Reed also mentioned the game's lopsided score, which provided an opportunity to get younger players game reps, as a reason to take a seat.
It's understandable why Reed's comments could be considered concerning by Ravens fans, but it appeared to Harbaugh that Reed was simply being critical of himself after a tough game in which he missed a tackle that went for a 55-yard touchdown.
"That's the thing about Ed he's a great player," Harbaugh said. "He's definitely his own worst critic, his own strongest critic. He has a really high standard for how he's going to play. I'm sure that's reflected in his comments. I thought he played well. Ed sets a high bar."
Has Reid Passed Williams?
Starting left guard Bobbie Williams played two series in the Oakland game, and then was replaced by second-year lineman Jah Reid for the rest of the game.
Harbaugh explained the change was made both because he wanted to rest Williams' injured ankle, but also because he wanted to get Reid some reps. It was a planned move.
Harbaugh reiterated Monday that both Reid and Williams will see time at left guard. 
But in Matt Vensel's mind, Reid has "passed" Williams as the team continues its search for the best combination up front.
"The coaching staff is clearly high on Reid – and offensive tackle Bryant McKinnie has not performed well enough in practice to warrant making sweeping changes along the line – so I'm anxious to see what they see in Reid, who, at 6-7, would be one of the tallest guards in the NFL," The Baltimore Sun blogger wrote. "The injury to Williams opened the door for him in Sunday's 55-20 win, but it sounds like the Ravens had been leaving it ajar all along."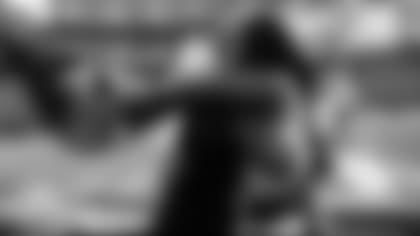 @ravensinsider: For those asking, Ravens recently cut former Steelers quarterback Dennis Dixon from practice squad. He is a free agent [Twitter] * A tweet about the time Big Ben went down … @torreysmithwr: No one likes to see anyone get hurt..people forget that folks are human sometimes [Twitter] * @torreysmithwr: Switched Jerseys with @theDHB85 after the game #terpnation  [Twitter] * @ravens: Harbs said 55 points without Ray Rice having a big day says his numbers aren't always the crux of the issue when offense stumbles. [Twitter] * The Ravens went all Dikembe Mutombo on the Raiders. [The Baltimore Sun] * Sorry, but I completely disagree … "The worst thing I saw this weekend was the Ravens faking a field goal up 41-17," wrote Pete Prisco. "They scored on a 7-yard run by holder Sam Koch. That's just classless. That's the kind of things that coaches have to realize can't be done in those situations. The Raiders acted like they weren't mad. But I can bet they were. Show some class." As I've written before, this is the NFL, not pee wee football. It's the Raiders' job to prevent a score and it's the Ravens job to score. Harbaugh made another good point last night, explaining that with the way the Raiders were overloading one side of the line, there was a real risk of them blocking the field goal. You have to keep the opponent honest, and that's what Baltimore did. It was a no-brainer to run the fake. [CBSSports.com]