Lewis Literally Pulls Out AMEX Card For Fine
I can't quite tell if retired Ravens linebacker Ray Lewis agrees with the flag thrown on 49ers* *linebacker Ahmad Brooks for his neck-stretching sack on Saints quarterback Drew Brees Sunday. #sarcasm
If you missed the nearly head-decapitating hit, see for yourself (mobile users tap "View in Browser").
Fans in San Francisco feel the penalty cost them the game, as the sack and fumble recovery for the 49ers were called back after referee Tony Corrente ruled that Brooks delivered a forceful blow to Brees' neck. With that, the Saints went on to kick the game-tying field goal. The Saints stopped the next 49ers'* *possession and won on a last-second field goal.
"I didn't hit him with my hand or my helmet," Brooks told reporters after the game. "I basically bear-hugged him. That's just how football is played. I think this s--t is bulls--t. Football, the way they call stuff these days, it's watered down. It ain't real no more."
Brees is listed at 6-foot-nothing, and Brooks says the quarterback ducked at the last second and there was nothing he could do* *at game speed to adjust.
Lewis passionately agreed with Brooks while discussing the penalty with his ESPN Monday Night Football crew last night, calling it the "most embarrassing call since the tuck rule."
That's when Lewis literally pulled out his American Express card and offered to pay half of Brooks' fine if the NFL chooses to slap him with one.
Below is the transcript of Lewis' rant, per USA Today (with added emphasis):
"This is the most embarrassing call in the National Football League since the tuck rule and Tom Brady. I'm serious. I've just never seen this type of insult to defenders. When you do your job, when you make the perfect play — if he takes the same hit — if he takes the same hit –and hits a quarterback like Peyton Manning who's six-four, six-five, he hits him in his chest area. Drew Brees is six-foot or shorter. When you look at the hit, Ahmad Brooks took the hit and hit him exactly where he was supposed to hit him. Drew Brees' neck slid DOWN to that man's* *arm. You cannot — you cannot — first of all, for that to be a flag is embarrassing. Let me tell you the second embarrassing thing. The second part that's embarrassing about this is for Drew Brees to say, 'I got hit so hard I knew it had to be a flag.' THIS IS THE NATIONAL FOOTBALL LEAGUE. I DON'T UNDERSTAND WHAT THAT MEANS. When you get hit like that from the blind side, it's supposed to hurt!
"But I'll tell you this, if they fine this kid, if they go on record and they fine this kid, Ahmad Brooks, I'm gonna do something personally. I'm gonna pay half. Half. [Trent Dilfer interrupts: "He's gonna get fined, Ray."] If they fine this kid, Trent, I'm gonna pay half of this kid's fine, because of one reason — because of one reason — defenders have to be respected as men before anything else. [...] And that man laid a clean hit and that cost the San Francisco 49ers a complete football game yesterday and could have cost them in the playoffs."
This is something Ravens defenders will surely be paying attention to. Penalties (and potential fines) like this affect all NFL players, and how the game will be played and officiated.
PFF Grades, Including Ferocious Yanda Performance
Let's just dive right in.
The Pro Football Focus (PFF) grades for Ravens offensive and defensive players in Sunday's 23-20 overtime loss to the Bears are below. Take a look and then we'll highlight a few.
OFFENSE
DEFENSE
Name
Snap Count
Rating
Name
Snap Count
Rating
Marshal Yanda
81
7.7
Daryl Smith
64
2.5
Gino Gradkowski
81
3.6
Chris Canty
49
2.1
Eugene Monroe
81
3.5
Matt Elam
60
1.9
Joe Flacco
81
3.4
Jimmy Smith
63
1.1
A.Q. Shipley
81
1.2
Courtney Upshaw
44
0.9
Michael Oher
81
1
James Ihedigbo
63
0.5
Torrey Smith
78
0.7
Brandon Williams
5
0.3
Jah Reid
3
0.5
Elvis Dumervil
27
0.3
Dallas Clark
26
0.3
Josh Bynes
19
0.2
Jacoby Jones
40
0.1
Jameel McClain
31
0.1
Ricky Wagner
8
0
Corey Graham
33
0.1
Tandon Doss
63
-0.2
Chykie Brown
1
0
Bernard Pierce
19
-0.4
Jeromy Miles
5
0
Vonta Leach
18
-0.6
Arthur Jones
49
-0.1
Ray Rice
62
-0.7
Lardarius Webb
64
-0.2
Ed Dickson
54
-1.2
DeAngelo Tyson
11
-0.8
Deonte Thompson
34
-1.2
Pernell McPhee
11
-0.9
 
Arthur Brown
14
-1.1
 
Terrence Cody
36
-1.4
 
Terrell Suggs
55
-3.2
Not only did right guard Marshal Yanda receive his highest grade ( 7.7) of the season, but PFF's Khaled Elsayed said it was one of the best performances from an offensive lineman he's seen all year.
"There have been some fine performances from offensive linemen this year, but of all the football I've watched none stood out as much for the sheer ferocity of his blocking as that of Marshal Yanda," Elsayed wrote. "In 81 snaps he wasn't quite perfect with two penalties (one of which was very questionable) but what he did was bring a dose of aggression to the run game that had him intent on putting Bears defenders on their backside."
There's probably little coincidence between Yanda's big play and the Ravens' best running outing all season, in which it churned out 174 yards and a touchdown.
Elsayed noted that the offensive line used a varied attack, employing both zone and a power-running game. Yanda excelled in both schemes.
The offensive line as a whole scored very well overall, with all five starters earning positive grades. Their overall grades were bolstered by their run blocking, but some were dinged for their pass blocking, especially left tackle Eugene Monroe who scored -1.2 for his pass blocking.
Rice Gets Third-Lowest Offensive Grade
On the surface, running back Ray Rice's overall grade seems off in his best rushing performance of the season. After all, Rice garnered 131 of the team's 174 rushing yards.
Rice did get a positive grade for his running ( 0.3), and his success is obviously also attributable to the holes the offensive line opened up.
But the Pro Bowler's overall grade was brought down for his marks in receiving (-0.5) and pass blocking (-0.6). Rice missed a costly block on Bears defensive end David Bass, which resulted in a pick-six.
Sizzle Gets Worst Grade … Again
For the second week in a row, Ravens outside linebacker Terrell Suggs got the worst grade (-3.2) on defense. This is the fourth game of the last five in which he hasn't graded positively.
Sizzle finished Sunday's game with just one tackle and no other stats.
"Rushing the passer he picked up three hurries (two on Jermon Bushrod and one on Jordan Mills) but that has to be considered a disappointing return given he rushed the passer 30 times. What's more he wasn't his usual self in the run game, missing a tackle early on (Q1, 14:25) and failing to impose himself when opportunities presented themselves. Ravens fans will be hoping he can put his best foot forward next week when the team will likely find themselves on more solid ground."
Bears' QB McCown Took A Nap During Storm Delay
If you check out video (below) of the Ravens locker room during the two-hour storm delay in Chicago, you will see players eating food, listening to music, stretching and keeping loose to prepare for the resumption of the game.
What were the Bears doing?
Well, a couple guys slept. No seriously, they took a nap, including starting quarterback Josh McCown.
MMQB's Robert Klemko "wandered" into the Bears locker room and set the scene:
"When lightning struck and winds in excess of 40 mph whipped through Soldier Field, players were relegated to their locker rooms, tasked with staying loose and focused for an undetermined amount of time. …
"Backup quarterback Josh McCown, starting in place of the injured Jay Cutler, laid down and began visualizing plays, and before he knew it he was asleep. 'I closed my eyes and just tried to think about the game,' McCown said, 'and I think I dozed off.' Reserve defensive end David Bass did the same: 'I napped for 15 to 20 minutes. It was refreshing.' Bass came out after the interrupted first quarter and picked off a Joe Flacco throw before it passed the line of scrimmage, returning it for a 24-yard touchdown in the second quarter. And McCown woke up to lead the Bears on a game-winning overtime scoring drive to improve to 6-4. Gentlemen, sleep psychologists everywhere salute you."
Maybe there's something to this nap thing during delays. In the recent three delays the Ravens have endured, they lost at Chicago and Denver and came out flat in the Super Bowl but managed to win the game.
Hey, a nap may not be such a bad idea next time.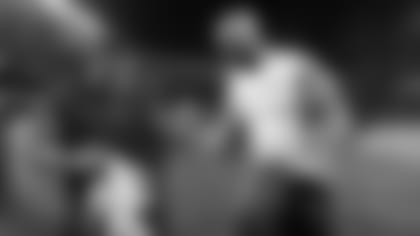 In his snap count observations for Sunday game, Matt Vensel noted: "Wide receiver Marlon Brown was also sidelined against the Bears, and it was Tandon Doss, not Jacoby Jones, who reaped the benefits. Doss played a season-high 60 snaps and led the Ravens with 37 receiving yards on three catches. Meanwhile, Jones, who had two catches for 18 yards, played 37 snaps." [The Baltimore Sun]
The Ravens are certainly in the hunt of the AFC wild-card, but "under the current playoff format which began in 1990, only 7 percent of teams to start 4-6 went on to make the playoffs, according to ESPN Stats & Information. Luckily for the Ravens, this isn't most years," wrote Jamison Hensley. [ESPN]
@Ravens: After yesterday's #Ravens-#Bears game, @RayRice27 & @MattForte22 exchanged jerseys. [Twitter]
@CliftonBrownCSN: Harbaugh wouldn't discuss Ngata's knee injury, if slick field played role in him not playing. "I'm not getting into all that." #RavensTalk [Twitter]
@TorreySmithWR: Prayers up for the folks in the Chicago  area that were affected by the storms that passed thru yesterday [Twitter]
Ravens 2008 draft pick Tom Zbikowski has retired from the NFL after being cut by the Bears in training camp. Next for the former NFL safety? Firefighting. "I've had an extremely blessed life and I saved three-quarters of my money, so I can do whatever I want and I want to be of service to a community," Zbikowski said. "Firemen show up in scary situations. They're symbols of pride, of faith, of what's good in society. I like to live dangerously." [Chicago Tribune]
Also, Zbikowski told Sid Saraf that he had a "massive hangover" in at least 12 of the 64 NFL games he played in. [FoxSports.com]
Hensley grades the Ravens, including a C for quarterback Joe Flacco, a B-minus for the secondary and an F for the linebackers, who usually grade among the highest each week. [ESPN]
@RavensInsider: Ozzie newsome is a fitness nut devoted to working out, exercises twice per day does a lot of cardio workouts. [Twitter]
Former NFL executive Bill Polian discusses the pressures inherent in being an NFL general manager following the hospitalization of Newsome. It's important to note that the Ravens don't know what caused Newsome's health scare, and he is already back at work. [ESPN]