Rice, Terrible Towel Worth 1,000 Words
After their third consecutive win against the Steelers, safety Ed Reed and several Ravens players were reportedly walking toward the visiting locker room singing "Renegade," the Steelers' adopted anthem by Styx, used to pump up their home crowd in crucial game moments.
Others, including running back Ray Rice, could be seen with the Steelers "Terrible Towel" draped over their heads.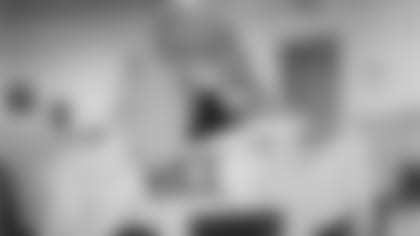 Several media took note – and one thought it provided the imagery of something bigger happening between the bitter rivals.
"Renegade? Perfect," Fox wrote. "What the Ravens did to the Steelers on Sunday … was part vengeance, part message: We're not going anywhere. You're getting older. Now is our time.
"The Baltimore-Pittsburgh rivalry won't truly tilt until this generation of Ravens gets at least one tally on the Super Bowl scoreboard. The Ravens know that. But they also know that there has been a shift, however subtle, in the rivalry. Baltimore knows it can beat Pittsburgh, at home or on the road, and that hasn't always been the case."
Heinz Field has a reputation for being one of the most hostile road environments, with the Steelers losing only two of their last 14 home games. Those two losses have both come against Baltimore.
The Ravens do just about everything they can to overcome those harsh conditions in Pittsburgh, including playing "Renegade" at practice the week prior to a matchup. They dance, sing and get pumped up to it during the game too. The offense had perhaps its best play of the second half immediately after the song was first played, a 23-yard strike to Anquan Boldin.
Terrell Suggs loves going to the stands to allow fans to yell and mock him; he plays into it and wants to be the bad guy. Draping the terrible towel over their heads may be another sign that the Ravens are no longer intimidated by a team that has dominated the division and gone to the Super Bowl three times since Ben Roethlisberger started his career in 2004.
"No one from Baltimore will say that the Ravens own the Steelers, but the pendulum seems to be swinging," Fox wrote. "The plan is in place. The Ravens know Pittsburgh is aging. They want to see whether the Steelers under Mike Tomlin can draft well enough to restock the defense and improve the offensive line. The Ravens aren't so sure that the Steelers can, and they want to seize control, put Pittsburgh in their rearview mirror and dominate a division that the Steelers have owned for so long."
Baltimore isn't talking about the potential new lead in the rivalry – they know they have plenty of work to do until they obtain the success Pittsburgh has enjoyed in recent history. That's why Rice is still "pissed off" even with an 8-2 record. He said the Ravens can play better and will continue to chase perfection.
Until then, Rice said the Steelers keep the title as the division's best.
"To be honest, I don't know if there's* *ever going to be a tilt until we actually win a few Super Bowls, and that's just something they can always hang over our head," Rice said, per Fox. "That's just what it is now. … That's something that's always sticking in the back of my head since I've been a pro.
"We know the road had to go through Pittsburgh, and they had our number for the last few years. Now it feels good we're capable of beating this team at their place. Right now, we've won the last three against them, last year and this year, so it feels pretty good."
Report: Roethlisberger Won't Play At M&T Bank
Steelers doctors believe starting quarterback Ben Roethlisberger will miss three weeks with shoulder and rib injuries, according to an ESPN report, which would force him to miss the second Ravens-Steelers game at M&T Bank Stadium in two weeks.
Pittsburgh won't completely rule Big Ben out and are "hopeful, though hardly optimistic," that he could play during that Dec. 2 showdown.
The injury to his first rib poses a threat to his aorta and surrounding arteries, vessels and soft tissue, according to the ESPN source, adding that Roethlisberger was in as much pain Friday as he was Monday.
The news won't make Suggs happy, who said Sunday night's win was "bittersweet" without Roethlisberger playing.
"Hopefully he'll be out there when they come to Baltimore. We'll duke it out for another 15 rounds."
Suggs Explains Getting Outrun By A Statue
Backup quarterback Byron Leftwich is supposed to be immobile. He's supposed to be slow. Even he said of himself earlier this week, "Let's be honest, I'm not going to be able to make two or three guys miss, roll it all the way to the left. I'm not physically capable of doing that."
But that's exactly what he did (except he rolled to the right) on the game's opening drive, outrunning Suggs to the sideline and then breaking a tackle from hard-hitting safety Bernard Pollard. His 31-yard scramble was the only Steelers touchdown of the game.
"That's what we didn't expect him to do. So it was just kind of like, 'Go ahead and rush. He's a statue, you gonna get there.' He proved us wrong," said the Reigning Defensive Player of the Year, who recently returned from Achilles tendon surgery.
Leftwich poked fun at himself after the game: "I am not a slow quarterback. I'm just the slowest black quarterback."
Did Defense Catch Break? Or Is It Championship Caliber?
The Ravens wouldn't be celebrating their two-game lead in the AFC North this morning if it weren't for the dominant and surprising play from the defense.
The 27th-ranked group suddenly decided it would play like Ravens defenses of old, allowing only a field goal in 59 minutes, 13 seconds after giving up the early Leftwich touchdown.
"For one night, this vagabond group of Ravens, minus the big name (not game) of Ray Lewis, and scarred by injuries to others, turned back the clock and won a game with defense."
What does this all mean going forward?
Prisco says the defensive play may need an asterisk because Roethlisberger was on the sideline. But that seems like flawed logic, when Baltimore was missing two of its top three corners and Lewis, plus Haloti Ngata and Terrell Suggs were not 100 percent. Some of the biggest plays came from cornerback Corey Graham, who started the season as the No. 4 corner on the depth chart.
"Just don't forget the fact that the Ravens only have six starters from the defense that played in the AFC championship game 10 months ago," ESPN's Jamison Hensley wrote.
OK – so no asterisk next to the win. But Hensley asks if the unit is championship caliber.
"Let's see how this group fares against the likes of Philip Rivers, Eli Manning and Peyton Manning over the next few weeks before getting into hyperbole," the AFC North blogger wrote. "What the Baltimore defense showed Sunday night was it's good enough to win this division and get the Ravens to the playoffs when the offense disappears once again on the road."
Hines Ward: Harbaugh Is 'Cocky'
Remember when retired Steelers receiver Hines Ward didn't get a warm welcome when he came to Baltimore for NBC broadcasting duties during the Ravens-Patriots game?
With comments like the one he made last week, Ravens fans are going to have a hard time showing a little more kindness to Baltimore's No. 1 villain.
When asked last week on his TV show about the fake field goal the Ravens ran against the Raiders when they were up 41-17, Hines didn't hold back his true feelings. (Hat tip: CSNBaltimore.com)
"That's just coach Harbaugh. He's just a cocky coach who just don't care about anything," Ward said. "Sometimes that can come back and bite you in the tail. You look at guys like [New York Jets Head Coach] Rex Ryan who guarantees he's going to win the Super Bowl, guys are going to be geared up for you week in, week out … especially when you're down.
"For Coach Harbaugh, that's unnecessary. He already had control of the game. To run a fake field goal? I do know that [Steelers Head Coach Mike] Tomlin will remember that especially coming into this ballgame."