Maybe Pitta Shouldn't Return This Season
The Ravens have three games in the next 15 days.
At 4-6 and with the margin of error razor thin, there's a chance Baltimore could fall out of the playoff race in the next few weeks. If that were to happen, should tight end Dennis Pitta consider deferring his comeback to 2014?
That is the question The Baltimore Sun's Jeff Zrebiec is pondering, considering the tight end hasn't returned to practice after dislocating his hip in training camp, which may mean his return to game action isn't imminent.
"I can't speak for injured tight end Dennis Pitta, nor would it be fair if I tried," Zrebiec wrote. "I also want to point out that Pitta hasn't spoken to the media since he suffered the hip dislocation in training camp, so it's impossible for us to truly know how or what he is feeling. …
"[But] it's fair to wonder how the results of the Ravens' next couple of games could impact his potential return."
That said, Head Coach John Harbaugh commented two weeks ago that Pitta's return was "closer than ever." Pitta is eligible to return to practice, and it could happen as early as today. If that's the case, the speculation could cease.
There have also been reports that it might take until early December for Pitta to see game action, and the season could be decided by then. But even if the Ravens are out of playoff contention at that point, Zrebiec points out that Pitta may still want to play because he will be a free agent by the end of the season and may want to show NFL teams that he is healthy and deserving of a lucrative contract.
"I don't have the answers to those questions, but I do think it's a situation worth following," Zrebiec wrote. "I think everybody knew that the Ravens would miss Pitta, but I'm not sure anybody expected his absence to have this significant of an effect."
Did O-Line Dislike Rice's Joke?
The Ravens offensive line parted the Bears' wall of defenders like Moses parted the Red Sea.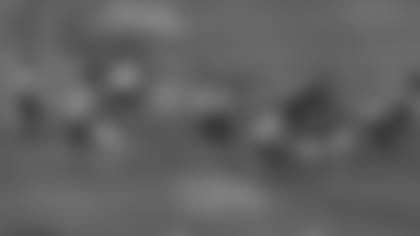 Left tackle Eugene Monroe and tight end Ed Dickson pushed defensive end Julius Peppers and outside linebacker James Anderson out of the way toward the sidelines. A.Q. Shipley did the same when he advanced to the second level to take care of middle linebacker Jon Bostic. Center Gino Gradkowski, right guard Marshal Yanda and right tackle Michael Oher sealed off the right side. Matt Vensel's screen grab depicts the scene and the gaping gulf.
It came on running back Ray Rice's first carry of the game, and he used the hole to his advantage, breaking off 47 yards and following it up six plays later with an untouched touchdown run.
The play kick started Rice's best game of the season, and he told media afterwards: "I kind of made a joke with the guys on the offensive line that I didn't know what to do with a hole that big."
Rice went on to compliment the offensive line, attributing all his success to the unit's blocking, but ESPN's Jamison Hensley doesn't think Rice's "jab (likely unintentionally)" was appreciated.
"My guess is no one on the offensive line was laughing after Rice said this," the blogger wrote. "The offensive linemen have heard for 11 weeks about how bad their run blocking has been that they probably didn't need to be reminded of this after helping Rice to 131 yards rushing, his most in a regular-season game since December 2011."
It sounds to me like Rice meant the innocent joke as a compliment, even if it wasn't worded perfectly. None of the offensive linemen mentioned anything about it with media afterwards that I'm aware of, and it didn't seem to have an effect on the run game as the unit continued to open enough holes for Rice churn out another 84 yards.
Even with a 4-6 record, the Ravens are still very much in the hunt for a playoff spot.
There are eight other NFL teams with the same record, and six are in the AFC.
It certainly gives Ravens fans hope of returning to the playoffs for the sixth-straight year, and with so many cities still in contention, the NFL has accomplished its goal of keeping hopes alive and ratings up.
But is this really the best thing for the league?
"There are some interesting storylines, but you still have to wonder if the NFL's quest for parity has gone too far," wrote The Sun's Peter Schmuck.
Broncos Sign Former Raven Huff
After placing starting safety Rahim Moore on injured reserve designated to return, the Denver Broncos signed former Ravens safety Michael Huff.
Huff signed a three-year Ravens contract this offseason, but lost his starting job after the season opener and was cut after a special teams gaffe on Oct. 30.
"Broncos better hope Michael Huff is better fit for them than he was for #Ravens," tweeted CSNBaltimore.com's Clifton Brown.
I'm happy for any NFL player that gets a chance to continue his NFL career.
The average ranking for the Ravens is No. 20. Does that sound about right?
SB Nation, Jason Chilton: No. 13 (dropped three spots)
"What is it with the Ravens and oddly delayed games? It's hard to say how much the two-hour deluge put a crimp in Baltimore's chances at a road win, since the Ravens tend to be pretty dreadful on the road in any weather. Just to be on the safe side, though, Ray Lewis blamed a conspiracy and a few of Roger Goodell's weather satellites for the delay that brought the Ravens low. Four remaining home games and two on the road is about as sure a bet for a 4-2 finish as you're likely to see, but Cincinnati's 2.5 game division lead is a pretty good bet to hold up down the stretch."
SportingNews.com, Vinnie Iyer: No. 19 (dropped two spots)
"Until you knock out the champs, they will still hang around away from the ropes. The loss to the Bears hurts, but not as much as you think because it was a non-conference game. Having a win over Miami helps, as does a chance to redeem themselves vs. Pittsburgh on Thanksgiving."
NFL.com, Elliot Harrison: No. 19 (dropped one spot)
"At this point, it will be tough for the Ravens to catch the Bengals. In other news, the 1-hour, 53-minute weather delay in Chicago left many with much time to think:
"Ray Rice: So this is what it feels like to be a lead running back.
"Ravens fans: We're watching a $100 million contract at work.
"Joe Flacco: Who's Deonte Thompson? Oh, one of my receivers. I knew that."
ESPN, Panel of six voters: No. 20 (dropped two spots)
"Ray Rice had 131 yards and a touchdown Sunday. Rice's first rush of the game was a 47-yarder, a bigger total than seven of his eight games this season."
CBSSports.com, Pete Prisco: No. 22 (dropped two spots)
"Their hopes of repeating are slipping away by the week. Can they turn it around?"
Fox Sports, Brian Billick: No. 23 (dropped five spots) 
"At least they figured out how to get Ray Rice going, but now it's Joe Flacco that needs a kick in the rear. Flacco has five picks in the last three games and his passer rating has decreased in each of the last five."