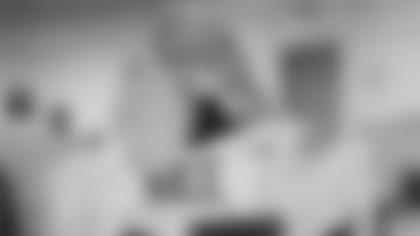 "Bad idea ray just ask lendale white and tj whosyourmama."
That came after this tweet the night before, "If youre not a steelers fan, dont put your hands on a terrible towel."
There was no response on Twitter from Rice, who was serving Thanksgiving lunch and dinner to families during two different events yesterday at Our Daily Bread and Helping Up Mission men's shelter.
Woodley was referring to the Terrible Towel curse that seemed to bite Tennessee Titans running back LenDale White and retired receiver T.J. Houshmandzadeh after their actions with Terrible Towels.
In December of 2008, White and teammate Keith Bulluck stomped on a Terrible Towel in a 31-14 victory over Pittsburgh. The incident seemed to haunt the Titans thereafter, as they lost four of their last seven games after starting 10-0, including a home playoff loss to the Ravens. The next season, Tennessee started 0-6 despite returning 20 of 22 starters.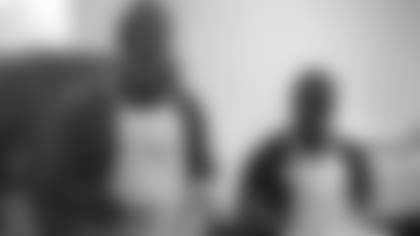 In the video below, former Titans Head Coach Jeff Fisher expressed regret for the incident and many Titans players, including White, autographed a Terrible Towel and mailed it to the Pittsburgh charity that owns the trademark. In an accompanying letter, players asked the charity to please lift the curse. Interestingly, the Titans won their next five games.
Houshmandzadeh wiped his shoe with a Terrible Towel in December of 2005 after he scored a touchdown in a Bengals win at Heinz Field.  The Steelers later defeated the Bengals, 31-17, in the playoffs on their way to winning the Super Bowl.
"History shows that when you disrespect the towel, bad luck comes your way," analyst Jamie Dukes said in this video that reviews the history of the Terrible Towel curse.
Will bad luck come to Rice and the Ravens?
Round two between these bitter rivals will be played in less than two weeks. We shall see …
Who Is Ted Cottrell, The Man To Reverse Suspension?
Ed Reed's one-game suspension without pay, worth $423,529, was overturned by Ted Cottrell, who ruled the league's initial punishment was more severe than the crime.
Instead, Cottrell fined Reed $50,000 and he will no longer serve a suspension, allowing the All-Pro safety to play in a critical game versus the San Diego Chargers Sunday.
So who is Cottrell and where did he get the power to overrule a league decision?
ESPN's Adam Schefter explained that during the CBA negotiations, players expressed concern over the league holding too much power in instances like these, where punishments are assigned for penalties on the field. As part of the new agreement between the NFL Players Association and NFL agreed to hold independent hearings observed by neutral observers (either Cottrell or Art Shell) to listen to appeals and make an unbiased ruling.
"They are independently appointed and paid for by the NFL and NFLPA jointly," Schefter said. "So the idea of this is supposed to be a neutral Switzerland-like observer that can hear the appeal and rule on the process in an impartial way. I think that's really what happened in this particular case."
Reed expressed gratitude that his one-game suspension was lifted Tuesday, saying he's never been "that guy" to intentionally hurt another player.
"It's a shame it even came to this point … being that I've been on the other side of hits that have been illegal toward me," Reed said yesterday after distributing turkeys to families of Booker T. Washington Middle School.  "I've got a lot of respect for that organization, the Steelers, and the other 30 teams in the league. I never played the game that way."
But Reed indicated that plenty of work still needs to be done between players and the league to find a better balance between player safety and not making the NFL "flag football."
"This is not over between myself or the league," he said. "[There's] a lot that needs to be done because it is about safety; it is about protecting the players. It's something that us as players need to police as well. At the same time, we grew up watching the game be played a certain way and playing it a certain way. It is tackle football. It is a contact sport and a brutal one, a violent one at that.
"If you want to stop it, stop the game."
Whitlock: NFL Should Adopt NHL Rules
Wonder what Reed would think of this idea …
FoxSports.com's Jason Whitlock suggested that the NFL adopt hockey rules, and institute a penalty box where players must go for 15 minutes if a replay confirms a helmet-to-helmet hit. If it happens in the fourth quarter, the time carries over to the next game. If you get four helmet-to-helmet hits in the same season, you get suspended for a game.
Not sure if I like the idea, but I sure appreciate the photoshopped image of Reed in a penalty box …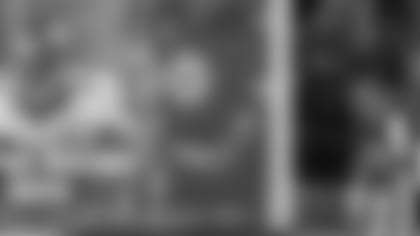 Ravens May Have To Prep For Plaxico
It looks like the Ravens may have to prep for a familiar foe.
The Steelers signed Plaxico Burress, their former first-round pick, with their receivers corps thin because of injuries to Jerricho Cotchery and Antonio Brown.
If Burress plays in Baltimore in two weeks, the Ravens will mostly have to prepare for a threat to their recent red-zone success.
"The Steelers will continue to start Mike Wallace and Emmanuel Sanders but there is no experienced option for the No. 3 spot," wrote ESPN's Jamison Hensley. "The Steelers can expect to get a receiver who will be productive in the red zone (eight touchdowns last season) but one who won't stretch the field (six catches over 20 yards and none over 40 yards).
"Pittsburgh is desperate for wide receiver depth but this isn't a desperate move. Signing a wide receiver like Terrell Owens or Chad Johnson is a much bigger risk because of the distractions they bring."
Beating a division rival on the road did little for analysts' perception of the Ravens. Baltimore moved up a spot here and there, but mostly stayed put. The Ravens even moved back two spots in ProFootballTalk.com's rankings. 
Pete Prisco, CBSSports.com: No. 6, moved up one spot
"The defense looked like the defense of old against the Steelers. Bit of advice, though: Watch out in San Diego."
ESPN.com: No. 5, no movement
"The Ravens have won 12 straight games in the division, tying the Colts (2004-06) for longest such streak since the 2002 realignment."
Brian Billick, Foxsports.com: No. 7, no movement
"The Ravens defense may be struggling against the run, but it is good when and where it counts. The Ravens have a top-10 scoring defense and lead the league in red-zone defense. Not too shabby for a defense without its leader in Ray Lewis and best corner in Lardarius Webb."
Elliot Harrison, NFL.com: No. 5, no movement
"Joe Flacco at home: 66.5 completion percentage, 322.4 yards per game, 10 touchdowns and three interceptions. Joe Flacco on the road: 54.2 completion percentage, 176.6 yards per game, three touchdowns and four interceptions. If you can explain that trend, Baltimore Ravens fans, I'd love to hear it. @Harrison_NFL. Good luck."
Mike Florio, ProFootballTalk.com: No. 5, moved down two spots
"So should the Ravens feel good or bad about beating the hapless, Ben-less Steelers by three points?"
Peter King, Sports Illustrated: No. 7, moved up one spot
"Three wins in a row in the game's fiercest rivalry, by 28, 3 and 3 points. Loved the hitting and instincts I saw out of cornerback Corey Graham Sunday night in Pittsburgh."
@adamschefter: As @SportsTaxMan points out, Ed Reed's $50,000 fine is tax deductible. Tax Benefit at 35% = $17,500. Actual cost of fine = $32,500. [Twitter]
@torreysmithwr: Thanks twitter y'all freed Ed Reed haha [Twitter]
Ravens players were all over the Baltimore community yesterday to help families in need as Thanksgiving approaches. Watch out for a baltimoreravens.com special video on the day's events, which will be posted tomorrow to help spread the spirit of the holiday … @torreysmithwr: The #Ravens are definitely doing their part in the community for the holiday season...proud to be part of it
Lardarius Webb is working toward ACL recovery … again. He is using the experience as a way to build his character. "I've been through it before, and the things that happened when I came back last time were good things, and I will look at them as good things as I come back this time," Webb told Edward Lee during a Thanksgiving outreach event sponsored by his foundation at the Webster Kendrick Boys & Girls Club in Northwest Baltimore Tuesday evening. "It's just a fight. You go through ups and downs, and when you're down, you judge a person's character by how they get back up. I'm just going to fight and hope that everything works out well. I'm leaving it in God's hands." [The Baltimore Sun]