Oh No, Sanders Didn't Mock Lewis' Dance
As if this rivalry wasn't heated enough.
Steelers wide receiver Emmanuel Sanders added fuel to the fire by mocking retired Ray Lewis' squirrel dance, as can be seen in the GIF above (mobile users tap "View In Browser").  The future Hall of Fame linebacker already performed the dance at M&T Bank Stadium for the final time in front of Ravens fans at the Ravens' Super Bowl parade in February.
Lewis didn't even pull the beloved Baltimore dance out of retirement when he returned as a Ring of Honor inductee in September.
That didn't stop Sanders from making the brash move … when the Steelers were still down 13-6.
"Sanders made a bold decision when he celebrated his touchdown," wrote CBSSports.com's Will Brinson. "Mocking Ray Lewis in Baltimore when you're losing? That's pretty aggressive."
Had the Steelers won, "this would be a sick burn," wrote SB Nation's Rodger Sherman.
That's OK. Ravens fans got the satisfaction of the 22-20 victory, which coincidently came after Sanders dropped the game-tying two-point conversion pass in the end zone (video below).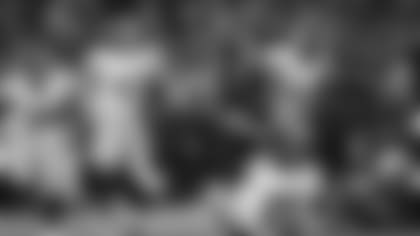 No sign of the Ravens wildcat for this week at least. "With Flacco and his pass catchers in rhythm throughout the evening despite another sluggish run-game performance, the Ravens chose to attack the Steelers through the air with their three-receiver sets, not the two-quarterback scheme they had debuted four days earlier," wrote Matt Vensel. [The Baltimore Sun] * After notching his third penalty of the evening … @BaltimoreLuke: At what point do we start calling a false start a "?" [Twitter] * @Ravens: FIRST DOWN RAVENS. Joe Flacco picks it up with a scramble... Maybe Joe can run the wildcat?! [Twitter] * After making his 27th straight field goal Thursday night, Hensley wrote: "Tucker for MVP. Kicker Justin Tucker is making a strong case to be the Ravens' Most Valuable Player." [Twitter] * @TorreySmithWR: I left too many plays on the field...shouldn't have been that close...Great Team Win [Twitter] * @PMGleason: Under John Harbaugh, #Ravens are now 8-1 in home games played on prime-time TV. [Twitter] * @PMGleason: 10 of the last 12 Ravens-Steelers games have been decided by 3 points or less, including 9 of the last 10 (and now 5 straight). [Twitter] * @BaltimoreLuke: Best solution to keep NFL coaches off the field? Those electric shock collars they give dogs. Would at the very least be entertaining. [Twitter] * Fun! Michelle Tafoya was joined by Thanksgiving night's MVPs Jones and Tucker. Check it out. [NBC Sports]