Ravens' Surprising Defensive MVP
Ray Lewis. Ed Reed. Haloti Ngata. Terrell Suggs. Lardarius Webb.
If you had predicted before the season started that one of these players would become the Ravens' 2012 defensive MVP, it would have been considered a smart pick.
But with injuries taking its toll on each, a new and completely unexpected player has emerged to become what many believe is the defense's most valuable player half way through the season: linebacker Dannell Ellerbe.
"Yes, that Ellerbe who some considered on the roster bubble during an injury-plagued training camp and who had frustrated team officials with his work habits and durability," wrote the Baltimore Sun's Jeff Zrebiec.
CBSSports.com's Jason Butt definitively named Ellerbe as his defensive MVP in his Ravens midseason awards list, and Zrebiec also believes there's a good argument to be made for Ellerbe.
The four-year veteran leads the team in sacks (3.5) and is third in tackles (52). According to Butt, Ellerbe is on pace to surpass safety Bernard Pollard and Lewis as the team's top tackler by the end of the season.
Check out a must-read on Ellerbe having "the best season" of his four-year career by own Garrett Downing. Ellerbe has always flashed big-time potential, but injuries and immaturity got in his way after surprisingly starting three games as a rookie free agent in 2009.
The timing of Ellerbe's emergence is perfect – both for himself (he's in a contract year) and for the Ravens defense which lost Lewis indefinitely to a triceps tear. The loss of Lewis has given Ellerbe a second chance to prove his value.
"He's been a definite bright spot during a year of struggles for the Ravens' defense," Zrebiec wrote.
Williams: I Was Worth More
Remember when critics said cornerback Cary Williams may have made a foolish decision by declining the Ravens' reported contract offer before the season of $15 million for three years?
ESPN's Jamison Hensley said Williams should have taken the money and was making the wrong gamble. Through the first couple of games – especially when Tom Brady picked on Williams in Week 3 – it looked like Hensley was right.
But now Williams is leading the AFC in interceptions, making four picks in the last five games, and opinions appear to be changing.
"Williams thought he was worth more. And lately, it's looking like he might be right," wrote David Ginsburg of the Associate Press.
Talking with reporters in Owings Mills yesterday, Williams said he stands by his decision.
"I felt like I was worth more. I felt like I brought a lot to the table,'' he said. ''There were a lot of third (string) corners that were getting more than that. In my eyes, I felt like I deserved a lot better. I think I played up to that billing thus far in the season."
"Fifteen million dollars is a great deal and it's a wonderful opportunity,'' he added. ''But at the end of the day, my scope has never been small. I take that from days I grew up in Liberty City. I want to continue to strive for more and greater things."
Tight end Dennis Pitta has received the message.
Now all he needs is the ball.
Head Coach John Harbaugh told media Monday that he'd like to see more production out of his tight ends, and Pitta doesn't disagree. All that's missing is the opportunity, says the third-year veteran.
"We have to be more involved in the offense," Pitta told Butt. "I think if you don't get a whole lot of opportunities, there's not a whole lot of room to make plays. That's how we feel. We'd like to be more involved and we want to be, and we want to be given more opportunities. And if there's not a lot of those, there aren't a lot of plays to be* *made."
Pitta started the season as one of quarterback Joe Flacco's top targets, catching 18 passes for 188 yards and two touchdowns in three games. In the five games since, he's only notched 14 catches for 121 yards and no scores.
With a vast array of weapons on offense and only one ball to go around, there will be quiet weeks for everyone. Ray Rice, Vonta Leach, Anquan Boldin, Torrey Smith and Jacoby Jones have all had those kinds of days. While respecting each other, each of them want the ball and the opportunity,* *and Pitta is no different.
"It's about getting opportunities to run routes, to make plays, to get the ball thrown our way," Pitta said. "Obviously, there are things you can do better. Ed and I both know that. We would love to be more involved."
When Should Defense Run Out Of Tunnel?
Ravens fans haven't been able to see Suggs play in person since Dec. 24, 2011 in divisional round of the playoffs against the Houston Texans.
Nearly a year will have passed since Suggs last stepped foot on the field at M&T Bank Stadium when he finally does so again Sunday against Oakland, his first home game since returning from Achilles tendon surgery.
A reporter asked Suggs if the defense will be introduced Sunday, which would be sure to send fans into a frenzy as they greet they reigning Defensive Player Year back home.
But Suggs brought up an interesting point. As nice as it might be to run out of the tunnel in his home debut, it could be equally if not more exciting to be introduced when the Ravens host the Steelers on Dec. 2 – Baltimore's next home game after this Sunday.
Asked if he would lobby to run out this Sunday, Suggs said in the video below with a wink of his eye: "No, I'm going to let it stay as it lies because there's a certain home game coming up that we might want the defense to get called out for."
Polamalu Targeting Return vs. Ravens
There's no way Steelers safety Troy Polamalu wants to miss a legendary Ravens-Steelers showdown.
Polamalu has been limited by a right calf injury all season and has missed the last four games, but he's targeting the Nov. 18 showdown against Baltimore for his return.
Head Coach Mike Tomlin told the Pittsburgh Post-Gazette that his All-Pro safety should be healthy enough to greet the Ravens at Heinz Field in less than two weeks.
"As well as the Steelers have played on defense recently, having their seven-time Pro Bowl safety and former NFL defensive player of the year back in the lineup should make them even more dominant," wrote Ed Bouchette.
"Or would he? The Steelers are 3-1 since Will Allen moved into Polamalu's spot at strong safety."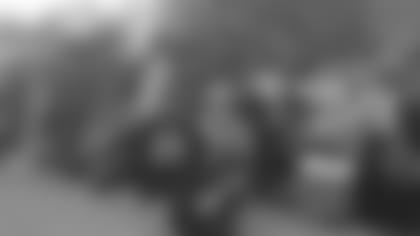 Here is a great fan photo that was posted on the Ravens Facebook page by BJ Dowlen, who added this description: "Lost most my possessions in the hurricane Sandy], [look what made it ... my Ray Lewis & Ray Rice jerseys! Still looking to see if my Sizzle, Reed & Flacco's show up in the bay. Jersey Strong! [Facebook] * Torrey Smith talked about his wedding plans, saying there is no set date yet, but he thinks they might get married in Maryland because it the midway point between Virginia and Pennsylvania, where he and his fiancé  are from, respectively. [WBAL] * Zrebiec talks about the potential seriousness of Ngata's injury status (shoulder): "I'd have to think that there is significant concern in the Castle about the health of Pro Bowl defensive tackle Haloti Ngata. Ngata is dealing with knee and shoulder injuries and Harbaugh was noncommittal Monday when asked about whether he could be held back a little to make sure he's healthy for the end of the season. … Injuries really limited Ngata's production down the stretch last year and the already-struggling Ravens' defense can't afford to have that happen again." [The Baltimore Sun] * Ravens Quarterbacks Coach Jim Caldwell and his foundation contributed a gift, estimated to be about $70,000, to The Salvation Army Ken Carlson Boys and Girls Club in Winston-Salem, NC, which was used to open a project center that young children use for online learning after school. Almost half of U.S. households earning less than $50,000 a year lack Internet access at home. Caldwell has ties to the area from his days as the head coach at Wake Forest. [Winston-Salem Journal] * True or False? Suggs has stabilized the Ravens defense. [CSNBaltimore.com]