Comparing Lamar Jackson to 2006 Michael Vick
Lamar Jackson has long been compared to Michael Vick, and with the Ravens star closing in on Vick's single-season rushing record for quarterbacks, those comparisons are again a topic of discussion.
Pro Football Focus' Sam Monson took an in-depth look at how Jackson's 2019 season compares with Vick's 2006 season, the year he established the record with 1,039 rushing yards. Jackson, who enters tomorrow night's game against the New York Jets at M&T Bank Stadium needing just 23 yards to break the record, is the only other quarterback to rush for 1,000 yards in a season.
One of the main takeaways from Monson's analysis is that while Jackson and Vick are both gifted runners, they reached the 1,000-yard mark in distinctly different ways. Specifically, Jackson has benefitted from playing on a team that built its offense around his unique skill set. Vick was not afforded that opportunity with the Atlanta Falcons in 2006.
"Because Baltimore has embraced the skill set of their quarterback rather than resisted it, one could make the argument that they have custom-crafted a far more dominant offense," Monson wrote. "If we look at EPA (expected points added) per play, the 2019 Ravens, with Jackson at quarterback, are at 0.194, which is by far the best mark in football. The Vick-led 2006 Falcons were negative, at -0.010 — a figure which would rank 15th in 2019, just above the league-average mark.
"It's the team embracing the unusual abilities he has and building an offense around him that's allowed him to become the player people spent a career waiting for Vick to become."
Ravens Offensive Coordinator Greg Roman's scheme features an arsenal of designed runs for Jackson. Vick, conversely, was inserted into a West Coast offense, which places greater emphasis on passing.
"When Vick racked up 1,000 rushing yards, almost all of it was unplanned — from scrambles to improvised rushes after passing plays broke down — and very little was done to take advantage of his ball-carrying dynamism by design," Monson wrote. "The Falcons' coaching staff of the time effectively saw Vick's rushing as a bonus and a way to let him make up for some deficient passing plays.
"Jackson already has 116 designed rushes to his name, and 64 percent of his rushing yards have been on these intentional rushing plays. Scrambles make up just 35 of his rushing attempts, which is fewer than Josh Allen and only just more than Gardner Minshew (who has missed time)."
Monson concluded that Jackson is both a more elusive runner and better passer than Vick was.
"The Ravens superstar has by far the best broken-tackle rate of any quarterback on rushes this season, and even if you include running backs, he has the fourth-best rate of any player (0.25 broken tackles per attempt)," Monson wrote. "Vick could make people miss, but his game was more about pure speed as a runner. On designed runs, Vick's broken tackle rate was just 0.10 per attempt.
"It's impossible to conclusively prove that leaning on such an effective ground game makes life easier as a passer for Jackson, or how strong that effect is to be able to retrospectively apply it to Vick, but it certainly can't hurt his passing output, which is the area where Jackson has been significantly better when comparing the two seasons."
Vick himself has marveled at what Jackson has been able to do this season.
"I'll be honest: I didn't think it would ever be broken," Vick said of his rushing record on Fox Sports' "Undisputed" last month. "I didn't think a guy would come along and play between the tight hashes and do the things that I've done, but it's just a pleasure for me to watch and see another guy just emulating that style – and doing it better."
What Vick isn't thrilled about is Jackson surpassing him as the fastest quarterback in the history of the "Madden" video game.
"The Madden rating is probably the only thing I'm a little bit hot about," Vick told our Clifton Brown while laughing. "He's about to break my (single-season QB rushing) record, and now he's taking my Madden record too? Man, can't we both have the same speed?"
Jets' Roster Shows Ravens' Draft, Player Development Acumen
The Ravens' success in drafting and developing players goes beyond its own roster; it's also apparent when looking at rosters around the league.
Case in point: The Jets, the Ravens' opponents Thursday night, carry five former Ravens on their roster, two on their injured reserve list and one on their practice squad, per Penn Live's Aaron Kasinitz. Six of those eight players began their careers in Baltimore as draft choices or rookie free agents.
Linebacker C.J. Mosley, the Ravens' 2014 first-round pick, is the most prominent former Raven on the Jets. He landed on injured reserve a week ago, his season having been derailed by a groin injury after signing a five-year deal worth a reported $85 million in the offseason.
Other former Ravens with the Jets include guard Alex Lewis (who they traded for in August), running back Ty Montgomery, cornerback Maurice Canady, safety Bennett Jackson and linebacker Brandon Copeland.
"Some joined the Jets after the franchise hired long-time Ravens executive Joe Douglas as general manager in June," Kasinitz wrote. "But most landed with New York before the arrival of Douglas, who worked in Baltimore's front office from 2000 to '14. What's clear is that when the Jets (5-8) aim to engineer trades or sign free agents, they don't mind targeting players who spent time with the Ravens."
As previously noted, it's not just the Jets who scoop up former Ravens.
"Over the offseason, every Ravens player whose contract expired wound up signing a deal to play for Baltimore or another team in 2019," Kasinitz wrote. "That's a rare occurrence in the NFL, a league where short careers are the norm and draft picks carry more value than middling veterans. All of this shows that the Ravens are drafting and developing players who can stick in the league at a high rate."
Power Rankings: Ravens Remain Unanimous No. 1
After extending their winning streak to a franchise-best nine games with Sunday's 24-17 win over the Buffalo Bills, the Ravens (11-2) are the consensus No. 1 in the power rankings of the seven publications we looked at for the second consecutive week.
Most of the power rankings pundits were impressed at the grit the Ravens displayed in winning a hard-fought game against a playoff contender on the road on a day in which their high-scoring offense did not put up eye-popping numbers.
"Even when they aren't running circles around opponents, the Ravens can win ugly," Sports Illustrated wrote. "That doesn't mean Lamar Jackson didn't have time to collect some more ankles during another solid outing (16 of 25, 145 yards, 3 TDs, INT, 40 rushing yards) while the defense sacked Josh Allen six times, knocked down eight passes and prevented the Bills from mounting a second-half comeback."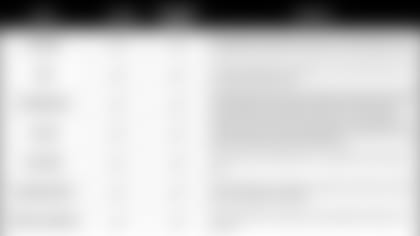 One pundit, however, wondered if there is cause for concern about the offense.
"Deservedly league's darlings at this point, but is offense slowing?" USA Today's Nate Davis wrote. "Just 44 total points last two weeks after scoring 40-plus in three previous contests."
It seems premature to be alarmed. After all, the Ravens' opponents the past two weeks -- the San Francisco 49ers and Bills -- have top 3 defenses and both games were played in bad weather conditions.
Besides, winning by 30-plus points every week in a league known for parity just isn't realistic. One could argue that the Ravens finding a way to win close, physical games against high-level competition is as impressive as their blowout victories. And while the offense was slowed the past two weeks, the Ravens defense continued its considerable resurgence.
"Sunday's win won't land much airtime in what one can imagine will be an immensely impressive end-of-season highlight reel for the Ravens. But style points are overrated, especially at this time of year," NFL.com's Dan Hanzus wrote. "In a game where Lamar Jackson threw for just 145 yards and rushed for less than 4 yards per carry, Baltimore still got it done, because John Harbaugh fields a complete team every week.
"The defense stepped up in Orchard Park, holding the Bills' offense to just 209 yards while making life miserable for Josh Allen. After a slow start, Wink Martindale's D has allowed just two of its past nine opponents to reach 20 points."