With Cam Out, Flacco Set To Play Moneyball
The Ravens' dismissal of Cam Cameron was more than an attempt to turn* *around a team that is headed in the wrong direction with three games left to play this regular season.
There was a two-fold mission in Cameron's dismissal, says The Baltimore Sun's Peter Schmuck: a competitive mission (playoffs and Super Bowl) and an organizational mission of figuring out the value of quarterback Joe Flacco, whose contract is set to expire at the end of the season.
"The next three games and whatever comes after may determine whether Ravens Owner Steve Bisciotti and General Manager Ozzie Newsome feel comfortable committing big money to lock Flacco up for the foreseeable future or decide to put that decision off another year with an expensive franchise tag," Schmuck wrote.
"In other words, while the rest of us are in a position to endlessly ponder whether Flacco is a truly elite quarterback who can take his overall performance up one more level, the Ravens are running out of time to find out. Team officials aren't going to admit that, but it shouldn't be very hard to figure out why they have allowed Flacco's contract situation to remain in limbo for so long."
After exploding onto the scene with a blowout win over the Cincinnati Bengals in the season opener, throwing for 299 yards and two touchdowns, and then outplaying and beating New England's Tom Brady, Flacco was driving his price tag up. But recently, his value has seemingly taken a hit.
The Ravens "diminished" Flacco's value by keeping him in a "stuck-in-neutral offense" under Cameron, wrote WNST's Drew Forester.
"With each game and each poor offensive effort, Joe Flacco has been losing money.  He might have been, at one time, a $90 million quarterback," wrote Forester. "Now, on December 11, he might be a $78 million quarterback.  Another three weeks with no offensive progress and he could be a $70 million quarterback.
With Cameron out of the picture, the Ravens can now determine whether it was Cameron who was holding Flacco back or the other way around, according to Schmuck.
Now the fifth-year quarterback has a huge opportunity to prove his worth with two Super Bowl-winning quarterbacks coming to town in consecutive weeks. If Flacco can keep pace with and beat Peyton and Eli Manning, then lead his team deep into the playoffs, he can push up his price tag once again.
"[W]hile the outlook may appear bleak to some, it shouldn't be," J. Michael wrote. "This is Flacco's big chance."
Tough Decision With Boldin This Offseason
Flacco isn't the only player the Ravens are evaluating in order to make a sound contract decision this offseason.
Anquan Boldin will be entering the final year of his contract and is reportedly scheduled to make $6 million in 2013 as a 33-year-old receiver.
The Baltimore Sun's Matt Vensel ponders whether the Ravens will bring back the veteran, who hasn't produced like he did in Arizona, but has also come up big in clutch situations and is a leader to a young receiving corps.
"Derrick Mason showed that some savvy wide receivers can produce into their mid-thirties, but the Ravens have also shown that they aren't afraid to cut ties with veterans sooner rather than later (see fan favorites Mason, tight end Todd Heap, nose tackle Kelly Gregg, and linebacker Jarret Johnson)," wrote Vensel.
"I'm not saying they should do it with Boldin, but they will have a tough decision to make this offseason."
Four Ways Caldwell Can 'Fix' Offense
The Ravens still have time to even out the offense's inconsistent play.
After studying the "All-22 Coaches Film" from the Ravens' most recent games, NFL Network's Bucky Brooks has four moves he thinks new Offensive Coordinator Jim Caldwell should employ to "fix" the offense.
1) Build the game plan around Ray Rice: "Rice is unquestionably one of the top runners in the NFL, but he seemed to be underutilized in Cameron's system. … After studying the Ravens' game tape, I would expect Caldwell to call more stretch plays and lead draws to take advantage of Rice's speed, quickness and cut-back ability."
2) Make Torrey Smith the No. 1 option in the passing game: "I believe Smith is ready for a bigger role in Baltimore's offense. He has shown glimpses of being an effective intermediate route runner throughout the course of the season. From running comebacks and curls on the outside to short crossing routes between the hashes, Smith has demonstrated the ability to get open against man or zone coverage, while also showcasing exceptional running skills with the ball in his hands. This should encourage Caldwell to feature Smith as the primary target in the route progression."
3) Keep Dennis Pitta and Ed Dickson on the field as much as possible: "The Ravens should tap into both of their potential by routinely utilizing "12" (one running back, two tight ends and two receivers) and "22" (two running backs, two tight ends and one receiver) personnel packages. This will enable Baltimore to use a variety of formations to create mismatches in the run or pass game."
4) Let Joe Flacco run the no-huddle offense: "Caldwell knows all about the intricacies of the no-huddle after spending years with Peyton Manning as his quarterback. … This insight will enable him to tailor the Ravens' playbook to suit Flacco's strengths without overloading his mind with too many checks and adjustments. By incorporating a frenetic pace and a scaled-down game plan, Caldwell can simplify things for Flacco and eliminate some of the confusing exotic pre-snap looks from opposing defenses. This will allow Flacco to play with more confidence."
The Ravens consistently rank between the 8-10 range in national power rankings this week after suffering back-to-back losses against backup quarterbacks.
Will the offensive coordinator change turn things around?
Pete Prisco, CBSSports.com: No. 8, moved down three spots
"Back-to-back losses have exposed the Ravens. They just aren't the same Ravens team anymore."
ESPN.com: No. 8, moved down two spots
"The Ravens fired offensive coordinator Cam Cameron, but defense is also a concern after losing to backup QBs Charlie Batch and Kirk Cousins."
Brian Billick, Foxsports.com: No. 9, moved down two spots
"The Ravens could have clinched the division with a win on Sunday, but now they are starting over with a brand-new offensive coordinator. This is a big gamble, but one they are obviously willing to take."
Elliot Harrison, NFL.com: No. 8, moved down two spots
"The Baltimore Ravens' road woes could be a major factor come playoff time. The loss at Washington puts an injury-riddled defense in danger of having to stop somebody on foreign turf in January. That hasn't been easy to do, as evidenced by Sunday's result. Baltimore came into Week 14 ranked 30th in the NFL in time of possession, holding the football only 27 minutes per game. Once again, the Ravens lost the possession battle against the Redskins -- by nearly five minutes -- and ultimately lost the game. The defense must be able to get off the field. Will the dismissal of offensive coordinator Cam Cameron lead to more use of the running game, and inherently, increased time of possession? We'll see."
Mike Florio, ProFootballTalk.com: No. 9, moved down one spot
"If Cam Cameron's offense was better, maybe the Ravens defense wouldn't have blown an eight-point lead to a rookie backup quarterback."
Peter King, Sports Illustrated: No. 10, moved down four spots
"I doubt even the return of Ray Lewis for the final three games (Peyton at home, Eli at home, then at Cincinnati) will revive the Ravens D. And that D needs a revival."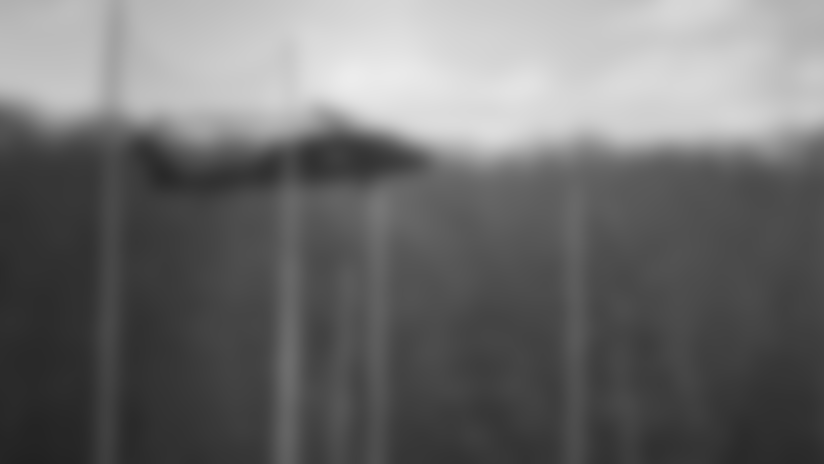 What a sweet image … @Ravens: It's not every day that a U.S. #Army #BlackHawk helicopter lands on our [field] @ Under Armour Performance Center [Twitter/Instagram] * Jason Butt called Monday's press conference a "strange farewell"to Cameron, after Head Coach John Harbaugh gave a glowing review of his former coordinator, saying Cameron did an "excellent job" over the last five years and his record proves that. It made Butt wonder if the decision was really Harbaugh's. [CBSSports.com] * @RAVE_TV: VIDEO: Ray Lewis helped the #Ravens defense make some [key first-half adjustments](file:///C:/Users/minkr/AppData/Local/Microsoft/Windows/Temporary Internet Files/Content.Outlook/JZMLRDY8/key first-half adjustments) in Washington. [Twitter/BaltimoreRavens.com] * Cornerback Asa Jackson was suspended four games without pay for violating the league's performance enhancing substances policy, but there were no more specifics. Here's the Sun's Aaron Wilson on the topic … @RavensInsider: Early unconfirmed word we're hearing for Asa Jackson is an Adderall-related suspension. Nothing official, though. [Twitter] * Outside linebacker Terrell Suggs and his fiancée reached a global resolution agreement Tuesday morning in Baltimore County Circuit Court regarding custody and visitation involving their two children. [The Baltimore Sun] * Peyton Manning "owns" the Ravens. After two losses to start his career, Manning has not lost to the Ravens in eight games since 2002. Among those eight wins, two were in the playoffs, five were by double-digits and he was only sacked a total of 10 times. [ESPN Stats and Information]