Yanda Picks Up, Tosses Suh Back
You were concerned about the Ravens offensive line matching up against Ndamukong Suh, who was voted the NFL's dirtiest player, and that stout Lions defensive line.
What offensive line doesn't have troubles against those guys?
But watching Pro Bowl right guard Marshal Yanda face off against Suh in the trenches was one of my favorite highlights of the game, and it largely went under the radar.
The best battle between the two may have been when Yanda showed off his brute strength and literally picked up the 6-foot-4, 307-pounder for about two steps and then tossed him back as running back Bernard Pierce ran past for an 11-yard gain in the first quarter.
Look closely for No. 73 in white and No. 90 in blue in the GIF below (mobile users tap "View in Browser" at the top of the page). It all happens fast, but it's a thing of beauty to see Yanda handle the usually disruptive force.
Here's another of the two, this time Yanda keeping Suh far away from Flacco.
Pro Football Focus (PFF) gave Yanda a 0.2 grade for his pass protection and 0.6 for his run blocking Monday night.
Yanda wasn't the only one to block Suh, as center Gino Gradkowski and left guard A.Q. Shipley also carried a big load. The entire offensive line held Suh to just three combined tackles – no sacks, no tackles for loss, no quarterback hits, nothing.
"What a win what a fight what a battle!" Shipley tweeted after the game. "That was a good defensive front n we fought til the end and got the win! Proud of this team!"
Added second year Gradkowski after the game:  "We just battled all day. We knew they were good and they fought hard. It's a good D-line that we faced. I think A.Q. and Marshal did a great job against those two guys. We just battled."
What It Looks Like to See Johnson Drop A Pass
The man called "Megatron" is human after all.
The Detroit wide receiver's two crucial drops and cornerback Jimmy Smith's coverage helped prove that. And now he is getting torn apart for it.
"Calvin hearin them footsteps," tweeted  Sports Illustrated's Robert Klemko after the second drop. "Can Diddy help?"
"Old man hands," added WNST's Luke Jones, referring to Matt Elam's comments last week.
The two passes that Johnson dropped were glaring, as he was wide open both times for routine catches that would have gone for first downs. It was his ninth and 10th drops of the season, according to PFF. He also couldn't get two feet in bounds when he was matched up one-on-one with Smith on a sideline catch in the end zone for a two-point conversion.
After the first, "Johnson went to the sideline and just shook his head," wrote the Detroit Free Press' Jeff Seidel.  "Which is what most Lions fans were doing, shaking their head in frustration."
What else did Johnson do on the sideline?
I love this GIF below where he is trying to wipe off what looks to be something as small as a particle of dust. Then he spits on the glove for good measure.
And just so we don't forget what it's like to see Megatron drop a pass, here's another GIF for your enjoyment.
Expect Flacco To Be Sore After Gnarly Hit
Quarterback Joe Flacco said his knee feels strong after it "caved in" from an illegal hit by Lions linebacker DeAndre Levy.
He demonstrated that fact before he even got back into the game. After trainers attended to his knee, Flacco pretended to throw a ball at Lions fans who were heckling him, according to the ESPN game broadcast.
Even though the injury doesn't appear serious, ESPN analyst and former 49ers quarterback Steve Young said Flacco can expect to feel very sore this morning.
He could even be wearing a brace.
"Joe Flacco told Stan White after the game that he thinks he'll be fine playing with a brace next week," tweeted WBAL's Gerry Sandusky.
And many are still scratching their heads as to why Levy wasn't called for a penalty, as it was a classic example of the Brady Rule.
Here's another look at it.
Tucker Becoming NFL's Most Popular Kicker?
Twitterverse exploded with tweets about Justin Tucker after he kicked his sixth field goal of the night, a 61-yard game winner.
He was quickly dubbed "Legatron" and there was a stream of fun tweets, including a few below:
Justin Tucker giving a shoutout to his fantasy owners is more impressive than his 61-yd field goal. — Jimmy Traina (@JimmyTraina) December 17, 2013
With that postgame interview, I am officially drafting Justin Tucker in the first round of my fantasy league next year. #priorities — David Aldridge (@daldridgetnt) December 17, 2013
Tucker's a monster... As simple as that — Pat McAfee (@PatMcAfeeShow) December 17, 2013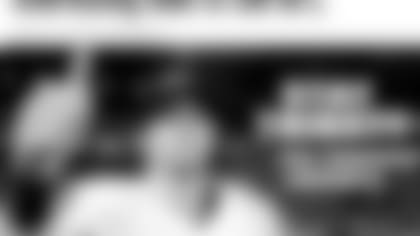 Then there's this awesome headline and image of Tucker on the NFL home page of FoxSports.com, referencing the classic Dos Equis commercials.
Ravens Primed For Another Surprising Run
ESPN's Jamison Hensley admitted he was convinced a month ago that the Ravens weren't going to make the playoffs.
But after the team's huge statement game on the road, he's convinced anything can happen, even a repeat championship.
"Now, after another can't-believe-it-until-you-see-it moment, I wouldn't be shocked if the Ravens marched to another Super Bowl," Hensley wrote.
"I'm not saying the Ravens are the NFL's best team. Heck, I can't say they're a consistent team. But, when the game is on the line, there is no team I trust more in the NFL right now than the defending Super Bowl champions."
Check out how close that game-winning kick came to hitting the field goal post in the GIF below from Deadspin. Just a few inches to the right, and the Ravens lose. Crazy. [Deadspin]
@ryanmink: By the way, what other NFL kicker goes to his post-game press conference with a sleeveless cutoff? @jtuck9 [Twitter]
Looks like cornerback Lardarius Webb may have gotten away with a pass interference when he tugged on Lions receiver Kris Durham's arm in the end zone … @xmasape [editor of Kissing Suzy Kolber]: So only the Ravens get PI calls tonight, apparently [Twitter]
@MikePereira [Former NFL VP of officiating]: It is called an "inside arm grab". It is a category of interference. The inside official has to be aware of that. Bad miss. [Twitter]