'Flaccoing' The New 'Tebowing'
There's "Tebowing." And now there's "Flaccoing."
It's a term and pose going viral after the Ravens' loss Sunday to Denver, i
ronically, the birth place of "Tebowing."
After a 98-yard footrace and diving effort to tackle cornerback Chris Harris before he completed a pick six, quarterback Joe Flacco laid flat on the ground for a few seconds with his face, which was bleeding from a cut by Harris' cleat, planted in the turf. (By the way, how about the speed Flacco showed off as he almost caught Harris even after being partially blocked at the 50-yard line? Wow.)
"Flacco laid there for a few seconds, though it felt like a few minutes," The Baltimore Sun's Matt Vensel wrote. "As he counted little black FieldTurf specks on the goal line, I couldn't help but wonder where his thoughts went after one of the worst plays in what has become a very disappointing season for the no-longer-young quarterback."
Well, we got to hear Flacco's thoughts after the game, and they impressed the surrounding media.
Flacco stood with poise and a willingness to answer tough questions.
"To Flacco's credit, he faced the media after the game and answered every question thrown at him, unlike others in the locker room," wrote WNST's Drew Forrester.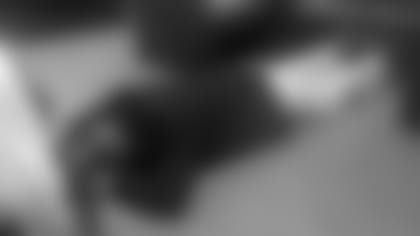 Added BaltimoreRavens.com's John Eisenberg: "One of the time-tested commandments of sports journalism is it's time to start paying close attention when things are going badly. You learn a lot at such moments. It's easy for players and a team when things are going well and the wins are stacking up, but what happens when the losses roll in? Who stands up and leads? Who keeps their poise? Who doesn't? Who grabs the trouble with both hands and looks for a way out? Who capitulates to the mounting pressure?
"Flacco didn't have a good game on the field, but I thought he was impressive in the locker room afterward, acknowledging that he made mistakes and honestly conceding that the untimely losing streak 'is going to test all of us.' He kept his poise."
The image of a dejected Flacco sprawled out is a pose that fans (and media, as WNST's Glenn Clark demonstrates in the pic to the right) are now having fun with and could be remembered as one of the defining moments of the Ravens' season.
So what will become of "Flaccoing?"
After the quarterback took responsibility for his mistakes and acknowledged it's time for the team to look itself in the mirror, his attitude suggests he could pull himself out of his recent slump, and eventually give new meaning to the term.
If and until that happens, The Sun's Kevin Cowherd thinks it is a pose we could be seeing for a while.
Bisciotti Positioned To Get 'Big Fish' Coordinator
It's unclear whether Jim Caldwell is the Ravens'  interim offensive coordinator or long-term solution, but without a commitment to any person at this point, the door is open for Ravens brass to make one of several moves this offseason.
That move could be to keep Caldwell if it's a job he wants, but Jason La Canfora believes Ravens Owner Steve Bisciotti is in a good position to make a decision.
"In years past, they go deep into the playoffs, they haven't had the pool of guys out there to interview for that job that they might want," CBSSports.com's Jason La Canfora said. "Bisciotti's now positioned to go get a big fish and pair that person with Flacco and try to take that offense to the next level."
La Canfora named some of the "big fish" the Ravens could be eyeing, including three current head coaches that could possibly be on the market: San Diego's Norv Turner, Arizona's Ken Whisenhunt and Dallas' Jason Garrett.
Calling Boulware, Sharper, Starks and McAlister
The Ravens' already-depleted defense received another piece of devastating news Monday. Linebacker Jameel McClain is done for the season with a spinal cord contusion.
With 16 defenders, about half of which are starters, missing at least one game this season, the Ravens are in need of reinforcements.
"At this point, the Ravens don't just need Ray Lewis to come back," wrote ProFootballTalk.com's Darin Gantt.
"They might need Peter Boulware, Jamie Sharper, Duane Starks and Chris McAlister and several other old hands just to get them through the season."
Seriously though, Lewis is badly needed. He's eligible to come off the injured reserve-designated for return list, but hasn't been moved to the active roster yet. In order for him to play against the New York Giants Sunday, he would have to be activated by Saturday at 4 p.m.
Should Suggs Have Been Sidelined?
Returning for the first time since suffering a biceps injury in a Week 13 loss to the Pittsburgh Steelers, Suggs appeared to be in pain at times when he grabbed at his arm and shook his biceps. He went to the sideline a few times, talking with trainers.
Forrester wonders why the Ravens didn't permanently pull Suggs from the game when it was out of reach in the fourth quarter.
"Why did Terrell Suggs play throughout the second half when the team was losing 34-10?" he asked. "I get it.  Someone has to play.  But when you have a star player suffer what we were all led to think was a serious injury just two weeks ago, why would you have him out there down 24 points with six minutes left in the game?"
Suggs did actually spend most of the second half watching from the sidelines, as he played 42 of the 77 snaps in the game, which is 55 percent of the defensive snaps. Most of that time on the sidelines came in the fourth quarter. 
The answer not to sit Suggs entirely could* *lie in Head Coach John Harbaugh's response last night when asked about Suggs "obvious pain."
"Was he in obvious pain? Did you ask him about it?" Harbaugh asked. "I'm not aware of the pain. I'm not sure what you're talking about. … Give me a question that doesn't assume certain things that aren't true."
Suggs declined interviews after the game, so it's not clear what his status is. But if he wasn't in pain and his biceps weren't in question, that may be why he was still playing.