How Forsett Spends His (Bargain) Salary
After all, the guy is fourth in the NFL in rushing yards, arguably the Ravens' MVP and deserving of the Comeback Player of the Year award.
All of this for the bargain price of $730,000.
Of course his salary is waaaay more than the average Joe, but it's also not getting him the lavish lifestyle some professional athletes have a reputation for enjoying.
So just what does Forsett spend his money on?
"You won't catch the Ravens' running back getting bottles at the club – more like giving bottles in the crib, which the seven-year vet, on a $730,000 salary, shares with wife Angie, 2-year-old Judah and, coming in early 2015, a little bro for Judah," wrote ESPN's Sam Alipour.
Forsett's most "baller possession" isn't a Lamborghini or Porsche.  It isn't a big house, or oversized jewelry. No, he says it's his 2008 Chevy Tahoe. He spends a reasonable $1,900 on rent/mortgage.
The dumbest purchase he's ever made was buying an industrial fan. It was an impulse buy in Seattle for a house that had no AC.
"It was so hot one day that I went out and did a stupid impulse-buy – I bought this huge industrial fan," he said. "That thing was so loud, I couldn't even hear the TV. Oh man, I must've spent at least $100 on it. And I have no clue where it is today. That was pretty dumb."
He only spends 3.3 percent of his money on entertainment. What's his most costly spending habit? Well, it's a lot like mine.
"Eating," he said. "I love to eat, man. I'm not a big boy now, but I'm definitely gonna be a big boy when I retire."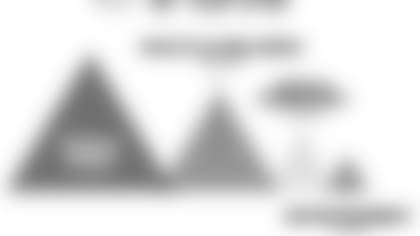 A three-day spending diary in October revealed how Forsett forks out the dough for food. His biggest purchase was at Wegmans, where he bought groceries, diapers and cleaning supplies for $280.65.
Here's the list of purchases in the* *three days leading up to Halloween:
-      $12.12: Breakfast sandwiches at local restaurant
- $15: Passes to pumpkin patch event
- $4: Hayride
- $6: Two pumpkins
- $80: Gas
- $11.40: Fish dinner at local restaurant
- $125: One-hour massage
"The masseuse comes to my house twice a week. On Monday, we do it soft, not too deep, since I'm still sore from the game. Fridays we'll go a little deeper."
-      $20: CrossFit workout for my wife
- $70: Monthly fee for Judah's exercise classes, My Gym
- $15: Cupcakes, Icedgems Baking
- $28.40: Three sandwiches, FireHouse Subs
- $24: Dinner, Chipotle
- $280.65: Groceries, diapers, cleaning supplies
- $60: Dinner, Edo Sushi
"I'm an average guy, just really laid-back," Forsett said. "It's hard to say if I have the typical NFL lifestyle because there are a lot of different guys in the locker room with different personalities and backgrounds. But I'm a family man, and we family men in the locker room, we tend to be pretty reserved and all about the necessities. I try to live below my means and stay away from the lavish. I'm all about savings. "
Hensley: Time To Use Taliaferro In Red Zone
John Harbaugh was asked whether running back Lorenzo Taliaferro was in the head coach's doghouse. The question stemmed from the rookie only getting three carries since he lost a fumble on Nov. 2 against the Pittsburgh Steelers.
Harbaugh said the decrease in carries was not a result of any punishment.
"If you look at it, no one has many carries besides Justin," Harbaugh said. "You'll see Lorenzo, without question. There's no punishment going on there. I just think it's been Justin has been playing so well, but Lorenzo has to be there for us, especially down the stretch here."
Seriously. Why would you take the ball out of Forsett's hands?
And Pierce really hasn't seen that much action either. He's had just 21 carries since Nov. 2.
That said, there may be one area the Ravens would want to feed the rock to Taliaferro more, says ESPN's Jamison Hensley.
Quarterback Joe Flacco said after Sunday's game against the Chargers he would have liked to run the ball better in the red zone.
"One option to improve running the ball in the red zone is giving it to your biggest back who can move the pile," wrote Hensley. "That would mean increased carries closer to the goal line for rookie fourth-round pick Lorenzo Taliaferro, who has scored four touchdowns on 14 red zone carries."
Ravens Could Have Had Brandon Flowers
Ravens fans saw what Chargers cornerback Brandon Flowers is capable of.
He held veteran wide receiver Steve Smith Sr. to one catch for 2 yards Sunday against San Diego.
"The Ravens kicked the tires on signing Flowers in June after his release by the Chiefs. However, Flowers wound up going to the Chargers on a one-year, $3 million deal. He has been one of the league's best cornerbacks and one of the top offseason bargains. Obviously, in hindsight, the Ravens' decision-makers probably wish that they made a more aggressive play for Flowers."
Zrebiec notes the Ravens didn't know at the time that there would be significant injuries to Jimmy Smith, Lardarius Webb, Asa Jackson and Aaron Ross.
"But General Manager Ozzie Newsome says every offseason that you can never have enough quality cornerbacks," Zrebiec added. "And it was pretty clear early in training camp that the Ravens didn't."
Why Bench Brooks, But Not Elam?
Brooks didn't play a single defensive snap Sunday after a bad play that resulted in a touchdown in New Orleans. Brooks missed a chance at an interception in the end zone by misplaying the ball.
"It obviously has been a difficult transition from college to the NFL for Brooks, who has looked confused and overwhelmed at times on defense," Zrebiec wrote. "But who hasn't on the Ravens' back end?
"Former first-round pick Matt Elam has been one of the biggest offenders, and he played pretty much every defensive snap against the Chargers. Brooks is probably the fastest and most athletic safety on the Ravens, so I'm not sure what they have to lose by playing him more, even if it's at the nickel cornerback spot."
ESPN: No. 13 (moved down two spots)
"Before Sunday, the Ravens had won 12 straight games with a double-digit lead in the fourth quarter. Baltimore blew a 23-13 lead in the fourth quarter against the Chargers."
SportingNews.com, Vinnie Iyer: No. 13 (moved down one spot)
"Torrey Smith and the passing offense did their best to scoot past San Diego, but their injury issues in the secondary keep coming up as a big bugaboo. The Ravens are pretty much solid elsewhere, but that could be enough to keep them out of the playoffs."
Fox Sports, Dan Schneier: No. 14 (moved down five spots)
"It seems like when Terrell Suggs disappears for a game that the entire pass rush goes with him. That's not something the Ravens can afford given their many issues at cornerback."
ProFootballTalk.com, Mike Florio: No. 13 (moved down two spots)
"If they can't beat Miami, Jacksonville, Houston, and Cleveland in December, the Ravens don't deserve to have a crack at the likes of New England, Denver, Indianapolis, and Cincinnati in January."
CBSSports.com, Pete Prisco: No. 16 (moved down two spots)
"Blowing that fourth-quarter lead to the Chargers was a killer. That game at Miami could decide their season."
NFL.com, Elliot Harrison: No. 17 (moved down three spots)
"The Ravens' hopes for the AFC North probably took a knockout blow Sunday. They are now a game and a half back while also being 0-2 versus the division-leading Bengals. Philip Rivers made a fatpit-beef sandwich out of that secondary. Still, Baltimore could have won if it weren't for the 14 penalties, including a most ill-timed PI."
Outside linebacker Elvis Dumervil doesn't think he lined up offside. "I wouldn't line [up] offside. I think I'm a pro," Dumervil told Hensley. "They made the call. Inexcusable. Can't do it." [ESPN]
The Tennessee Titans signed offensive tackle Terren Jones to their active roster off the Ravens' practice squad. [The Baltimore Sun]