Ravens Must Flip Coin For 2014 Draft Pick
Of course the Ravens would have to flip a coin to determine their 2014 draft slot. It seems only fitting after a wild 8-8 season.
The Ravens won't know if they get the No. 16 or 17 draft pick until February at the NFL Combine, where they will flip a coin with the Dallas Cowboys, according to ESPN's Jamison Hensley. Win the coin flip, and the Ravens will get the No. 16 pick,* *just behind the No. 15 Pittsburgh Steelers.
"Nothing has been simple for the Baltimore Ravens this year, so why should their draft order be any different?" asked Hensley.
The reason for the coin flip?
Strength of schedule was used to separate the six teams that finished with an 8-8 record. Since the Ravens' and Cowboys' opposing teams had identical .484 winning percentages, a coin flip will become the final tiebreaker.
Regardless of the coin-flip outcome, the Ravens' position will be the highest they've had since 2006 when they selected Haloti Ngata at No. 12. They picked up franchise quarterback Joe Flacco with a similar pick, No. 18, in 2008.
"It is believed that this is the first time the Ravens will have a coin flip over their draft order since 2003, when they won the flip over the Seattle Seahawks for the No. 10 pick," wrote Hensley.  They got Terrell Suggs that year.
Other than slots 16 and 17, the first 20 draft picks have been set. The final 12 will be determined by the outcome of the playoffs.
Houston Texans: 2-14 (.559)

St. Louis Rams (via Washington Redskins): 3-13 (.516)
Jacksonville Jaguars: 4-12 (.504)
Cleveland Browns: 4-12 (.516)
Oakland Raiders: 4-12 (.523)
Atlanta Falcons: 4-12 (.553)
Tampa Bay Buccaneers: 4-12 (.574)
Minnesota Vikings: 5-10-1 (.512)
Buffalo Bills: 6-10 (.520)
Detroit Lions: 7-9 (.457)
Tennessee Titans: 7-9 (.504)
New York Giants: 7-9 (.520)
St. Louis Rams: 7-9 (.551)
Chicago Bears: 8-8 (.465)
Pittsburgh Steelers: 8-8 (.469)
16 or 17. Baltimore Ravens: 8-8 (.484)
16 or 17. Dallas Cowboys: 8-8 (.484)
New York Jets: 8-8 (.488)
Miami Dolphins: 8-8 (.523)
Arizona Cardinals: 10-6 (.529)
While Ravens fans were spouting off about their team missing the playoffs for the first time in six years, Cleveland Browns fans were angry about the firing of their fourth coach, Rob Chudzinski, in six years.
Our own Garrett Downing pointed out that since John Harbaugh became the head coach of the Ravens in 2008, the Browns have cycled through Romeo Crennel, Eric Mangini, Pat Shurmur and Chudzinski. We'll find out soon enough who the fifth coach to battle Harbaugh will be.
Despite going to the playoffs five years in a row, Harbaugh said he will never be content with not making it again. He's being praised for such an attitude, but what should Ravens fans' attitude be?
The Baltimore Sun's Matt Vensel called them "spoiled."
"This has been a frustrating season for #Ravens fans, I get it. But you have been spoiled by one of the NFL's most stable organizations," he wrote. "[T]hey will be back in the thick of things next year. About 15 teams would love that opportunity right now."
While much work needs to be done this season (more on that below), WNST's Luke Jones puts the season's conclusion in perspective.
"It's easy and fair to be disappointed, but the Ravens gave this city a terrific run that included five straight playoff appearances, three AFC Championship appearances, and a Super Bowl title. History has proven over and over that you can't be great every year and no run of success will last forever," Jones wrote.
"General manager Ozzie Newsome, Harbaugh, quarterback Joe Flacco, and others have built a great deal of equity for fans to remain confident that the Ravens will be back in 2014 and beyond, but this winter brings a critical offseason with many issues to address. A proven track record is invaluable, but the NFL is a results-driven endeavor and Baltimore didn't meet its own high standards laid out in recent years."
The End For Terrell Suggs?
The projected salary cap for 2014 is $126.3 million, and $70.9 million of that is tied up in six players, according to Jones.
DT Haloti Ngata: $16 million
QB Joe Flacco: $14.8 million
LB Terrell Suggs: $12.4 million
CB Lardarius Webb: $10.5 million
RB Ray Rice: $8.75 million
G Marshal Yanda: $8.45 million
Things could, and likely will, change with signings and releases, but as of now the Ravens only have $7 million in cap space heading into the offseason with 54 players on the roster, according to Brian McFarland of Russell Street Report.
Cap room is needed, and speculation has already begun about where the Ravens could find it. Three names repeatedly pop up: Suggs, Ngata and Rice.
McFarland says cutting Rice or Ngata would probably create too much dead money, but cutting Suggs would open up $7.8 million and Jones thinks that could be a real option.
"Barring any restructuring of the other contracts, only the release of Suggs would provide substantial cap relief as he's scheduled to receive a $7.8 million base salary in the final year of his current deal," Jones wrote.
"That could spell the end of Suggs' 11-year run in Baltimore unless Newsome and the Ravens try to work out a short-term extension that gives the veteran some upfront money and a lower cap figure for 2014. Suggs finished the year with 10 sacks but collected only one in his final eight games and made very little impact down the stretch."
Forrester Calls For New Offensive Coordinator
While he admits plenty of blame can go around for a rough 2013 season for the offense, WNST's Drew Forrester believes the first step to improving the unit is hiring a new offensive coordinator.
Forrester hasn't heard any grumblings that such a move will be made. "[F]or all I know, they're going to keep Jim Caldwell on board," he said.
But one year after the Ravens parted ways with Cam Cameron and Caldwell helped lead a Super Bowl-winning offense, Forrester believes it's time for another new injection.
"What we just saw, though, for sixteen weeks, was about as boring, pedestrian and unimaginative as it could possibly get from a team in the best football league in the world," Forrester wrote. "The coaches and minds behind the scenes in the NFL are supposed to be the best-of-the-best.  The cream of the crop.  What the Ravens exhibited on offense in 2013 was far from 'cream of the crop'* *stuff.  It was dreadful.
"And, because you can't fire all the players and start over next August, the guy who runs the offense has to go.  Along with a lot of others who have had their fingerprints on the offensive blueprint in Baltimore over the last couple of years."
Forrester would like to see a strong voice in the position who could push Flacco to try new things the way Steelers Offensive Coordinator Todd Haley convinced Ben Roethlisberger to adopt a new philosophy that the quarterback initially wasn't comfortable with.
Two names that Forrester floated out as potential candidates included Rob Chudzinski, who was fired as the Browns head coach last night, and Jim Schwartz, if he gets fired by the Detroit Lions.
"I'm not campaigning for either of those men and I haven't seen someone at Owings Mills creating a 'reserved parking spot' sign for either of them," Forrester wrote. "But, let's just say I didn't pick those two names out of a hat, either. There are lots of other names to consider, of course, and the Ravens are known as one of the best 'hiring organizations' in the NFL."
Misery Loves Company … Steelers Miss Playoffs Too
It looked like the Steelers were about to make the playoffs when the Kansas City Chiefs backups were set up to beat the Chargers on a game-winning 41-yard field goal with four seconds* *remaining.
Kicker Ryan Succop missed wide right, and the Chargers went on to win in overtime. The Chargers advance to the playoffs, and the Steelers are out.
Ah, misery loves company.
"Somehow it feels a little better now," receivers Torrey Smith tweeted after the Steelers officially missed out on the postseason.
Buuuuut, it didn't completely take away the sting of missing the playoffs himself.
"I'm still salty though," Smith added in another tweet.
Oh,* *by the way, Steelers fans are real salty too. The Chargers should have been flagged on the missed field goal for overloading one side of the line of scrimmage. Check out the pic below from CBS Sports.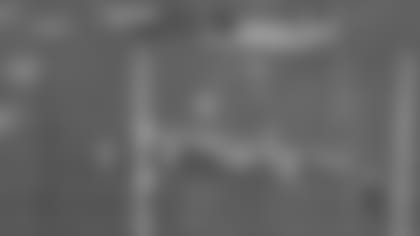 "The [offseason] heavy lifting will be done by Newsome, who didn't have a good offseason this past winter in trading away veteran wide receiver Anquan Boldin and failing to improve the offense around Flacco," wrote Jones. "The injury to tight end Dennis Pitta couldn't be predicted, but the failure to address the receiver position in the wake of Boldin's departure was a mistake. Philosophically, the Ravens turned away from what won them a Super Bowl last February in sacrificing offense for defense and the former suffered dramatically because of it."
@jeffzrebiecsun: Ravens have zero sacks and zero quarterback hits. The disappearance of their pass rush has been astonishing. [Twitter]
An unidentified man reportedly suffered a heart attack at the Ravens-Bengals game and was treated and transported to Christ Hospital. He subsequently suffered a second, and possibly a third heart attack, and died at the hospital. [Cincinnati.com]
@MichaelOher: Love fighting with my Brothers week In and week out it was a privilege this season!! Shout out Marshal Yanda!!! [Twitter]
@Sunjeffbarker [The Baltimore Sun]: So it goes: One year after Os, Nats, Ravens, Redskins made playoffs and put Balt-Wash on Sports Illustrated cover, none made return trips. [Twitter]
Could this have been the worst punt ever? Bengals backup punter Kevin Huber kicked a 10-yard punt* *that set up the Ravens' game-tying touchdown and two-point conversion. If only the Ravens defense could have prevented the 90-yard drive that ensued … [SB Nation]