AFC Playoff Pretenders and Contenders
I looked at various scenarios of wins and losses throughout the AFC, and just about every time, the game with biggest effect on the Ravens' chances of advancing to the playoffs was this Sunday's contest against the Miami Dolphins.
"Without a doubt, there's no other way to put it than it's a game we have to win," offensive tackle Eugene Monroe told The Baltimore Sun's Aaron Wilson.
There are a lot of other factors as well, with six AFC teams holding 7-5 records and one team (San Diego) one game ahead. The Ravens could still win the division if the Bengals melt down and lose their 1.5-game lead, but they control their own destiny.
As such, WNST's Luke Jones (who will be the guest on Ravens Unscripted this week) examines the wild-card race, separating teams into CONTENDER and PRETENDER categories, in order of current AFC seedings:
5. San Diego Chargers (8-4) – CONTENDERRemaining schedule: New England, Denver, at San Francisco, at Kansas City
Jones: "[T]hey own a one-game lead over the 7-5 teams in the AFC and remain in excellent shape if they can go 2-2 in their final four."
6. Miami Dolphins (7-5) – CONTENDER
Remaining schedule: Baltimore, at New England, Minnesota, New York Jets
Jones: "A Week 15 trip to Foxborough won't be easy, but their final two home games are very winnable against two teams with a combined seven wins. … It certainly looks like Sunday's game in Miami could go a long way in determining who secures a wild-card spot in the AFC playoff race."
7. Kansas City Chiefs (7-5) – PRETENDER
Remaining schedule: at Arizona, Oakland, at Pittsburgh, San Diego
Jones: "Kansas City can't throw the ball and the run defense has been gashed in recent weeks, which doesn't make for a good combination entering the season's final month."
8. Buffalo Bills (7-5) – PRETENDER
Remaining schedule: at Denver, Green Bay, at Oakland, at New England
Jones: "The Bills continue to hang tough in the AFC playoff race after a nice win over the Browns on Sunday. However, remaining games against the Broncos, the Packers and the Patriots should end any serious discussion about Buffalo qualifying for the postseason."
9. Baltimore Ravens (7-5) – CONTENDER
Remaining schedule: at Miami, Jacksonville, at Houston, Cleveland
Jones: "The remaining schedule is reasonable, but how do you trust a secondary that continues to be toasted by any opposing passing games with a pulse? … We'll see what Harbaugh's team is made of in the next three weeks. The running game and the offense will need to come up huge."
10. Pittsburgh Steelers (7-5) – CONTENDER
Remaining schedule: at Cincinnati, at Atlanta, Kansas City, Cincinnati
Jones: "The Steelers continue to be one of the most bipolar teams in the NFL as they stubbed their toe Sunday against New Orleans, who was coming off three straight losses. When at their best, the Steelers have one of the most balanced offenses in the league, but the defense doesn't scare anyone and could easily be exploited down the stretch. The biggest factors working in the Steelers' favor are a 6-3 conference record and two games with the Bengals, which could catapult them into the AFC North lead. Given how unpredictable they've been, the Steelers could win out or lose out and no one should be surprised with either outcome."
11. Cleveland Browns (7-5) – PRETENDER
Remaining schedule: Indianapolis, Cincinnati, at Carolina, at Baltimore
Skinny: "They'll need to beat either the Colts or the Bengals at home to give themselves any decent chance at all in the final two weeks."
Mike Wallace Still 'Hates' Ravens
That Ravens-Steelers animosity runs deep.
Even though he left Pittsburgh two years ago, wide receiver Mike Wallace still has a certain disdain for the Ravens. And it's manifesting itself as the now-Dolphin prepares to host Baltimore in a playoff-like contest.
"It's still in my mind 'Purple Week.' Every time I think about those guys, it's still that week, no matter what team I play for," Wallace told Baltimore media in a conference call yesterday. "I still have the same thoughts in my mind about them as I did when I first started playing for Pittsburgh.
"We hate those guys, we always have.  We always have hated those guys, so I mean we know it's a physical week. We know it's going to be one of those weeks where you have to bring your hard hat."
Whether playing for the Steelers or Dolphins, Wallace has enjoyed his fair share of success against Baltimore over the years.
2013 (with Miami): 7 catches, 105 yards, 0 touchdowns
2012 (with Pittsburgh):9 catches, 68 yards, 0 touchdowns (in two games)
2011 (with Pittsburgh): 12 catches, 175 yards, 1 touchdown (in two games)
2010 (with Pittsburgh): 7 catches, 100 yards, 0 touchdowns (in two games)
Wallace is likely chomping at the bit to take on the current Ravens secondary, which has lost several players to injury and is ranked 31st in the league in passing yards allowed per game.
"I just see just a different group of guys (who are) probably still learning to play together," Wallace said. "But I still see some physicality, they do play for the Ravens, used to seeing a physical team with those guys, I still see that.
"(Lardarius Webb) is the only one I remember from back, you know, those Pittsburgh days. It's a whole new secondary."
Recent Playoff Teams Had Poor Secondaries
Here* *are some interesting stats that could give Ravens fans hope about overcoming deficiencies in the secondary, per The Sun's Jon Meoli:
Over the past five seasons, a total 13 teams have made the playoffs with a pass defense ranking in the bottom fourth of the league. Of those 13 teams, four have reached the Super Bowl (New Orleans in 2009, New England and the New York Giants in 2011, and Denver in 2013).
The Saints and Giants won the Super Bowl with their defenses ranked 26th and 29th in passing yards allowed, respectively.
"So it can be done. It's totally reasonable to traffic in doom and gloom, especially when you blow a 10-point lead at home in the span of six minutes," Meoli wrote. "But plenty of other scenarios existed in that game where the lead could have been double that, and the whole conversation is moot."
Forsett's Knee Injury Not Considered Serious
If you were feeling nervous when you saw running back Justin Forsett missed practice yesterday with a knee injury, perhaps this will ease your concerns: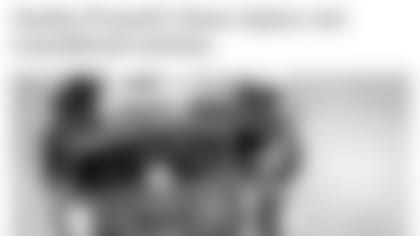 "[He] is expected to start and have his usual workload Sunday against the Miami Dolphins," reported The Sun' Aaron Wilson.
Forsett also told reporters that he doesn't expect the knee problem to keep him out of Sunday's game.