Punishment For Ref Failing To Throw Flag?
If Steelers Head Coach Mike Tomlin's punishment is announced today (Jason La Canfora says it could), one wonders if there will also be any announcement about the officiating crew that failed to throw a flag on Tomlin for being on the field.
NFL Vice President of Officiating Dean Blandino acknowledged yesterday that Tomlin should have been penalized.
"Anytime a player or a coach from the sideline is in this white area, that's a 15-yard penalty for unsportsmanlike conduct," Blandino said on "NFL Total Access." "If they interfere with the play, it could be what's called a 'palpably unfair act.' In that instance, the referee could basically penalize the team whatever he deems equitable, which could include giving the Ravens a touchdown. That's not the case here, but certainly coach Tomlin was in the white. He should have been flagged for unsportsmanlike conduct."
So Blandino seems to think that Tomlin didn't interfere with the play if he doesn't believe the "palpably unfair act" should have been in play.
What will that mean for the Thanksgiving night officiating crew? There were rumors of demotion, but that's still an unknown.
"It's unclear if the officiating crew will be downgraded," wrote The Baltimore Sun's Aaron Wilson.
Why Didn't Media Ask Tomlin Vital Question? New Video (Again)
Tomlin scored big PR points yesterday.
He was praised by many media members for being contrite and transparent while taking responsibility and not hiding from the heat of the moment.
While calling it "shocking" that onlookers would think he interfered with Jacoby Jones' return intentionally, Tomlin characterized his actions as an "embarrassing, inexcusable, illegal blunder."
"Good for Tomlin taking his deserved medicine," tweeted SI.com's Peter King. "Gut feeling is the NFL will look kindly on his mea culpa. Bet sanction is only heavy fine."
Tomlin told the media in attendance that he would answer any and all questions about the incident, but journalists failed to ask one vital question.
"Why is nobody asking Mike Tomlin why he was stationary and then took one big step TOWARDS the field when Jacoby started to break free?" tweeted our own Ryan Mink.
Over the past couple of days, three different video angles have emerged concerning the infamous side-step toward the field.
The first was from the television broadcast that showed Tomlin looking over his shoulder at Jones and jumping out of his way at the last second. The second came from KDKA-TV in Pittsburgh, showing Tomlin take what appeared to be a deliberate large side-step toward the field, but the footage only captures him in mid-step. The latest, and third, was a fan video from the stadium brought to light yesterday by ProFootballTalk.
In this fan video below (mobile users tap "View in Browser"), Tomlin is at the Pittsburgh 40 and at the 25- and 26-second mark, he takes his step toward the field seemingly *after *a big crowd reaction to Jones breaking free and looking like he would score. The camera wobbles with the crowd reaction, making it "more imperative for the NFL to review as many angles as it can to decide whether Tomlin made that quick step to the edge of the field after Jones broke through the coverage," wrote PFT.com's Mike Florio.
There doesn't seem to be any obstacle impeding Tomlin from viewing the RavensVision boards, making one wonder why he took the large side-step.
For some Ravens players, it's that step that makes Tomlin's actions appear deliberate, including for Josh Bynes, who had a good view of it as one of the blockers for Jones on the return.
"From behind, I'm looking, and I'm like, 'What is he [Tomlin] doing?' He [Jones] should have ran him straight over," Bynes told WNST. "All you see is him standing there, and he's looking at the big screen, and all of a sudden he sees Jacoby getting closer, and coming down the sideline, and he literally takes a nice, large right foot onto the field with his back turned.... It wasn't like, 'Oh, it was a coincidence.'"
"He was obvious," Bynes added. "He took a real big step, to get like that on the field, with your back turned. C'mon. Get outta here."
When Bynes watched the play again the next day on the coaches' game film, it solidified his opinion.
Chris Canty told WNST that it was "a low-life move" and Jones could have been badly hurt for the season had there been contact.
For some who don't believe the move could have been premeditated, Florio explains his thoughts on why it could be.
 "Intent doesn't require hours or days of advance planning," he wrote. "All sorts of intentional acts happen with only a flicker of premeditation.  Based on the currently available angles, a plausible case can be made that Tomlin made a knee-jerk, heat-of-the-moment decision to transform himself into an obstacle by taking a subtle yet distinct step toward the field.
That said, reports have repeatedly indicated that intent will have no bearing on their final ruling on punishment.
A fine is expected for Tomlin, and maybe a suspension and lost spot on the competition committee too. The Steelers organization could also be fined and lose a 2014 draft pick.
"From the league's perspective, intent doesn't matter," Florio wrote. "Which could mean that the Steelers and Tomlin are getting whacked for the result, regardless of whether there was a plan."
Secondary Improved, But More Need From Elam
No position group has improved more than the Ravens secondary, says The Baltimore Sun's Jeff Zrebiec.
After an up-and-down first two-and-half years, the question of creating a (Jimmy) Smith Island has already been discussed. Lardarius Webb seems fully recovered from his second ACL surgery from last season. Corey Graham has been a playmaker and James Ihedigbo has been "solid."
"But the one guy that you'd like to see a little more from is rookie ," Zrebiec wrote. "Elam has obviously improved since he was inserted in the starting lineup in Week 2. However, he still looks like he's thinking a little bit too much rather than just reacting and letting his physical skills take over."
Elam has yet to notch an interception in his rookie campaign, and he has two passes defensed.
A lot has been asked of the 2013 first-round pick after taking over the starting post so early in his career, and he hasn't made many game-changing mistakes. But Zrebiec believes quarterbacks will still target him.
"Elam has a lot on his plate as a rookie and he's seemingly a better fit at strong safety rather than free safety, which he's playing now out of necessity," Zrebiec wrote.  "However, you can bet that quarterbacks like Matthew Stafford and Tom Brady will challenge Elam and he's going to need to stand up to the test."
The Ravens are creeping up the power rankings just like they crept back into the final wild-card playoff spot. The average ranking below is No. 14, putting them among the top half of NFL teams again.
SB Nation, Jason Chilton: No. 13 (dropped one spot from last week)
"They won it by a fingernail – or maybe a toenail, when you consider Justin Tucker's five field goals – but the Ravens came out on top of their latest black-and-blue brawl with Pittsburgh. As of now they're your sixth seed in the AFC, but they'll need to negotiate a tough closing slate (home against Minnesota and New England, on the road against Detroit and Cincinnati) to lock down a playoff berth. Any hopes for playoff success center on defense and Joe Flacco playing over his head for another four game stretch – though as depleted as the Ravens' offense is this season, Flacco would have to play far enough over his head to interrupt filming on Gravity II."
ESPN, Panel of six voters: No. 14 (jumped four spots)
"Joe Flacco was 6-for-10 for 93 yards targeting Torrey Smith Thursday night. Smith caught the Ravens' only touchdown, with Justin Tucker's career-high five field goals doing the rest."
CBSSports.com, Pete Prisco: No. 14 (jumped four spots)
"They have a favorable schedule down the stretch and the defense is getting better by the week. Are they ready to make a push?"
Fox Sports, Brian Billick: No. 14 (jumped four spots)
"The Ravens are 5-1 at home this season and are an amazing 38-8 at home in the Joe Flacco/John Harbaugh era."
SportingNews.com, Vinnie Iyer: No. 14 (jumped two spots)
"The Ravens outlasted the Steelers in another classic, tight physical game between the AFC North archrivals. With it was the reward of getting closer to ensure another playoff trip for John Harbaugh and Joe Flacco."
NFL.com, Elliot Harrison: No. 16 (jumped two spots)
"Big win for the still-viable Ravens. For all their problems -- the exodus of veteran players, losing Dennis Pitta to injury, not being able to run the football -- they've quietly hung in there in both the AFC North and AFC wild-card races. Thursday night's matchup with the Steelers was a classic slugfest, but John Harbaugh's group made the plays when it needed to. This was especially true of the very unit that Harbaugh used to specialize in: special teams. By the way, who's a better kicker than Justin Tucker? Noooooobody."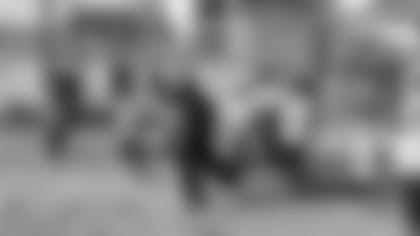 Even though the Ravens currently hold a playoff spot, Jamie Dukes and Solomon Wilcots aren't convinced they will hold onto it over the next four weeks. Based on how tough the Ravens schedule is down the stretch, they think the Steelers could overcome. [NFL.com]