How Steelers Could Lose Draft Pick
Mike Tomlin said he doesn't want to discuss the sideline incident any further.
The only problem is the league is dangling the threat of modifying or stripping draft choices over the Steelers' head.
And they reportedly aren't happy about it.
"The very top of the Steelers organization – and I'll let you figure out who that is – just told me earlier that they are very upset with the idea that the NFL was dangling this forfeiture or adjustment of a draft choice because there's no precedent for this," Pittsburgh-Post Gazette's Gerry Dulac told the NFL Network.
"I really don't think the league is going to take a draft pick. This whole thing is based on appearance. It's based on the appearance that Mike Tomlin maybe did something intentional. When you look at what he did, he really did nothing. Jacoby Jones was going to be caught by Cortez Allen, they kicked a field goal and they won a game."
If the NFL is going to strip or adjust a draft pick, why not do it now? What are they waiting for?
NFL.com's Ian Rapoport explained that the final decision will hinge on two factors: 1) Where the Steelers finish and what each draft pick is worth, and 2) "unforeseen ramifications" of Tomlin's act.
For example, the number of points each team scores is one of the tiebreakers in various tiebreaking procedures for a playoff spot. Because Tomlin's act may have robbed the Ravens of four points, it could affect their playoff standing. The chances of needing that tiebreaker are slim.
ProFootballTalk.com's Mike Florio adds that with the trade deadline already passed, there's no need to make a decision until the final draft order is set.
If the league does wind up stripping a draft pick from the Steelers, Dulac says it may simply not award a late-round compensatory pick.
How big of a deal would it be for the Steelers to lose a late-round selection? Well, where would they be without receiver Antonio Brown, who was drafted in the sixth round?
Florio floats out the idea of swapping a Steelers pick with the Ravens.
"In tampering cases, the draft-pick penalty included a flip-flopping of picks between the teams involved," Florio wrote. "Based on where the Steelers and Ravens pick, Pittsburgh may not lose a draft pick; the Steelers may simply have a pick downgraded."
Never Too Early For Mock Draft
Since we're talking about the draft, this might be a good time to look at one of the early mock drafts out there. This one comes from SI.com's Chris Burke.
Burke has the Ravens finishing with the 18th-overall pick, and with it, they select Notre Dame defensive end Stephon Tuitt.
Some peeps around town would prefer to see the Ravens use their first-rounder on more weapons for their $120 million franchise quarterback. None the less, here's Burke's explanation:
"Tuitt has taken heat for a somewhat disappointing 2013," he wrote. "His talent and ability to play in a number of different looks up front will win out in the end. Arthur Jones is headed toward a hefty free-agent contract while Chris Canty is due a roster bonus in March. Nabbing Tuitt would allow the Ravens to move on from one or the other without losing sleep."
Official Expected To Be 'Downgraded'
The league finished up their referee evaluations late yesterday, according to Rapoport, and the Thanksgiving crew that failed to flag Tomlin is expected to be "downgraded."
That essentially means they would be given bad grades for their job performance, which could affect post-season placement.
Is that an appropriate "punishment?"
To give an idea of how a downgrade affects officials, King explained that when he followed the officiating crew from the Ravens-Bears Week 10 game, "the air came out of the room" when Gene Steratore got two downgrades.
Statement Game For Ravens Run Defense
With running back Adrian Peterson coming to town, the Ravens run defense has a chance to make a statement, says ESPN's Jamison Hensley.
"Pride has been restored in the Baltimore Ravens' run defense. A season after being ranked 20th in stopping the run -- the Ravens' worst showing since 1996 -- Baltimore is back to shutting down big gains and keeping backs out of the end zone.
"The Ravens' biggest test comes Sunday, when the NFL's leading rusher comes to Baltimore. …
This is a statement game for the Ravens' run defense, although no one would acknowledge it is."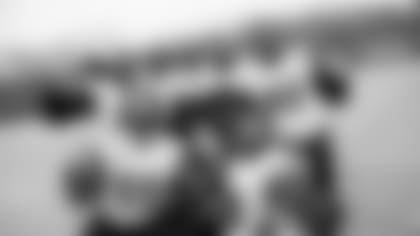 @jamisonhensley: In SportsNation poll, 46 percent of the nearly 100,000 votes say Tomlin fine was "just right." There was 33 percent who voted "too harsh." [Twitter] * Tomlin's fine should satisfy the Ravens. [ESPN] * @Ravens: John Harbaugh says he never thought Mike Tomlin's actions were intentional. [Twitter] * @RavenManiac Baltimore Beatdown]: Mike Tomlin's fine was [essentially $816.27. [Twitter] * Hey Jamison, if Ed Reed were to ask for a one-day contract to retire as a Raven, would the organization do it? "Without question, yes. He's the third-best player to ever suit up for the Ravens. Reed ranks behind Ray Lewis and Jonathan Ogden. Based on how Reed has played this season, we could see him calling it quits in a couple of months." [ESPN] * Where has been lately? "Brown has actually received the second-most snaps at wide receiver behind Torrey Smith," Hensley wrote. "It just seems that there has been more of an emphasis to get Jacoby Jones more involved in the offense and target Torrey Smith more in the red zone. It doesn't leave a lot of throws to go Brown's way." [ESPN] * @BaltimoreLuke WNST]: Based on Flacco's comments, it sounds like the #Ravens will [amp up Pitta's workload in practice this week to see about playing on Sunday. [Twitter] * @mzenitz Carroll County Times]: Harbaugh was [noncommittal on how Rice and Pierce's carries will be split up. Rice only had three more carries (12) than Pierce's nine Sunday * @Ravens: Who's ready for Adrian Peterson? These guys! [Twitter] * @Ravens: Get ready... We have a surprise guest taking over our Twitter account this Sunday. Any guesses? [Twitter]