Is Suggs Risking Long-Term Damage?
Would Terrell Suggs risk long-term damage by playing through a biceps injury?
That's the question on many minds after the reigning Defensive Player of the Year vowed to return this season.
The short answer is: we don't know.
But here's a speculative long answer given by ProFootballTalk.com's Mike Florio:
Florio reported that if Suggs needs surgery to repair a torn biceps muscle, there is only a small window to operate, otherwise the muscle will never return to 100 percent.
"For players who are close to the end of their careers, it makes sense to not operate," Florio wrote. "For players who have a long way to go, surgery ends up being the best option. In Suggs' case, surgery would shut him down for the season."
If Florio is correct, it still leaves a few questions that he doesn't have answers to. First, does Suggs even need surgery? Second, if he does, how long is the "window" open? Third, one could argue that a broken bone or torn muscle never really returns to "100 percent" even with surgery, so how much less than 100 percent are we talking?
These are all factors that Suggs and Ravens doctors are surely considering.
Whether Suggs needs surgery is still unclear,* *as Head Coach John Harbaugh said yesterday that the injury was a "very serious strain" and "could be" called a tear.
"It's something that you can possibly play with," he said. "He's figuring it out now with the trainers and the doctors."
Suggs was asked if it's possible the injury can heal and improve on its own as the season goes on.
"That's what I have been told," Suggs replied. "I have been told a couple of guys in the NFL are playing with torn biceps and that it may get better, it may not. You may need surgery, you may not. I don't really know. Like I said, we're going to go over it and decide what's best to do for the team and myself."
As Suggs said, there's always a risk to playing through any injury, but it's clear he and the doctors are aware of the various factors. They will make a decision going forward that will be the product of research, testing and thoughtful consideration.
Remember, Sizzle didn't make any predictions on whether he would return this season until he talked with Ravens doctors and trainers and then got a second opinion from outside doctors. He didn't make a rash declaration right after a painful loss against the Pittsburgh Steelers, which would have been tempting considering the fire burning in his heart.
"[T]he fact that Suggs is refusing to give up on the season tells you everything you need to know about his heart," wrote The Baltimore Sun's Matt Vensel. "He wants to leave his fingerprints on the Lombardi Trophy so badly that he plans on chasing after it with one good leg and grabbing it with his only fully-functioning arm.
"But Suggs is aware of the risk that playing through the biceps injury could make it worse, and he will weigh that as he decides to play through the pain or rest and rehab his arm until their season is really on the line."
The Sizzle Effect On RGIII
Suggs availability "will significantly alter" how the Ravens attack sensational rookie quarterback Robert Griffin III, says ESPN's Jamison Hensley.
Here are two stats to chew on as you consider that statement:
The Ravens are able to use more four-man rushes when Suggs is on the field, according to ESPN Stats and Information. Baltimore has the second-best Total QBR allowed (28.9) since Week 7. That's after sending similar pressure through the first six weeks of the season and posting the second-worst Total QBR through that span.
"That means the Ravens feel they need to blitz more without Suggs to generate a pass rush, which could work to Baltimore's disadvantage Sunday," wrote Hensley. "Sending five or more rushers hasn't been a successful strategy against RG3. Against the blitz, RG3 has completed 68.2 percent of his passes for nine touchdowns and no interceptions. His QBR against the four-man rush is 74.1, and his QBR against the blitz is 98.4."
Then there's this ESPN stat: with Suggs on the field, opposing quarterbacks are averaging 6.0 yards per attempt. They are averaging 7.7 when he is on the sideline.
Putting Defensive Injuries In Perspective
We know the Ravens defense has been dealing with a rash of injuries, but when The Sun's Jeff Zrebiec stacked them all in one paragraph, we are reminded just how bad it's been.
Only four defensive players have started all 12 games this season: linebacker Jameel McClain, cornerback Cary Williams and safeties Bernard Pollard (missed final three quarters of Eagles game) and Ed Reed.
"The Ravens don't use injuries as an excuse, and nor should their fans. However, it is pretty amazing to look at how hard their defense has been hit this season," Zrebiec wrote. "It's hardly the only reason, but it has to be considered when discussing why what is normally one of the top-ranked defenses in the NFL has fallen on such hard times."
Here's the loooong list of players that have missed at least one game with injuries:
Haloti Ngata: missed one game with shoulder and knee injuries
Ray Lewis: will miss his sixth straight game Sunday with a torn triceps
Suggs: missed the first six games with an Achilles tear
Lardarius Webb:  done for the year after an ACL tear
Jimmy Smith: has missed four straight games after hernia surgery
Pernell McPhee: missed four games with a hamstring injury
Paul Kruger: missed one game with a back injury
Terrence Cody: missed one game with an arm injury
Ma'ake Kemoeatu: missed one game with a knee injury
Dannell Ellerbe: missed last week with ankle, knee and finger injuries
Emanuel Cook: season-ending broken leg in preseason
Ryan McBean: season-ending broken ankle in preseason
Debating Better Fan Base: Ravens vs. Redskins
It's tough to compare because Washington has tested its fan base more the Baltimore has. The Redskins fans have had to endure seven losing seasons over the last decade.
Meanwhile, Ravens fans are on the verge of enjoying their fifth-straight playoff berth and have only suffered through three losing seasonsover the last decade. But the blue-collar fan base has also had a real effect on its team's winning ways. Ravens games are consistently sold out and the team just concluded a 15-game, home-winning streak. That is partly a credit to the fans.
CSNBaltimore.com's Ray Frager found an interesting fan video on the debate, which isn't really a debate at all, as it is heavily one-sided. It highlights a point of view from Ravens fans that their Washington counterparts aren't so loyal and have jumped on the RGIII bandwagon.
"If you're a Redskins fan — and if you are, why are you reading this? — you might not want to watch," Frager wrote. "Ravens fans, however, should enjoy."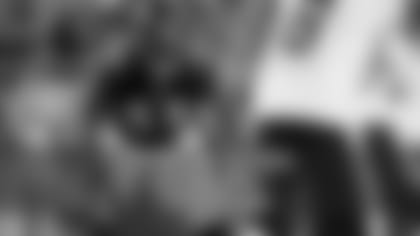 @teamsizzlefilms: I love what I do. I love yall. BEAST.MODE  (referring to pic on right) [Twitter] * "Ravens fullback Vonta Leach is so much fun to watch," wrote Zrebiec. "His pancake block on mammoth nose tackle Casey Hampton obviously stood out, but Leach was hitting everything in sight and was also a threat out of the backfield. He may have been the Ravens' best offensive player and you don't often say that about a fullback." [The Baltimore Sun] * Number to note: zero. That's the number of sacks allowed by right guard Marshal Yanda this season.*[The Baltimore Sun] * @jonathanogden75: Ogden Officially Enters College Football Hall of Fame [Twitter] * Remember Ray Rice'sspectacular 34-yard touchdown run against the Steelers Sunday? It was set up by a great block from . Rice started to run to the right, but was forced to cut back to his left. To make the 34-yarder possible, Reid drove Steelers DE Brett Keisel six yards backwards, freeing the lane for Rice to run through. *[CBSSports.com]