Flacco, T. Smith Set To Break Records
It hasn't exactly been a banner year for the Ravens offense (ranked 29th in total yards), but two of the units' leaders are still on their way to breaking some impressive records.
Let's start with franchise quarterback Joe Flacco.
While his overall stats are down, he's on the cusp of breaking the most important stat of all: wins.
If the Ravens take care of business Sunday against the Vikings, Flacco will have the most wins (61) by a Super Bowl-era quarterback in his first six seasons, according to ESPN's Jamison Hensley. He's tied with Steelers quarterback Ben Roethlisberger, who also has 60 regular-season wins (2004 to 2009).
"This has been the most difficult season of [Flacco's] six-year career," Hensley wrote. "But, as Flacco has so often repeated, it's all about wins with him and he's on the verge of distinguishing himself in that area."
More winning stats for Flacco?
His 60 regular-season wins ranks only behind Saints quarterback Drew Brees (61). He has the most wins of all starting QBs since he came into the league in 2008 (69 including playoffs). And he has the most regular-season wins at home since being drafted (38).
Now let's take a look at receiver Torrey Smith.
It's a little more difficult to* *achieve than Flacco's milestone, but Hensley predicts that Smith will break the Ravens' single-season receiving mark.
With four games remaining, Smith needs 250 receiving yards to break Michael Jackson's record of 1,201 yards set in 1996.
"I have no doubt that Smith is going to accomplish this, and it goes beyond the fact that he only needs to average 62.5 yards over the final four weeks to do so," Hensley wrote. "It's more about Smith's attitude."
Flacco Spotted Shopping With His Little Guy
It's funny to see Flacco treated like some Hollywood movie star.
He and his oldest son,* *Stephen, were "spotted" at the grocery store and then later buying a Christmas tree, per the pictures below from TerezOwens.com (mobile users tap "View in Browser" at the top of the page).
I love how Flacco is crossing an item off the grocery list. I have a feeling that list was hand-written by his wife, Dana. What a good husband and father.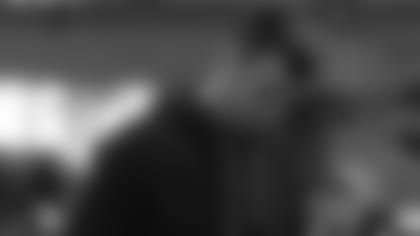 'Excellent' Chance Pitta Plays, But In Limited Role
All signs point to tight end Dennis Pitta playing in his first game of the season against the Vikings.
He's received an increased workload in practice, seen a specialist in New York and word on the street is the he'll play Sunday … just don't expect a huge role for him.
"I'm hearing there's an excellent chance he plays on a limited basis Sunday," The Baltimore Sun's Aaron Wilson said in an online fan chat.
Wilson wrote that the Ravens likely won't activate Pitta until Saturday afternoon (4 p.m. deadline). Pitta has had "minimal" soreness after working in practice and has had no setbacks with his surgically-repaired hip. The Ravens want to see how he feels before making a final decision.
The Ravens "briefly contemplated" playing Pitta against the Steelers last week, but as Flacco said, Pitta only worked on individual drills leading up to that matchup.
"The Ravens like what they've seen from him in team drills this week," Wilson wrote. "So, this looks like a good game for him to knock some rust off and expand his role later on. Barring something changing, I would be surprised if he's not active by Saturday and then playing a little bit on Sunday against the Vikings."
Wilson: Oher Felt Low-Balled In Contract Talks
The consensus among analysts*14 weeks into the season seems to be *that the Ravens will target recently-acquired left tackle Eugene Monroe for a long-term deal after the season, and not Michael Oher (assuming the team can't afford both).
The story may have been different had Oher and Ravens brass already agreed to a deal, which was reportedly discussed last year. But Oher apparently didn't like the offer.
"Here's what I've been hearing about the tackle situation: Oher felt low-balled during preliminary contract talks that never really got off the ground last year," Wilson wrote. "Now* *that he's going to be an unrestricted free agent and he hasn't had a banner season, he's most likely heading elsewhere.
"The Ravens intend to try to sign Eugene Monroe to a long-term deal. They like him and feel good about his future. They know it won't be inexpensive, though. This is a deal they really need to get done especially after expending fourth-round and fifth-round draft picks to the Jaguars to acquire him via a trade. All signs point toward him returning. He likes it here. His wife is from Maryland and this is one deal that the Ravens know they need to get done."
Wilson added that the Ravens are not currently in contract talks with Monroe or any other Ravens, including Terrell Suggs (contract expires after 2014, but carries a big cap figure next year) or Pitta, who will be an unrestricted free agent after this season.
Retired Lewis 'Crushing' Eli Manning In Jersey Sales
He may be retired, but future Hall of Fame linebacker Ray Lewis' jersey is still among the most popular in the NFL.
He's even "crushing" New York Giants quarterback Eli Manning's uniform sales, according to TMZ Sports.
"In fact, Ray's just BAAARELY getting beat out by Saints QB Drew Brees ... who wears the 10th best selling jersey in the league," TMZ wrote.
Lewis has the 11th best-selling jersey from April 1- Sept. 30, per the NFL Team Shop, with Manning coming in at No. 12. Neither TMZ nor the NFL reported jersey sale totals.
The No. 52 jersey is also ahead of other active stars, including Colts quarterback Andrew Luck, 49ers linebacker Patrick Willis, Packers linebacker Clay Mathews and Ravens running back Ray Rice.
Sink Or Swim? Irvin Predicts Ravens Lose Final Three Games
After two straight home wins and the help of a so-called mediocre AFC, the Ravens have clawed their way back into the playoff picture.
But will they sink their way out of it, or swim their way into the postseason?
SINK, says NFL Network's Michael Irvin, as he pushed a Ravens mini-helmet into a fish tank of water and watched it plummet to rock bottom (mobile users tap "View in Browser" at the top of the page to view pics).
It's plausible that the Ravens advance even if they lose one of their final four games, and maaaaybe two. But no more than that.
Irvin predicts the Ravens will beat the Vikings this weekend, but after that, Irvin believes they will lose not just one of their final three, and not just two, but all three.
That would be defeats at Detroit (7-5), vs. New England (9-3) and at Cincinnati (8-4).
For the record, co-host Deion Sanders disagrees. What do you think?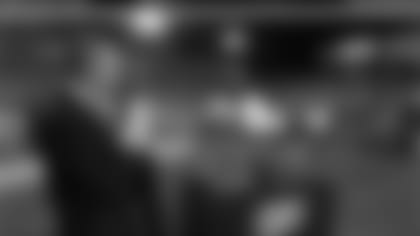 Week 14 Picks: Vikings vs. Ravens
Not a single analyst below picked the Vikings to upset the Ravens, who are favored by seven points.
That's a total of 43 experts who see Baltimore going 7-6 after this weekend.
**The Baltimore Sun**: 7 of 7 pick the Ravens
Jeff Zrebiec (Ravens 23, Vikings 13): "Adrian Peterson will get his yards but at different points, the Vikings will need to make plays through the air. And that's when the sacks and turnovers will come."
Peter Schmuck (Ravens 30, Vikings 13): "The defense has to hold Adrian Peterson to a reasonable rush total, but there is no reason for the Ravens to stumble here. They'll be rested after their mini-bye and the Vikings should be a bit fatigued after their second extended overtime game in a row."
**ProFootballTalk.com**: 2 of 2 pick the Ravens
Michael David Smith (Ravens 31, Vikings 17): "Don't look now, but after playing lousy football for most of the year, the defending Super Bowl champs are very much alive in the AFC playoff race. Baltimore should take it to Minnesota and improve to 7-6."
Mike Florio (Ravens 23, Vikings 14): "The Ravens are making a push for the playoffs.  The Vikings aren't.  Advantage Ravens."
**Sports Illustrated, Don Banks**: (Ravens 23, Vikings 16):
"The defending Super Bowl champs are another team that's about to run the table during a three-game homestand, building on the slight cushion it has in the race for the AFC's second-wild card and hopefully keeping the first-place Bengals in sight in the AFC North. The Vikings are at least giving themselves their best chance by sticking with Matt Cassel at quarterback -- he has finished the game in all three of Minnesota's wins -- but it won't be enough in this battle of purple-clad players."
**CBSSports.com, Pete Prisco**: (Ravens 27, Vikings 13):
"The Ravens will be rested after playing on Thanksgiving. Their defense is playing good football. The Ravens are 10th in the league in total defense and sixth in run defense. That will make it tough for Adrian Peterson to get going. When he doesn't, the Vikings don't. Ravens take it."
**The Sporting News, Vinnie Iyer**: (Ravens 34, Vikings 10):
"Purple is the color of royalty, appropriate for a matchup between rushing king Adrian Peterson and last year's crowned Super Bowl champions. Peterson will fight through a good defense for a few long runs, but whoever's at QB will awaken the Ravens' pass rush and nasty secondary. It's about time for Joe Flacco to get hot and carry Baltimore into the playoffs."
**FoxSports.com, Peter Schrager**: (Ravens 21, Vikings 17):
"The Ravens can't overlook Minnesota, though you could understand if they do. With a playoff spot currently in their hands, Baltimore follows this with a brutal end to the season with games against the Lions, Patriots, and Bengals. This one's a must."
"Flacco has been slowly turning around his season lately, and he could be on the verge of a big game against the Vikings," Hensley wrote. "One of the reasons why the Ravens have won their past two games is Flacco's ability to stretch the field again. Baltimore's offensive line has been giving Flacco a safer pocket, which has allowed him time to find the likes of Torrey Smith and Jacoby Jones deep downfield. Flacco has to like what he saw on tape from last Sunday's game, when Josh McCown threw for 355 yards and two touchdowns against Minnesota." [ESPN]
Hey Aaron, do the Ravens have enough money to re-sign , and will they? "Yes, they could afford to retain James Ihedigbo. I think a modest one-year to two-year deal is appropriate. He's solidified the strong safety spot, but one thing to keep in mind, Matt Elam has proven this year that he would be a much more natural fit at strong safety. It's like they're playing with two strong safeties now. They have to decide if he's the future at free safety or if they need to put him at strong safety and get another free safety, perhaps in the draft. If that's the case, then they wouldn't have room for Ihedigbo. At this point, I think he's earned a job for next year." [The Baltimore Sun]
@untouchablejay4: WoooP! RT @chibadgirl: Make sure you guys go and VOTE for my brother @untouchablejay4 for the PRO BOWL #TeamSizzle #RavensNation #55 #Suggs [Twitter]
@BaltSunSports: Ravens Insider: Dumervil sidelined for second straight practice [Twitter]
@jamisonhensley: Funny, when he was in his prime, he always contemplated retirement RT @RichCimini ESPN]: Ed Reed says he [wants to play two more years. #jets [Twitter]
@mattvensel: The #Ravens do not move their corners around, so Jimmy is always at right cornerback. But they might be wise to try to match up vs Megatron. [Twitter]
@mzenitz Carroll County Times]: Caldwell [singled out Juan Castillo for his role in helping the offensive line improve in pass protection like it has in recent weeks [Twitter]
@BaltSunSports: Ravens Insider: Aberdeen's Erin Henderson will start at weak-side linebacker against Ravens [for the Vikings] [Twitter]
As the temperatures have dropped, so has Justin Tucker's touchback percentage. [The Baltimore Sun]