Face It: Joe Flacco is UNDERpaid
How many times have we heard this before?
Quarterback Joe Flacco was overpaid when the Ravens signed him to a then record-breaking $120 million contract last offseason. He takes up way too much of the Ravens' allotted salary cap figure, not leaving enough money for the team to sign great players at other positions. His salary will be the demise of any chance at another Lombardi trophy.
"This is actually going around. And it's complete, unmitigated BS," wrote CBSSports.com's Jason La Canfora.
The narrative isn't unique to Baltimore. The Matt Ryans, Tony Romos and Jay Cutlers of the world hear the same thing.
For those pushing this "BS," La Canfora says face it: Flacco and all NFL quarterbacks are UNDERpaid.
Want to know what the real problem is? Because it's not that Flacco, or any other NFL quarterback, is overpaid. The problem is the stagnant salary cap crises.
"[L]et me clue you in on a dirty little secret: Pretty much no one in the NFL is overpaid," La Canfora wrote.
"How about the fact the salary cap hasn't really moved at all since 2009? How about the fact the cap doesn't seem to keep pace with the growth of the league, and that teams are handcuffed by the cap, if anything? That in and of itself doesn't speak to the actual worth of quarterbacks. The real problem is … that the actual ceiling of the cap isn't growing, even with all these new television packages and all the money flowing in."
The salary cap was $128 million in 2009 and now projects to be just $126.3 million in 2014.
That's actually going backwards.
If the cap grew about 5 percent each year since 2009, that would equate to about $6.5 million more per season and "no one would be crying about an $18 million cap hit for a quarterback." If it grew by just 3 percent each year, teams would have an extra $15 million to spend.
"Newsflash: Relative to other sports, and their collective revenues, starting quarterbacks are an absolute steal, even the most expensive of the bunch," La Canfora wrote.
"There is nary an NFL starting QB who is overpaid, in relation to the overall [importance] of the position he plays, the unique impact he has on every game, the physical risks it takes to play the position, the miniscule amount of people on the planet who can execute said job and the ridiculous gross revenues NFL owners rake in."
Here are a couple of comparisons:
Flacco signed his contract last year, earning an average of $20.1 million per season on a six-year deal. Of the $120 million, he is only guaranteed a reported $51 million. He touches the ball on virtually every single offensive play.
Meanwhile, MLB pitcher Clayton Kershaw signed his $215 million contract last winter, earning $30 million per season over seven years. The money is fully guaranteed. He pitches every fifth day.
NBA guard Kobe Bryant is making more than $30 million a season at the end of his career. The average NBA salary is $5 million, a figure La Canfora says Andy Dalton, Colin Kaepernick, Andrew Luck, Russell Wilson and Nick Foles "won't come close" to reaching this season.
"No one in America would try to argue the NBA makes anything close to the fiscal dent in this country that the NFL does," La Canfora wrote. "And don't get me started on Hollywood, where we have idiot 'reality'* *stars making the kind of money many young NFL starting quarterbacks earn.
"I'm sorry people, this is how the system works. Trust me, rich guys don't get this rich by throwing away their money when they don't have to. Every dollar has to be earned, carefully negotiated, and teams still hold most of the cards when it comes to this stuff. So when a quarterback gets close to $20 million a season, it's no fluke. And if you think about what Flacco did for the Ravens in the 2012 playoffs, playing pretty much flawless football to lead them to a Super Bowl title that seemed improbable a few short weeks before, in relation to what he's making for his owner and organization, it's a drop in the bucket."
Flacco's Is Athletic Enough For Kubiak's System
Questions are still swirling about whether Flacco is athletic enough for Gary Kubiak new offensive system, including the bootleg.
After watching a replay of Super Bowl XLVII, The Baltimore Sun' Jeff Zrebiec has no doubts.
"Flacco is at his best when he's moving around and getting out of the pocket," he wrote. "Some of the throws he made on the run against the 49ers were ridiculous. He's a big guy who is tough to bring down, and he's a little more athletic than most people think.
"The questions about Flacco's accuracy and decision-making are fair and those are the things that Kubiak will need to work on. But I have little doubt that he's athletic enough to do the things that Kubiak will want him to do."
Finding Veteran Center Won't Be Easy
It's one thing to say the Ravens need to upgrade along the interior offensive line, but doing it is another.
Many analysts believe it would behoove the Ravens to get a veteran center snapping the ball to Flacco, and the market will have a few free agents like Cleveland's Alex Mack, New Orleans' Brian de la Puente and Green Bay's Evan Dietrich-Smith, but Zrebiec knows a lot of teams are in need of their services and it could get very expensive.
Not to mention, the Ravens need to sign a couple of tackles too with Eugene Monroe and Michael Oher becoming unrestricted free agents.
"Perhaps they'll sign a serviceable veteran, like the San Francisco 49ers' Jonathan Goodwin or the Pittsburgh Steelers' Fernando Velasco, on a relatively cheap one-year deal," Zrebiec wrote. "If not that, they may not have much of a choice but to hope another year in the weight room and in the offense does wonders for 2013 starter Gino Gradkowski, or either A.Q. Shipley or Ryan Jensen seize the opportunity and establish themselves as the undisputed starter."
Speaking of Shipley, it looks like he is working hard to win a starting role again …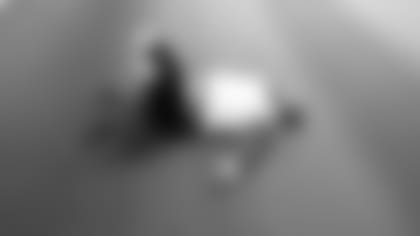 Birk: Sexuality Doesn't Come Into Play At Work
Retired Ravens Pro Bowl center Matt Birk has been open in the past with his opposition to expanding the legal definition of marriage.
He even wrote an op-ed on the topic for the Minneapolis Star Tribune in 2012.
So many were curious about his reaction to Missouri defensive end Michael Sam's announcement that he's gay.
"There is a difference between trying to talk about what marriage is and what my feelings are toward individuals. There are actually many people that are close to me that are gay," Birk said, via Kevin Seifert of ESPN.com. "But in the end, the issue is someone's sexuality: Does it really ever come into play at work? I don't think so.
"I know there are stereotypes about football players and what the locker room is like and all that.* *Some of those stereotypes, sometimes we're our own worst enemies. We take advantage of all the perks of the locker room. Sometimes that means you act like a teenager. But when push comes to shove, when you're talking about something like this, this serious issue and monumental of an issue, I really think football players will answer the bell."
@Artj97: So honored and truly blessed to be in my college weight room wall of greats. #syracusefootball4life #newlevels2014 [Instagram]