Terrell Suggs Dapped Up By LeBron James
Terrell Suggs is a well-known LeBron James fan, so it's no surprise that he was wearing a Miami Heat cap when the reigning NBA champions visited his hometown Phoenix Suns Tuesday night.
Suggs made sure he got courtside seats and was so close to the action that he …
1) could have tripped a referee with his golden shoes
2) was dapped up by King James and
3) made teammate Torrey Smith jealous
"I want to be like Suggs when I grow up," Smith wrote after he saw some of the tweets and photos below. (Mobile users tap "View in Browser" at the top of the page.)
Suggs spent his high school days in Arizona and is an ASU Sun Devil alum. Also spotted among the season-high crowd of 17,927* *was Arizona Cardinals wide receiver Larry Fitzgerald.
You know Suggs went home a happy man because LeBron went off last night, notching 37 points, including a windmill dunk in a Heat victory. Check out Suggs and his wife, Candace Williams, jumping out of their seats to cheer on James as he slams home two points.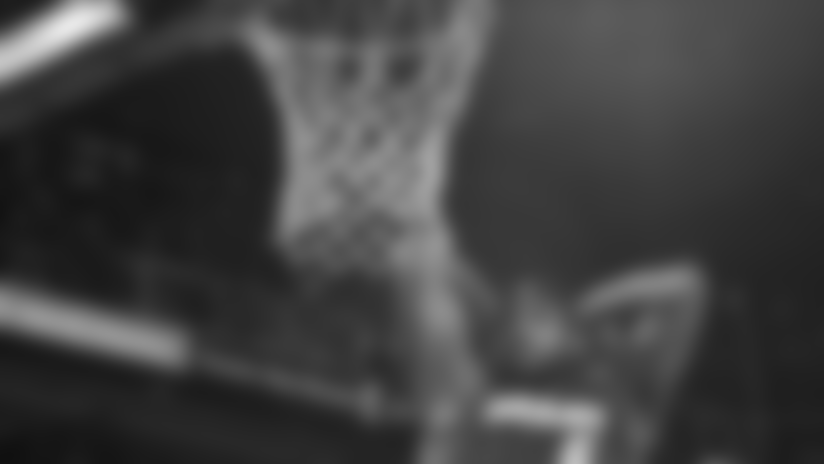 No seriously, he could have. Look how close he is to this ref.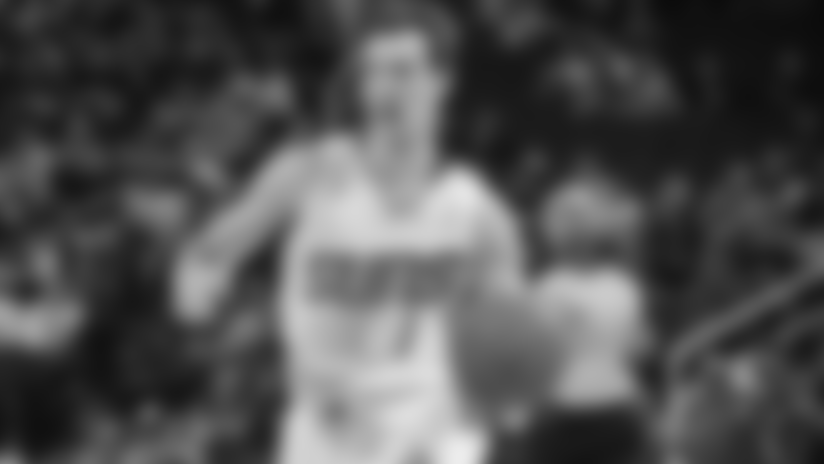 And since we rarely have a chance to watch basketball highlights on baltimoreravens.com, let's take this opportunity to watch a video of James waging an "epic war" with the rim after practice in Phoenix Monday. Even his teammates get out their phones to capture LeBron dunking balls off the wall. (Hat tip Miami Herald.)
Browns At It Again, Highlighting Ravens' Stability
Well, the Cleveland Browns are at it again, somehow finding a way to become the target of cheap jokes around the NFL.
One NFL analyst, CBSSports.com's Will Brinson, even characterized the Browns' latest moves as someone on crystal meth.
"It's impossible to trust the Browns know what they're doing. Absolutely impossible," wrote SI.com's Peter King.
Well, 18 months ago, new Browns Owner Jimmy Haslam introduced CEO Joe Banner as the man to help rebuild the team. Five months later, he hired Rob Chudzinski as the head coach and Michael Lombardi as the general manager.
Now, Chudzinski is gone after being let go in January after just one season on the job. And Banner and Lombardi were fired yesterday (well, Banner will leave in two months as he "transitions" out).
The timing of the latest round of firings has been described as "bizarre" since Banner and Lombardi helped hire new Head Coach Mike Pettine, free agency is next month and the draft is two months away. Plus it may have made more sense to clean house when Haslam fired Chudzinski last month.
Alas, Ray Farmer was promoted from assistant general manager to general manager, making him the seventh GM since 1999. The Ravens have had one GM during that time: Ozzie Newsome. The Browns have also hired eight new head coaches since 1999, while the Ravens have hired two.
The Baltimore Sun's Matt Vensel pinpoints stability as one of the major difference between the two AFC North teams.
"The stability has helped the Ravens find their groove and become perennial contenders," he wrote. "Newsome and his scouting staff have found quality players and kept the best of them around long-term. Harbaugh has done a good job of putting those players in a position to succeed. And while there is rarely a perfect marriage between front office and coaching staff, Newsome and Harbaugh know what to expect from each other and know what they are looking for in players. And the players know what to expect from them. It has been a good fit. …
"So for that small but vocal chunk of Ravens fans who were calling for Harbaugh's head and for Flacco to be kicked to the curb after an 8-8 Super Bowl hangover, remember, change isn't necessarily a good thing. Just ask the cellar-dwelling Browns."
Breaking Down Offensive Playing Time
ESPN's Jamison Hensley breaks down the playing time of Ravens offensive players from last year's 16 regular-season games. Check out the whole thing here, and I highlight a few below:
Quarterback: Joe Flacco (99 percent), Tyrod Taylor (2 percent)
Running backs: Ray Rice (62 percent), Bernard Pierce (35 percent), Vonta Leach (20 percent)
Wide receivers: Smith (97 percent), Marlon Brown (70 percent), Jacoby Jones (48 percent), Tandon Doss (26 percent)
Offensive line: Gino Gradkowski (100 percent), Marshal Yanda (100 percent), Michael Oher (95 percent), Eugene Monroe (68 percent), A.Q. Shipley (62 percent).